MTV Video Music Awards 2018: Cardi B brings her 'baby' on stage, Jennifer Lopez performs after 17 years
From Cardi B opening the show to Jennifer Lopez winning the Michael Jackson Video Vanguard Award, here are the main highlights from MTV VMAs 2018.
The 2018 MTV Video Music Awards had some standout moments. These highlights from the show will surely be talked about for months to come before we get to the 2019 VMAs. Let us take a look at these moments:
Cardi B opens the show along with her 'baby'
Cardi B, in spectacular fashion, opened the show to introduce pop sensation Shawn Mendes. Cardi, who recently gave birth to her first child Kulture Kiari Cephus with Migos rapper Offset, walked onstage with the baby in hand. She said, "I had the baby, I carried the baby, and I'm still winning awards," while the audience clapped. Though it turned out that the baby was not her actual child, thankfully, and was a Moon Person, the name given to the VMA trophy.
Watch Cardi open the show here:
Logic and Ryan Tedder perform 'One Day' with immigrant families
The moment when MTV VMAs took a political turn was when rapper Logic, known for his hit single '1-800-273-8255', attacked President Donald Trump's now erstwhile policy of separating immigrant children from their families at the American border. Not only that, Logi, who was joined onstage by One Republic frontman Ryan Tedder, also took a direct show at Trump's constant announcements of wanting to build a wall. Both Logid and Ryan Tedder wore shirts that said "We Are All Human Beings" and "F*ck the Wall". They played the song 'One Day' and were joined by immigrant families.
Watch the video here.
.
Jennifer Lopez won the Michael Jackson Video Vanguard Award
Jennifer Lopez, who has been on the pop scene for decades now and has established herself as a veteran, won this year's Michael Jackson Video Vanguard Award. This also makes Lopez the first Latin artist to ever win the award. Lopez then went on to perform a medley of the most popular songs, marking her first VMA performance since 2001. She started with 'Waiting for Tonight', then transitioned into hits like 'On the Floor', 'I Ain't Your Mama', 'Love Don't Cost a Thing' and 'Jenny From the Block' among others. Rapper Ja Rule got onstage for a performance of 'I'm Real', while DJ Khaled joined her for 'Dinero'.
Watch Jennifer Lopez accept the award here:
Watch Jennifer Lopez's performance here:
Past winners of the Vanguard Award include Guns N Roses, Red Hot Chili Peppers, REM, Pink, Rihanna, Beyoncé, U2, Janet Jackson and Kanye West among others.
Travis Scott performs three ASTROWORLD singles
Rapper Travis Scott, who recently released his studio album ASTROWORLD, made a VMA appearance and performed three songs from the record. He was joined onstage by singer James Blake, who has also featured on the album. During his performance, he ran through 'Stargazing', 'Stop Trying to Be God' (with James Blake) and 'Sicko Mode'.
Watch the performance here:
Post Malone joins Aerosmith onstage
In what was the most unusual pairing of the night, rapper Post Malone joined legendary rockers Aerosmith onstage for the performance of some of the band's most well-known songs. After performing his hit single 'Rockstar' with 21 Savage, he entered into a collaborative performance with Aerosmith. He played guitar on 'Dream On' while Steven Tyler sang. The group then played 'Toys in the Attic'.
Watch the performance here: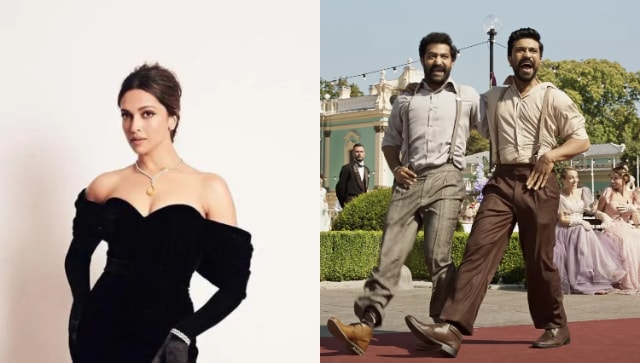 Entertainment
Deepika Padukone made her debut at this year's Oscars where she presented the Naatu Naatu song. 
Entertainment
Recalling her younger days, the actress mentioned a "handsome young" teacher whom she labelled as 'Mr Abercrombie' in her book and said that he admitted to having a 'crush' on her
Entertainment
Priyanka further also went on to say that her "ego is not bigger than her job" and that she is very professional and takes pride in it.