MS Dhoni: The Untold Story banned in Pakistan? Banjo, Pink in theatres, but no sign of the biopic
Pakistani censors have denied the ban on MS Dhoni: The Untold Story but there is no sign of the film in theatres.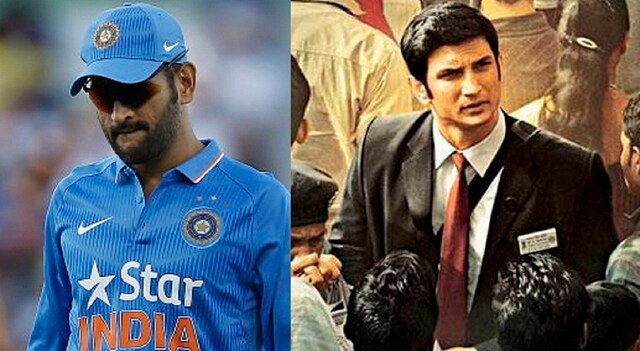 Karachi: Bollywood biopic M.S. Dhoni: An Untold Story, on the life of India's ODI skipper Mahendra Singh Dhoni, has not been banned in Pakistan, according to the spokespersons of the country's censor boards.
They claim the Neeraj Pandey directorial was never imported to Pakistan for certification.
This has come after media reports indicated that the film has been "banned" and "boycotted" by Pakistan in retaliation to the threats given by India's Maharashtra Navnirman Sena (MNS) to Pakistani artistes.
"How can we ban a film that's not been submitted for certification? The local distributors have not even applied for the NoC of the film," said Central Board of Film Censors' Chairperson Mobashir Hasan, reported The Express Tribune.
"We certify every film keeping Pakistan's integrity, security and sovereignty in mind. As per our rules and regulations, we try our best to take every decision on merit," Hasan added.
Asked if the board has received any specific instructions about Indian films, Hasan said: "So far nothing has been communicated to us. We are working as per normal routine. Only last week, we approved Banjo without suggesting a single cut, giving it a Universal rating."
Sindh Board of Film Censors Secretary Razzaq Khuhawar echoed the sentiments.
"The Indian media is portraying it wrongly. We believe in competition as it helps improve the quality of Pakistani films as well. We haven't been instructed to ban or censor films in the context of the hostile situation," Khuhawar said.
"We certified Banjo last week with a 'U' rating but the audience didn't like the film and it's gradually being removed from screens. That's the audience's choice, not ours. We have not been directed to restrict any film," he added.
On Wednesday it was conjectured that the Maharashtra Navnirman Sena's call for a ban on Pakistani artistes in India could be the trigger for the move to not screen the film in Pakistan.
IMGC Entertainment, the distribution company that was supposed to bring M.S. Dhoni: The Untold Story to Pakistan, decided against importing it due to rising tensions between the two countries.
"We wouldn't want to release anything that can aggravate the current situation of the two countries. Dhoni is India's hero so it's risky," the company's media and marketing manager Sabina Islam said.
Currently, Bollywood films like Banjo and Pink are playing in Pakistan's theatres. A quick glance over the many websites of Pakistan's premium theatres (like Nuplex and Cinepax cinemas) shows no signs of the biopi
Meanwhile, Pakistani distributors have said that if Bollywood films are banned, there will be huge losses in the country.
"I don't want to sound pessimistic but the truth is there has only been a boom in the cinema industry in Pakistan in the last few years because of the release of latest Bollywood and Hollywood films," said Nadeem Mandviwalla, a know exhibitor, distributor and owner of the Atrium chain of cineplexes.
Omair Alavi, a popular film critic, said that due to the increase in cinema screens and revenues there had also been a resurgence of the Pakistani film industry. "We have seen number of Pakistani films release and do well and others are also lined up for release. But for a cinema industry to survive you need to produce at least 50 to 60 films in a year which we are not doing at present."
Mandviwalla said 70 per cent of the business  comes from Bollywood and Hollywood. "There is no alternative. If the ties worsen, it is going to affect everyone," he said.
M.S. Dhoni: An Untold Story, starring Sushant Singh Rajput in the title role, will release in India on Friday, 30 September.
(With Inputs from agencies)
also read
First Cricket News
"I have 8-9 months to decide. Why take that headache now. I'll always be there for CSK, whether it's playing or something outside," said MS Dhoni.
First Cricket News
MS Dhoni as been nursing a knee injury throughout this IPL but despite that, Dhoni has kept wickets in all the games while playing useful cameos towards the end of the innings batting as low as number 8.
First Cricket News
CSK have qualified for the IPL Playoffs in 12 of the 14 seasons that they've played - winning four titles.