Movies mirror reality: Queer cinema offers a striking reflection of our diversity
In the run-up to the Kashish Queer International Film Festival, director Sridhar Rangayan traces the evolution of queer cinema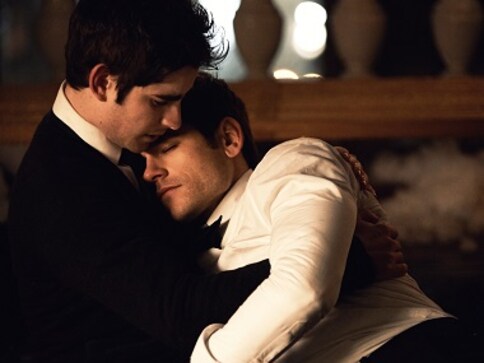 Why do we watch films, why do films appeal to us, why do they make us laugh, cry and shout in joy? Why are we so captivated by films?
I think it is because films are a mirror that reflect us and the world around, a mirror which is both concave and convex at the same time - offering a micro as well as a panoramic view of ourselves and the world. But of course, mirrors distort, mirrors lie too, mirrors can offer a surrealist view, mirrors can offer a dreamy-fantasy realm. Films do all these, as much as life too does.
That's why we have various depictions of our lived-in lives and society reflected in films, and I am fascinated by it. Queer cinema, both in India and worldwide, has over the decades, been able to project this diversity with varying degrees of skill and aptitude. We cannot dismiss any portrayal as good, bad or ugly. All of them exist in films, as much as they exist in society. All LGBT persons are not necessarily good, or all families are not necessarily evil. It takes all sorts to make the world, and world queer cinema encompasses all kinds of portrayals. What is needed though is that we have enough representations and not just one or two stereotypes. It is necessary to break the image that seems to be overarching and stereotypical. If we have diverse representation, than it is up to those looking into these film-mirrors what they want to see and how they wish to perceive it.
I have seen positive changes in the depiction of LGBT characters in Indian cinema over the past two decades. From absolute homophobia, gay and trans bashing to more empathetic and nuanced characters. From loud, inane Kantaben jokes in Kal Ho na Ho we have matured to Prof Siras' subtle gestures in Aligarh, from sidekick gay buffoons (numerous film to count) we have moved to a mature lesbian relationship in Angry Indian Goddesses – so there is hope.
There is hope in regional cinema, with amazingly sensitive films in Bengali (the entire oeuvre of Rituporno Ghosh), Malayalam (Sancharam) and Kannada (Naanu Avanalla, Avanu). Many of these films have been commercially released and have done well. The only reflection I have is that most of them are about transgender characters, rather than gay or lesbian characters. Transgender stories seem more acceptable as part of mainstream films, but a gay or lesbian romance still remains a taboo.
My dreams and passion lie with the short films and documentaries. They are more honest, more positive, but also more diverse in their content – the stories, the characters, the lives and even the filmmaking styles are more grounded and balanced. Only problem is these films hardly find distribution and unable to reach the audiences. That's a real pity.
That's why we started KASHISH Mumbai International Queer Film Festival, a festival which from its inception in 2010, has been placed in a mainstream theater. We were keen to broaden the framework of a LGBT film festival by placing it in a space that is accessible and comfortable to larger audience segment. While 70 percent of KASHISH audiences are from the LGBT community, we have 30 percent and more audiences who are non-LGBT - who come to KASHISH to see films on LGBT issues, or just to watch good cinema.
This is in tune with our festival's two-fold mission: of creating a safe space for the LGBT community to watch global LGBT films on the big screen with no shame, guilt or anxiety, which believe me (I am speaking as a gay man), is a huge goose-bump raising experience; and for the mainstream audience a window to understand LGBT people better, by dispelling myths and misconceptions they may have. For a large number of non-LGBT audience, the take back was that gays are not from Mars, lesbians are not from Venus (or vice-versa!), transgenders are not from Jupiter, and that they are regular people who (are) maybe in their own homes, in their neighbourhoods, in their office spaces – it is just that they have not paused to think, talk, discuss, reflect. All it needs is a moment, an experience, a look into the mirror.
KASHISH is a global hallway of mirrors, reflecting diverse realities, in both its microcosm and macrocosm. The films we programme range from a normal day in the life of a transgender to a 20-year struggle for LGBT rights in a country where being gay is perhaps punishable by death. In the 182 films from 53 countries we are screening at this year's KASHISH, all of us can find a reflection of ourselves, our lives, our societies, our struggles, our happiness – whether one is gay, lesbian, transgender or heterosexual – after all it as all about '7 Shades of Love', which is the theme of this year's festival, and one that resonates in every film.
The genre could be different – a comedy, a tragedy, a low-key drama, a cutting-edge avant garde thriller, or even a gay zombie film (yes we have one this year!) – but the experience we carry back is LGBT people are just 'normal' human beings and LGBT rights are nothing but basic human rights – to love someone of your choice and to live a life with dignity. That has to be a given right? But it is not so in many countries, in many societies – Iran, Lebanon, Morocco, Sri Lanka, and even India.
Films screening at KASHISH will unravel all these and much more on the big screen at three venues. There is a film for everyone, just be there at the festival, because if you miss it, you probably would never get to see them again. Most of these films are not on torrent or YouTube (trust me I have scoured!) and again the magic of big screen experience is another thing. No, I am not hard selling the festival, it is a plea from the heart, since there is so much on offer, so much to learn, so much to enjoy.
I will see you all soon at KASHISH, and as I said, be ready for a world of mirrors – no don't be afraid of them, you will see many wonderful images too! Mirrors that reflect the diversity of multi-cultural, multi-generational, multi-racial, multi-sexual world we all live in.
The author is a filmmaker and the festival director of the KASHISH Queer International Film Festival.
also read
World
Uganda has signed the Anti-Homosexuality Bill into law, which is perhaps the strictest anti-LGBTQ legislation in the world. However, the African nation is not alone. In Iran, Saudi Arabia same-sex activity attracts a death sentence. In Malaysia, such behaviour sees 20 years in jail and a whipping
World
The president is also expected to announce new measures to help schools and LGBTQ kids navigate book bans, community centers fight threats and transgender youth access better care at the event, domestic policy adviser Neera Tanden said