Movie Review: Teri Meri Kahaani takes romance a little too seriously
The Shahid-Priyanka three-in-one does not seem to be about reincarnation. So why do they keep bumping into each other across janams? Never mind. Just enjoy the romance(s).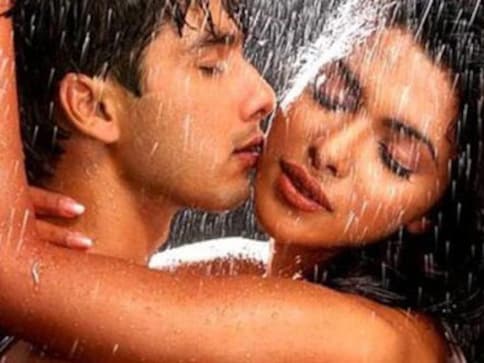 Teri Meri Kahaani is supposed to be a timeless love story. Literally. The new film from Kunal Kohli involves Shahid Kapur and Priyanka Chopra falling in love three different times, in three different eras. In Poona and Bombay, 1960; in Sargodha, 1910; and England in the present.
Nothing wrong with this premise, except that the three different episodes never come together to form any sort of whole. The characters don't seem to be conscious of their past existences. Overtly, there's no reincarnation angle. But one doesn't quite know what else to make of the "meeting again" references. And there's the strange opening scene that goes nowhere: two babies encountering each other in a hospital room, colour-coded in blue and pink to tell us that one's a boy and the other a girl. The filmmaker throws in a voiceover, too: something about how you never know when you're going to meet someone. Okay, so these are baby Shahid and baby Priyanka, but so what? They meet as newborns in every janam?
But if you forget about the framing premise, and simply approach the film as a series of three episodes in which hero and heroine get to romance each other legitimately in three different avatars with costumes from three eras, then Teri Meri Kahaani is not unwatchable at all.
The first story, set in a nostalgia-drenched, richly technicolour 1960, has a guitar-toting Shahid bumping into a self-consciously starry Priyanka on a train from Poona to Bombay. He's an aspiring musician on his way to find his fortune; she's a successful film actress, turning the pages of a Filmfare with herself on the cover, but still real enough to be charmed by his lack of obsequiousness.
As the nonchalant Govind—now whistling a tune, now cheekily offering the memsaab jamuns—Shahid channels both Dev Anand (whistling on a train, guitar instead of a harmonica) and Raj Kapoor (think of the bhutta in Chori Chori, which became the watermelon of Dil Hai ki Maanta Nahin). The Bombay section has lots more Raj-Kapoor-channelling: a promenade that could be straight out of a colourised Pyaar Hua Ikraar Hua, talk of sharing a girl's umbrella in the rain, and Shahid's deliberate tramp-like walk: the guitar now standing in for Raj Kapoor's bundle hung on a stick.
Seek authenticity here, and you will be annoyed. But despite fake flourishes like intertitles (cue further Chaplinesque cutesiness) and fake friendships (Priyanka and Prachi Desai outdo each other in coy giggly-ness, but never really seem connected) TMK's 60s section does have flashes of real charm. I loved Vrajesh Hirjee's bespectacled, be-hatted journalist who spends his days spying in the hope of uncovering the big star's budding romance (even though, like the film, his story doesn't really go anywhere). And watching Priyanka Chopra with a bouffant playing a grand piano with fake grandeur on a film set, or Shahid Kapur as part of a suited-booted jazz band at a film party is the closest most of us will come to living out our 60s Hindi movie fantasies.
But this entertaining pastiche is soon abandoned for the second segment, set in England in 2012. Jamun and kaccha aam make way for beer, and intertitles for Facebook statuses. But all the 'with it' coolness of the plot—matching mobile phones, non-stop text messages, public Facebook break-ups—cannot save us from the dreariness of this romance. Like every other cool couple in Bollywood these days, boy and girl must spend a drunken night out on the town in order to find love (Ekk Main Aur Ekk Tu, Mere Brother ki Dulhan, even Rockstar in a way). One keeps wishing this Mukhtasar si mulakaat was even briefer.
The third love story is a pre-Independence encounter, between a young layabout who can get any girl he spouts a sh'er at and the spirited village belle who's "heard all about him". Set in the small town of Sargodha, now Pakistan's ninth largest city (bafflingly, the film refers to this place as "Sargodha, Lahore"—Lahore is 172 km from Sargodha), this section is the film's most filmi. Javed  and Aradhana actually conduct a love affair through arch exchanges of shairi (the poetry is a damn sight better than Javed Akhtar's distressingly bad writing for Farhaan's character in Zindagi Na Milegi Dobara). And everything is kept somewhat cartoonish from the English girl who lets a flirtatious Muslim lafanga into her bed (and giggles as her angry father sets his guards on him) to the stagey encounters between blustering Englishmen and patriotic Indians.
It's possible that the filmmakers are unwittingly on to something—grand battles can often involve a small-scale trade in symbols: the hoisting of flags, the blackening of faces. Or perhaps they just want to reserve their gravitas for the truly grand business of life-according-to-Hindi-cinema: love.
Because whatever else it makes a pastiche of, there's no doubt that TMK takes its romance very seriously indeed.
So I suppose it's director Kunal Kohli's good luck that Shahid and Priyanka have the sort of on-screen connection—or to use the industry's favourite word, chemistry—that can cut through flaky plot twists and perfectly choreographed dances to give us, just once in a while, a glimpse of Romance with a Capital R. If only the film didn't keep cutting them off.
Entertainment
Keedam is, wisely, not prescriptive on the question of technology-driven vigilante justice, but it avoids addressing the complexities involved in the use of surveillance techniques including their misuse by the powers that be
Entertainment
Tang Wei and Park Hae-il starrer Decision to Leave is a dependably immersive piece of fine cinema from the Korean auteur's stable.
Entertainment
Though The Outfit, is cut from the same cloth as Reservoir Dogs, Graham Moore isn't as skilled as Quentin Tarantino at generating controlled chaos.