Movie Review: Sridevi brings acting back in English Vinglish!
As writer and director Gauri Shinde's first film, English Vinglish is remarkable. The movie brings acting back, all thanks to Sridevi!
English Vinglish's opening credits roll with congratulatory wishes – one for Indian cinema turning 100 years old and to Amitabh Bachchan on his 70th birthday, which falls on 11 October. The Bachchan wishes will explain themselves in the film, with his cameo extraordinaire.
Shashi Godbole (Sridevi) lives the life of a devoted housewife in Pune to a husband (Adil Hussain) who has no time to converse with her and is an attentive and loving mother to an annoying daughter, Sapna, who mocks her inability to speak in English.
But her adorable little boy, Sagar, who seems to be the only one who reciprocates her affection, is a constant companion. The scene where he bullies her into doing Michael Jackson's signature pelvic thrust is priceless. She also loves cooking and runs a part-time laddoo making business. Shashi is beautiful and perfect in every way, barring her English language skills. While this might not be a big deal in India given the official language is Hindi and additionally English too, the social conforms and India's increasing bent towards Westernising itself, it does become an issue and a big one with her daughter who is mortified and embarrassed by a non-English speaking mother.
The film traces the ordinary, everyday life of Shashi in a heart-tugging way – you feel for Shashi from the moment the screen opens with her making a pot of coffee in the morning and her husband calling out for tea. Thereon, every moment is filled with Shashi's beautiful, large eyes expressing possibly every emotion known to man, ranging from a slight flicker to wide–eyed wonder, in a way that only Sridevi can.
She puts the act back in acting with her performance as the subservient and tolerant Shashi Godbole who comes into her own when she travels to New York for the first time to help her older sister out with her daughter's wedding preparations.
From rehearsing her lines in English to questions that will be asked at US immigration to joining English language classes and finding her way about in New York all on her own, Sridevi is incredible in every scene.
Once Shashi is in New York, she is utterly embarrassed that she can't order food or join in conversations at home with her sister's daughters and groom-to-be. She joins an English class which promises fluency in the language in four weeks and makes new friends whom she carries lunch and her famous laddoos for. Every student in the class, one in particular, a French chef, Laurent (Mehdi Nebou) who is quite taken by Shashi, seems real and adds to the plot. Together, they make up for an everyday mix of diverse cultures and nations in a non-stereotypical manner. Laurent's description of a chocolate crepe that he makes for Shashi as a "French laddoo"  is just charming, like the scene. The Pakistani cab driver's enactment of his part is very amusing and he has some of the best lines in the film like, "Entrepreneur shabd na hua ghazal ho gayi", "Spicy noodle, just like a dragon" and many such humourous quips.
The interactions between Shashi and Laurent when they break into Hindi and French and still seem to comprehend each other are marvellous. When Laurent looks at her, you want her to fall into his arms, and forget her world. But that's the beauty of the screenplay – it lets you get carried away with the characters on screen, but the characters stay in character, right down to the last frame of the film.
I loved the Manhattan soundtrack – all the visual elements of the city woven in to the sound and beat of Indian music. The film captures the New York vibe effortlessly, with characters anyone who's been to the Big Apple would identify with, without resorting to stereotypes of the Western world. The impatient coffee shop lady is just someone everyone has encountered in their life, at least once.
As writer and director Gauri Shinde's first film, English Vinglish is remarkable! The characters are well researched and written and cast appropriately. At any point, the script doesn't break away from its central plot line, which is Shashi and her small world, into random scenes, which is wonderful and rare. Shinde pulls off the pace of the film just right and the background score and music add to the story's flow.
This is the first time in her legendary career that Sridevi has worked with a female director and to that, I can only say, Gauri Shinde was the right choice! That Sridevi chose to step out after 15 long years from her cocoon of marital bliss for English Vinglish is definitely something audiences won't forget for a long time simply because they have been spoiled by her incredible acting skills all over again! That too, sans the song and dance numbers and her body writhing in studio rain to a Kaate nahin kat te track ala Mr India! It's like leave the acting to Sridevi and the "shacting" is best left to the rest of her ilk.
Fashion's most adored designer, Sabyasachi, has done an excellent job with Sridevi's sarees in the film and she carries them off superbly on her lithe frame.
English Vinglish brings acting back, all thanks to Sridevi! Sridevi! Sridevi! Or Sridevi brings acting back in English Vinglish. Either way, it's a winner!
Rating: *****
Entertainment
Time to Dance is pulled down by its unexceptional story, prosaic dialogues and colourless performances by the leads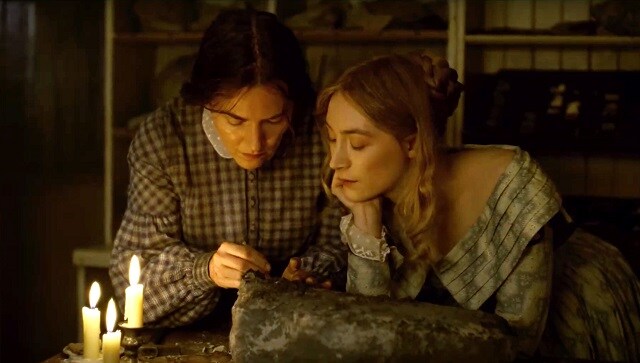 Entertainment
Ammonite suffers from a slowness, that intends to mimic the pace of life, but does not build or culminate into anything profound or satisfying.
Entertainment
The Disciple is a thoroughly Indian film, rooted in the space and cinematic time that director Chaitanya Tamhane creates.