Review: Saheb Biwi Aur Gangster Returns vibrant with gutsy performances
SBAGR is a vivid, vibrant, dramatic, savagely tragic and unexpectedly humorous sequel with gutsy passionate performances. This is not a film you can fall in love with. Its drama of dreadful disenchantment doesn't allow you the luxury of affection.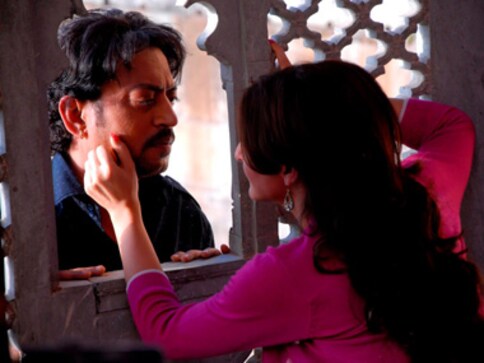 By Subhash K. Jha/IANS
In what could be regarded as a sequence of subliminal comic relief, a little-known actor Rajeev Gupta gives this film, suffused in powerhouse performances, its best performance as a slimy politician caught watching porn on his laptop in his office by a goon masquerading as a journalist.
The sequence is hilarious and at the same time sobering. While the self-important buffoonish politician's predicament raises laughter, his hypocrisy also raises issues about a parliamentary crisis that is anything but funny.
Like God and the Devil, the characters in Tigmanshu Dhulia's sequel to the highly acclaimed Saheb Biwi Aur Gangster work in mysterious often bizarre and inexplicable ways. Each of the main characters in Saheb Biwi Aur Gangster Returns (SBAGR) is stricken by a self-destructive passion bordering on an all-consuming neurosis.
Frozen in a feudal mindset these dislocated creatures of an aristocratic Diaspora struggle to get out of a world that has abandoned them, by trying desperately to enter the bizarre world of politics. In this process of straddling two worlds, one in the past and the other in a state of ferocious flux, Dhulia's people end up hurling into a dead-end from a height where the world looks deceptively enticing and inviting.
Torn between desire and self-loathing, the characters populating and copulating in SBGR are emptied-out by their own ambitions. Like the first film, the second one end with a shocking death and an ironic twist to the drama of the damned and the doomed.
Right at the start we meet Irrfan as Raja Bhaiyya, a small town hoodlum-politician with feudal antecedents who chases a press photographer down the narrow gullies of a Madhya Pradesh backwater city and thrashes the hell out of the cowering lensman for cutting his face out of a newspaper report on a political rally.
Irrfan plays the upstartish outsider with such in-house cockiness, warmth and humour that we don't miss Randeep Hooda who seduced the "biwi" in the first film.
Mahie Gill as the neglected ravenous "biwi" again stumbles (literally) on to a role that gives her enough meat to chew on. She savours and embraces her character's immorality, with Soha's angelic bride-act performing an arresting counterpoint.
Indeed the sequel to "Saheb Biwi Aur Gangster" moves far ahead in its packaging and technical finesse. The politics and dynamics of relationships trapped in an eerie game of one-upmanship are brought to flickering life in this scintillating sequel that mischievously secretes alcoves of unexpected temptations.
Dhulia on an unreserved high after "Paan Singh Tomar" here achieves a more intense emotional depth than the first "Saheb Biwi..."
The plot unfolds like an intricate jigsaw - each puzzle falling into place with a thunderous impact. The doddering aspirations of the depraved politicians form the backbone of the supple sequel where the men are often caught with their pants down...and the women don't seem to mind it!
Converging on Irrfan's character, the script clamps down on the mofussil mindset on politics, woman, power and family values- all these aspects of Indian life come together in a hurl of hectic machinations.
Dhulia spares us the verbal vulgarity. Admirably the characters trade outrageous insults without abusing mothers and sisters in the process. At one point when the bankrupt zamindar Aditya Pratap Singh (Jimmy) is repulsed by his inebriated wife's sexual advances, he tells her, "Your seduction is so cheap I feel like paying for it. But I don't have the chillar (loose coins) to do so."
The 'khanak' of loose coins for the 'loose' woman reverberates across this delicious drama where every character is playing a game with others and self.
Jimmy as the landlord on the skids puts in an exceptionally fine-tuned performance to offset Mahie's here-there-everywhere drunken act.
Indeed Mahie pulls out all stops once again to play the kind of slutty royalty-wife whose cravings are so apparent they shame anger and embarrass even bystanders, as we witness when in her politician's cabin a subordinate offers her spending-money assuring her he would "take it back from her husband".
Dignity is at the lowest ebb and desire at an all-time high as Thakur Aditya Pratap Singh resolves to remarry. He chooses as his bride the vulnerable and pretty Ranjana (Soha). Once Ranjana enters the crumbling corrupted palace, Dhulia's plot lets the politics of oneup-womanship between the rejected wife and the new bride take over. You almost wish there was more conflict between Mahie and Soha's characters to justify the corkscrew finale.
Though stubbornly economical, Dhulia's narrative is never short of breath as the characters move towards a perverse nemesis.
SBAGR has its flaws, oh yes! The "raj-neeti" of the second-half melts into a kind of uneasy sexual tension. We don't know whether to laugh or cry in a sequence like the one where Mahie, after inviting the cheesy Irrfan character into a posh hotel room for an afternoon of drunken pleasures, suddenly sobs, "I don't have any friends".
The characters, in fact, are so savagely tragic that they end up looking comical in their self-appointed positions of septic ambitions. You really can't like any of the people in Dhulia's world of sex, politics and crime.
Ask them if they care!
SBAGR is a vivid, vibrant, dramatic, savagely tragic and unexpectedly humorous sequel with gutsy passionate performances. This is not a film you can fall in love with. Its drama of dreadful disenchantment doesn't allow you the luxury of affection.
Rating: ****
Entertainment
Swara Bhasker, Shikha Talsania, Meher Vij and Pooja Chopra are proven talents who elevate their scenes above the evident failings of this film.
Entertainment
Siya is not a film without virtues. But it's a film without hope. And that defeats the very purpose of cinema.
Entertainment
The elegant, shimmery and candyfloss lives of Zaira, Saiba, Dolly and Ishi go haywire when they witness a crime at an engagement soiree. Hush Hush is the story of how these women choose to stick together in trying times that followed.