Movie Review: Remo D'Souza's ABCD just can't Step Up to it
Welcome back, Prabhu Deva. I'm so sorry they made you speak in Hindi. That's no way to treat India's Michael Jackson. But ABCD is a movie about dance not dialogue. Except we've already seen too many dances shows on TV.
by Ravina Rawal
Yes, yes, ABCD is 'Bollywood's Step Up'. Now that we have that out of the way, welcome back, Prabhu Deva. I'm so sorry they made you speak in Hindi. That's no way to treat India's Michael Jackson; they're just ignorant. Good thing the movie isn't about dialogue, though. Or, you know, acting. Or even the story, for that matter. The focus is on dance and sure, that bit's not all bad. But just as I didn't have the patience to sit through the entire duration of Step Up (the comparisons are inevitable, resistance is futile), I was tempted far too frequently to up and leave the theatre during ABCD.
Vishnu (Prabhu Deva) is a dance teacher, who runs Jehangir Dance Company (JDC) together with Jehangir Khan (Kay Kay Menon). The film opens on a dance sequence being performed by their troupe for a fictitious televised dance competition show, Dance Dil Se. They win, but only because the results have been fixed, and Vishnu Sir is not happy—he recognises his troupe's performance for what it is—mediocre. (So do we, sitting in the audience.) But his arrogant and manipulative partner sees nothing wrong with being mediocre—"This is India," he exclaims a little later in the film "Mediocrity sells!"
Surely he doesn't mean that, we quickly hope. This is "India's first 3D dance film", and it's packed with dancers and choreographers—Remo D'Souza (director), Terence Lewis, 'Dancing Deva', Ganesh Acharya, Lauren Gottlieb (from the TV show So You Think You Can Dance), dancers from Dance India Dance…they're going to dance, macha; there's no way they're going to mess this up.
Ok, so the storyline is weak and super predictable—soon after their first Dance Dil Se win, Khan decides to bring in a new choreographer to replace Vishnu, whose moves he says are getting stale. He offers him an administrative position at the academy in consolation, but Vishnu only knows and cares for dance in his life. Khan believes in dancing to impress, Vishnu in dancing to express. So this was never going to work anyway. They part ways, and a depressed Vishnu crashes at his friend Gopi's (Ganesh Acharya) house for a bit. Now it's the audience's turn to get depressed—it's bad enough that most of our professional actors can't do a decent job of acting, but to think choreographers and dancers would sail through such prominent roles...
Anyway, soon after Vishnu starts shacking up with Gopi, it's Ganesh Visarjan time, and there's madness in the name of celebration on the streets of Mumbai. It's during one of these processions, as he watches dozens of young lower middle class kids dance for our beloved elephant-god, that he's hit by his big idea: to hone the raw talent he sees in their moves, and possibly create India's finest dance troupe (ever). There's an abandoned warehouse to practice in, and two camps of dancers that Vishnu Sir tries very hard to bring together to work as a team in order to achieve the ultimate goal: entering and winning the next season of Dance Dil Se. (No prizes for guessing the outcome of this one.)
A bunch of deep and meaningful stuff tries to happen in the mean time—some fleeting love stories; some just-short-of-touching glimpses into the lives of those who don't have a chance to live on their own terms/doing what they're really passionate about; giving drug addicts a second chance; getting kids off the street and whatnot. However, none of it is of any consequence eventually, nor does the film delve into any story long enough to give you a chance to care.
Who has the time with all that dancing, anyway, right? You'd think so. But there's nothing stunning about the dancing either. Maybe we've been spoilt by all the dance competition shows that are suddenly on every TV channel, so our expectations are already sky high; or maybe I'm trying to find excuses because I like Prabhu Deva so much, and I really wanted him to win this movie. Are the dance bits good at all? Sure, every now and then there's an interesting sequence (watch for one with the clowns, and the finale), you may even slyly shake a leg…but do you gasp in awe or pirouette away from the film convinced you want to make a career in dance yourself? Nope. We don't even see why they bothered to use 3D; we probably wouldn't have noticed if it weren't for the theatre's clunky 3D glasses weighing our noses down.
I hate to say it, but this one's an easy miss.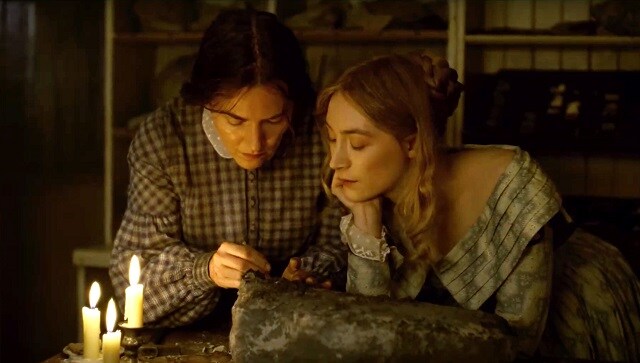 Entertainment
Ammonite suffers from a slowness, that intends to mimic the pace of life, but does not build or culminate into anything profound or satisfying.
Entertainment
The Disciple is a thoroughly Indian film, rooted in the space and cinematic time that director Chaitanya Tamhane creates.
Entertainment
Through a deceptively simple narrative, Praveen Kandregula wants his audience to see that the whole point of cinema is about making dreams come true, no matter how small or big they seem.