Movie Review: Rajdhani Express goes off the rails (with Leander Paes)
Four passengers on a train share a secret in the new thriller Rajdhani Express. One of them is Leander Paes. His untold secret is the tennis star is a terrible actor.
by Ravina Rawal
A sports star in a lead role…it's a dicey way to start the new year for Bollywood, given that sort of experiment's track record. For the audience, though, when the star is tennis ace Leander Paes, and there isn't really any other new movie in the theatres, you figure you could give it a shot; there's a sliver of curiousity: how bad could it be? Allow us to tell you.
Rajdhani Express is a below par thriller unintentional comedy about four strangers who share a compartment on the Rajdhani from Mumbai to New Delhi. This obviously (obviously) means that they also immediately share all the intimate details of their lives within five minutes into settling in when Puja Bose, who plays a struggling item girl, suggests a game in which they all reveal their darkest secrets without fear of being judged. She knocks back some good old truth serum (scotch) and goes first. Her secret? She's a prostitute, with the powers of very awkward seduction. Priyanshu Chatterjee, who spends the entire duration of the film badly imitating a Bengali, is a writer in Bollywood, and admits to plagiarising most of his stuff. Then there's the famous fashion designer Munish (Sudhanshu Pandey) who is says he's gay only minutes before accepting the item girl's advances.
You probably think we've given away too much of the plot already, but we're afraid there isn't any to begin with (and you won't actually be watching this movie), so don't stress.
With that we come to Paes, who plays an angry young common man, Keshav, on the run from…his godfather, or ex-lover, or both, or society, or the upperclass who treated him badly, or something. The film is so poorly edited, we're not sure what the exact back story they tried to explain in the flashbacks was. So anyway, Paes remains irritatingly silent for a really long in the beginning of the movie, as in he really doesn't say a word. While you're not DYING to know his secret or anything—the other three have been so obvious and disappointing—you just want to get it over with. Also, by this point you can't wait to see if he really is a terrible actor or not. Here's a spoiler (and, no doubt, his real secret): he is.
If you think about the concept—four strangers in a train coupe, or even the socio-political statement about discrimination between the classes that I think director Ashok Kohli initially set out to make—there's heaps of potential for an engaging story. There's even potential for it to be the thriller we know they insist it is—and we know this because of the very bizarre and disconnected background score that tries its damnedest to create suspense and excitement, but fails. However, the story, dialogues and execution are also all wrong, and the final plot is riddled with loopholes and loose ends.
We're pretty impressed, that these characters have chosen to take the train, instead of a flight, which they all seem to be able to well afford, and for a few seconds when Gulshan Grover is introduced as the T.T.E., there's a glimmer of hope—but even Badman fails us. Eventually, we are forced to put our last hopes on the scheming cop played by Jimmy Shergill, an expectation we would never ordinarily burden him with, but there really isn't much he can do about anything at this point.
The moral of this very long-winded and scattered story then is that the only smash hits Paes is going to be delivering in the near future will be restricted to the tennis courts where he belongs, and where we well and truly love him
Entertainment
Photo-Prem is a funny, quintessential take on what we leave behind for memories but quickly loses potential with half-baked writing and slow pace.
Entertainment
Time to Dance is pulled down by its unexceptional story, prosaic dialogues and colourless performances by the leads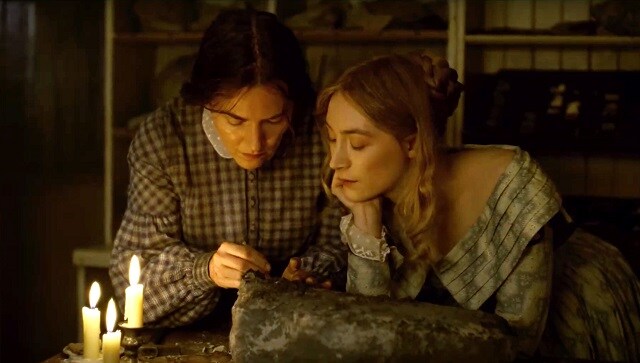 Entertainment
Ammonite suffers from a slowness, that intends to mimic the pace of life, but does not build or culminate into anything profound or satisfying.