Movie Review: Hrithik Roshan breathes fire and soul into Agneepath
For the duration of the film, he ceases to be Hrithik Roshan, and remains Vijay Dinanath Chauhan from Mandwa, impressing you with an exceptional performance.
Agneepath is a story set in a village called Mandwa in the year, 1977, where a simple school teacher, Master Dinanath Chauhan, tries to bring about change among its people who treat him with the kind of respect reserved for deities and Gods. He runs a school and lives with his wife, Suhasini (Zarina Wahab), and 12-year-old son, Vijay (Arish Bhiwandiwala), whom he tries to keep on the righteous path of truth, non-violence and self-restraint.
The return of Mandwa's evil, in the guise of Kancha Cheena (Sanjay Dutt), stirs trouble in the quiet village. Kancha plans to export cocaine and use the villagers' lands to fill his coffers. A dismayed Masterji tries to convince the villagers to not play along, for which he pays with his life; Kancha hangs him to a gruesome death in front of his young son, Vijay, and the entire village.
This is where the little boy changes; he grows up to be a huge force in a world his father kept him away from, harbouring a burning desire to return to Mandwa as its rightful resident and to avenge his father's death.
After the violent injustice of it all, Vijay moves with his pregnant mother to Bombay to start life anew; the journey ahead, as the title suggests, is a fire-fuelled path of trials and tribulations.
Vijay's life in a Bombay chawl is anything but that of an average 12-year-old's; cops, drug lords, flesh traders, cocaine peddlers, day light murders are daily features. Save for his friendship with Kaali (Priyanka Chopra), he leads the life of an adult. The adult Vijay, played by Hrithik Roshan, only comes on a good 45 minutes into the film, as does Kaali.
(While watching the film, there were times I told myself, 'It's just a movie'; the story has you so involved in the agony and angst Vijay is going through that you can't help feeling overly emotional watching the drama unfold.)
Rishi Kapoor as the filthy, drug mafioso, Rauf Lala, who auctions young girls to old perverts, is menacing in his enactment of the ruthless character. To see him go from the eternal lover boy of Indian cinema to downright crude and mean is unreal, but he plays the dark character with as much flair as he does the light, playful ones. You will love to hate him in this role. His son, Ranbir, who is on his way to superstardom, has serious competition at home, forget the outside contenders.
Sanjay Dutt's portrayal of the antagonist, Kancha Cheena, is flawless. He personifies everything evil in the world with his look – the dark costumes and that shiny, bald pate, with the heavily tattooed arms and neck adding to the dark allure. Every nuance, every grimace, the wicked laughter and eyes cold as stone staring you down, are frightening even for an adult audience.
Priyanka Chopra is beguiling as Kaali with just the right amount of playfulness in her character that offsets Vijay's somber persona. The scene where she inaugurates her beauty parlour, replete with intentional spelling mistakes in the signage, is funny. "My staff is all imported. Maine Singapore se mangaai hai pure Chinese," she says introducing a group of Nepalese girls. She is absolutely endearing as Kaali and plays it just right. There is a song, Gun Guna where she is at her playful best with a set of ear curtains over her ears that actually pull open. Still wondering how!
Arish Bhiwandiwalla plays young Vijay like a seasoned actor, belying the fact that this is his debut film. The physical match of Arish and Hrithik is perfect, unlike most films that do not take such important attributions into account while casting. But then, Agneepath is a Dharma Production, and Karan Johar takes his business as seriously as he does creativity. The little Kaali, too, looks a lot like Priyanka.
Director Karan Malhotra has made an impressive film under the able guidance of his mentor, Karan Johar. It scores on all directorial aspects – design, sound, edit, costumes, camera, phenomenal cast, dialogues and a very gripping screenplay.
Nowhere does the remake remind you of the Amitabh Bachchan starrer that came out in 1990, except when Hrithik recites those memorable lines from Agneepath, the poem, and then says his full name, Vijay Dinanath Chauhan.
There is no question of Hrithik surpassing Bachchan's accomplished performance or falling short in his own portrayal of the legendary character. He is brilliant, but then that is not surprising as Hrithik is an actor more than he is a superstar. The way he played his part, given the complexities and vulnerabilities of his character, is remarkable. He has shown restraint and gruesome bloodiness in equal measure, not once going wrong with his depiction of the fury within. For the duration of his screen time, he ceases to be Hrithik Roshan, and remains Vijay from Mandwa; he breathes fire and soul into the role.
It is a tough call between all the exemplary performances in the film, but Hrithik's exceptional work, does stand out.
The cinematography is a character in itself, with beautiful landscapes outlining Mandwa and Bombay, giving each location a life of its own. Sequences of Ganesh Visarjan and the Dahi-Handi, or the song and dance numbers, add vibrancy to the otherwise somber palette. Whether the credit here goes to Ravi K Chandran or Kiran Deohans, both of who shot the film, only the director and producer know. Regardless, the cinematography is one of the finest works on Indian celluloid.
Katrina Kaif's Chikni Chameli had every man breathless in his seat, with the women sighing over her beauty. She was uninhibited as she danced with her 'come-hither expressions', very unlike her demure smiles and coy eyelash flutters.
There is one flaw in the film, which is unacceptable, and that is: factual inaccuracy. While the story is set in the year 1977, the film refers to the Bombay Docks as Mumbai Docks in the scene where Vijay and his mother move to Bombay. In another instance, when Inspector Gaitonde (Om Puri) talks to the press in a sequence, he refers to the city as Mumbai and not Bombay, as the city was called then.
RATING: ****
Entertainment
"Society likes conformity. Those who deviate from the norm are seen as threats. But it's our individuality that makes us unique. You have to be different to make a difference," says Kabir Bedi.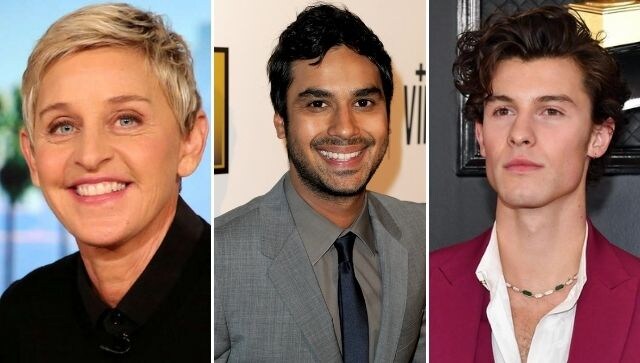 Entertainment
Others international celebrities trying to raise funds are Lana Condor, Jada Pinkett Smith, Lilly Singh and Richard Madden.
Entertainment
As someone who was born on the cusp of the millennial generation, I never saw Rishi Kapoor as a heartthrob but only as a dependable, first-rate actor.