Movie review: Have faith, OMG is a rare kind of Hindi comedy
Paresh Rawal as the man who sued God gets to display his formidable acting chops in OMG Oh My God. The result - a sharp tight comedy with a surprising hero in a country where being religious is the norm.
Kanji Lalji Mehta is a atheist. But not just any old atheist: he's the sort of unbeliever who has no qualms about milking overly gullible believers, especially if they happen to be cash cows.
In an early scene in Umesh Shukla's OMG Oh My God, an old Marwari seth walks into Kanjibhai's shop full of bric-a-brac and sets his heart on a particular statue of Krishna – one which Kanjibhai, having concocted for it an entirely fictitious backstory involving a fateful encounter with a holy man, insists isn't on sale. It's only once he has the potential graahak wrapped around his little finger that Kanjibhai gets down to the real business of wrangling a tidy sum out of him.
The whole thing may sound like pure trickery, with Paresh Rawal's Kanjibhai playing cynical villain to the seth's trusting devotion. And it sort of is. But what gives the scene its powerful ambivalence is the clear indication that the seth's desire to own the statue is driven by Kanji's tale of how it brought him financial luck—in other words, faith here is inescapably mixed up with avarice.
OMG Oh My God is full of scenes of this sort, using an irreverent combination of humour and logic to chip away not just at the edifice of organised religion, but also the usually unquestionable question of faith itself. It is a sharp, tightly-scripted comedy that actually has something to say—a species so rare in mainstream Hindi cinema as to be more or less non-existent.
While based on a successful Gujarati play that is itself largely adapted from a 2001 Australian film called The Man Who Sued God, something the film acknowledges in the credits, OMG never comes across as anything but perfectly rooted in its milieu.
With his openly cynical attitude, Kanjibhai makes for a surprising hero in a country where being religious is the norm. And he doesn't live in an urbane, cosmopolitan universe either, in which the question of private religious belief might have been irrelevant.
His social milieu is one in which religion is a collective, participatory thing, and everyone around him is constantly discomfited by his refusal to go along. His assistant and Man Friday is religious, getting flustered when Kanji refers to images of gods as toys. His wife Susheela is religious too, provoked by her husband's sins into fasting extra as penance on his behalf: an act about which Kanji cracks affectionate jokes, asking whether this means plugging in her cellphone will recharge the batteries on his.
His curly-locked little boy is dying to climb to the top of the human tower of boys and break Krishna's matki of butter, if only his father would let him.
So when an earthquake strikes Kanjibhai's shop and no other, everyone is more or less united in the belief that it's his provocations that have brought the wrath of God down upon him. Everyone except Kanjibhai. Until he goes to the insurance company to make his claim, and finds that they, too, appear to have colluded in this belief, since the citing of an "Act of God" absolves them of paying him any compensation for the loss of his shop.
The rest of the film is about how Kanjibhai decides to take his 'case against God' to court, employing a mixture of fierce rhetoric and faux-factual evidence to argue that if the destruction of his shop is an act of God, then God must compensate him.
After many refusals, he finds a Muslim lawyer (Om Puri) willing to draft a legal notice, which is duly dispatched to God's earthly representatives: a motley crew of religious leaders who administer the largest Hindu shrines. These characters are painted in very broad strokes—their visually caricatured faces even appearing in one nicely self-referential frame as part of a popular television news show—but between Govind Namdeo's semi-hysterical turn as Siddheshwar Maharaj, Poonam Jhawar's sexy sanyasan act as Gopi Maiyya and Mithun Chakraborty's marvelous performance as the silently menacing Leeladhar, you can't be bored for a moment. The other religions get token representation, too—and the requisite token ticking off.
Paresh Rawal, though he excels at pretty much role he does, has rarely had such a chance to display his formidable acting chops, at least on the big screen. As an ordinary man fighting his court case himself, Kanjibhai is quickly picked up by the media—first as an oddity and then as the courageous 'little man' fighting the big bad system. Rawal as Kanji runs the gamut from abrasive to affecting.
Around midway, the film partially shifts gear with the appearance of Akshay Kumar as "Krishna Vasudev Yadav from Gokul", who vrooms in on a motorcycle instead of a chariot and twirls a shiny keychain in lieu of a Sudarshan chakra. Rawal, while suitably grateful at being rescued from an angry mob, isn't too impressed with Kumar's claim to be the god —"Suit-boot mein aaya Kanhaiya, meri band bajaane ko?" he asks with withering sarcasm. But Krishna, true to character, is calm and unruffled and decides to stick around, providing Kanji with clear-eyed company and spiritual guidance that leads the film to a convincing—if inevitably faith-affirming—conclusion.
Considering that this is a film based on a play, and given how much of it takes place in a courtroom, OMG is put together with a reasonable amount of cinematic verve. Some of it—like the wonderfully energetic Go-Go-Govinda song performed by Sonakshi Sinha and Prabhu Deva—is quite extraneous to plot, but fun nevertheless. Other things—like a lovely shot of a mirror being carried through the streets of a crowded Chor Bazaar, reflecting the world that is held up to it—might be seen as adding a brilliant visual supplement to the film's polemical point.
For a mainstream film that takes on such a massively sensitive subject as religion, and insists on being funny while making its arguments, OMG is a resounding success.
Entertainment
Photo-Prem is a funny, quintessential take on what we leave behind for memories but quickly loses potential with half-baked writing and slow pace.
Entertainment
Time to Dance is pulled down by its unexceptional story, prosaic dialogues and colourless performances by the leads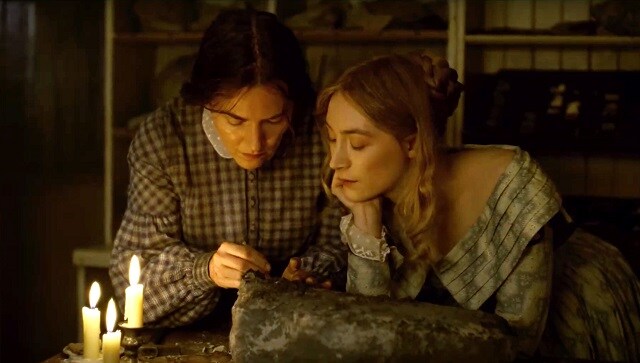 Entertainment
Ammonite suffers from a slowness, that intends to mimic the pace of life, but does not build or culminate into anything profound or satisfying.