Movie Review: Gangs Of Wasseypur Part 2 is fast and furious
More fast-paced, furious, frenzied and frenetic than the first part, Gangs Of Wasseypur - Part 2 confidently occupies that semi-feverish space where dream, nightmare and reality play a savage hide and seek with your sensibilities.
By Subhash K Jha/ IANS
If you try to count the numbers of bullets that are fired at unsuspecting victims in the ferociously violent world inhabited by Anurag Kashyap's trigger-happy goons, you might end up cross-eyed. Caught in the crossfire of vendetta and redemption, the characters of Gangs of Wasseypur - Part 2 are so on-the-edge, they don't fear the abyss that awaits them at the end of their vengeful voyage.
In any case, no one in Kashyap's god-forsaken kingdom takes cops seriously, not even the cops themselves. There's a typically wry Kashyap joke just before interval when the raging protagonist Faizal (or Faijal, as everyone including his sexy wife calls him), carries his kid-brother's corpse home. Cops stop Faizal and politely ask him to accompany them to the police station.
"Don't you see I'm taking my brother home," Faizal bellows. "We understand," squeaks a khaki-clad gentleman. "Why don't you hand over the body to us and come with us?" This, if you are familiar with the language of commercial Hindi cinema, is in character with the image of the filmy police force.
It always arrives late. Or untimely. Kashyap crams in-house jokes into every nook and cranny of this diligently-constructed breathtaking ode to the culture of street violence. The gang wars are so real that they are unreal. Does that make sense? It had better! That so-real-that-it's-unreal tempestuous twilight zone is where Kashyap's film belongs.
The violence of the politically corroded north Indian town (Wasseypur, or what you will) is exaggerated to a point of utter outrageousness. In Kashyap's version of the Wild West, you could get killed on the spot for anything, for asking the time or raping your neighbour's sister. The price for any crime, petty or grave, is the same.
The ceaseless shower of bullets gets a hand-up on the visceral soundtrack from Sneha Khanwalkar's excruciatingly evocative folk songs of Bihar (some of which are used in two versions, ironical or poignant, but always intensely definitive) and with excellent use of the puerile film songs of the 1980s, which used to be out on the T-Series label back then when music piracy was as rampant as political hooliganism.
Even when the epic narration moves into the 2000 millennium, the characters are stuck in the 1980s. A whole thesis can be written on the interesting caller tunes from the 1980s and 1990s used by the characters in their mobile phone. And yes, there is Yashpal Sharma, the resident stage singer of Wasseypur crooning a 1980s song for every occasion.
While the funeral of two of the key characters is on Yashpal's earnest attempt at musical expression, soars into "Yaad teri aayegi mujhko bada sataayegi" and "Teri meherbaniyan" tracks, they seem to unintentionally mock the solemnity of the occasion. The latter was actually sung in the film at the death of a canine.
The ceaseless violence is quite often savagely funny. The series of miscommunication and misinformation among the assassins when Sultan Qureshi (Pankaj Tripathi) is to be gunned down in a crowded market, is straight out of comic-action films from the 1980s.
When Kashyap is not paying tongue-in-cheek tributes to an era from Hindi cinema that seems to repeatedly define the lives of the film's characters, he is busy taking digs at his own brilliantly crafted homage to gangsterism.
In one sequence, an assassin asks his intended victim the address on a visiting card. "No, this is Dhanbad. The address you want is in Varanasi," says the helpful man before he's gunned down in the crowded bazaar.
For the record, the "Gangs Of Wasseypur" marathon is located in the Dhanbad belt, but had to be shot in Varanasi.
There are funny scenes of violence, tragic scenes of violence and tragi-comic scenes of violence. But violence, let us reiterate, is a constant in the lives of the characters as they stumble, fall, attack, kill or get killed in this blood-soaked bullet-ridden saga of gangsterism which makes director Francis Ford Coppola's Sicily look like a holiday resort.
More fast-paced, furious, frenzied and frenetic than the first part, Gangs Of Wasseypur - Part 2 confidently occupies that semi-feverish space where dream, nightmare and reality play a savage hide and seek with your sensibilities. The performances are tactile and dramatic.
Nawazuddin Siddiqui as the ganja-zonked protagonist delivers the deadliest performance in Kashyap's gang as the most swaggering mercurial gangster on this side of James Caan in The Godfather. Richa Chadda as his mother portrays the simmering intensity of a passion whose flames won't die down with old age. During a family wedding when Chadda, while singing a wedding song breaks down and then regains her composure, she proves she's no ordinary actress.
We are in the midst of some extraordinary talent here. Let's not undermine Huma Qureshi's saucy turn as the love of Nawazuddin's constantly-endangered life, just because she's hot and glamorous. Huma scorches up the screen with her casual vibrancy.
There are as many remarkable actors in this film as there are corpses scattered with scary casualness all across the lengthy saga. Mention must be made of young Aditya Kumar as Faizal's kid-brother Perpendicular, who uses razor blades for everything except shaving, and Zeishan Quadri (the absolutely amazing co-writer of this saga) as Definite, Faizal's half-brother. He looks ordinary. He is dangerous.
Interesting parallels are drawn in the relationship between the half-brothers Faizal and Definite in this film and Amitabh Bachchan and Shashi Kapoor playing half-brothers in Yash Chopra's Trishul.
These are filmy people who choose to replace the ketchup in the action films of the 1980s with real blood. But their emotional ties seem to hinge precariously on the logistics of commercial mainstream cinema.
Rating: ****
Entertainment
According to the early reviews, Army of the Dead, has 'no shortage' of excitement, suspense, twists and turns but feels 'painfully dry in the second half'
Entertainment
Pooja Entertainment, the producers of Akshay Kumar's Bellbottom, said an announcement regarding the film's release will be made 'at the opportune time.'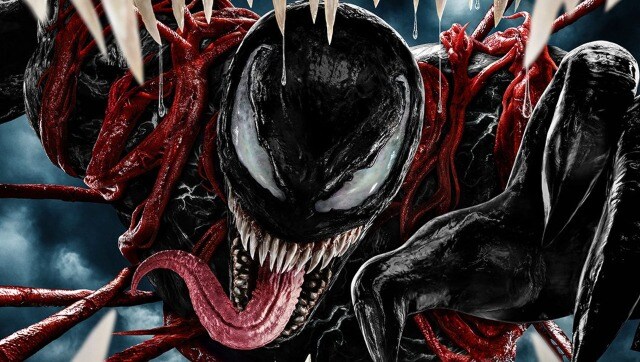 Entertainment
The much-awaited horror film A Quiet Place Part II will see John Krasinski and Emily Blunt reprise their roles.