Movie Review: David Dhawan's Chashme Baddoor has infectious energy
Cringing at the thought that David (Rascals) Dhawan remade a classic as sweetly funny as Chashme Buddoor? But surprisingly, Chashme Budoor 2013 works, PJs and all. It will make you groan and smile.
Full disclosure: I have always been a Chashme Buddoor fan – the delicately romantic, hilariously funny 1981 film starring Farooque Shaikh, Deepti Naval, Rakesh Bedi and Ravi Baswani is one of my favourite Hindi films ever. And I have never been a David Dhawan fan.
I spent the 90s avoiding the raucous comedies that Dhawan produced in quick succession, most successfully with Govinda – Aankhen, Raja Babu, Banarasi Babu, Saajan Chale Sasural, Bade Miyan Chhote Miyan.
The only David Dhawan film I can remember laughing rather than cringing at is Hero No. 1, where Dhawan remade another classic of our quietly funny 'middle class cinema'- Bawarchi.
And Dhawan's 2011 release, Rascals, starring Ajay Devgn, Sanjay Dutt and the unfortunate Kangana Ranaut's cleavage, was among the most distressingly sexist, grotesquely tasteless films of the year.
So I went into David Dhawan's remake of Sai Paranjpye's classic expecting to abhor it. Imagine my surprise that I did not, and then my shock when I found that I was thoroughly enjoying myself. The secret of this success is probably that Dhawan's film, from its very first frames, manages to make you forget that what you're watching has anything to do with Paranjpye's film.
The plot is fundamentally the same: two womanising slackers try to woo the lovely new girl next door; they fail magnificently, but make up grand fake stories about their conquest. When they discover their seedha-saada friend has gotten involved with the girl who didn't give them a second glance, their youthful masculine egos demand that they break up the jodi.
But this is a film from a different planet. It is neither delicate nor subtle nor adorably, ridiculously romantic in the way that the old Chashme Buddoor will always be. The old Chashme Buddoor is irreplaceable. But this new film – deliberately raucous, garishly colourful, masterfully kitschy – has such a relentless supply of energy and silliness and PJs that it is remarkably hard to resist.
It's like that unstoppable cousin of yours who keeps making terrible, groan-worthy jokes that you feel you really shouldn't laugh at – but he tells them with such enthusiasm and pitch-perfect timing that you simply cannot keep a straight face.
The penchant for bad shairi of the Omi character (Rakesh Bedi in the original) is retained for Dibyendu (last seen ranting against womankind in Pyaar ka Punchnama), and he keeps up a barrage of relentlessly low-brow, often deeply politically incorrect humour.
The film opens with Dibyendu standing on the stage of his alma mater, "St. Stephen's College of Arts and Sciences" (ha!), located -- where else? -- in Goa, and declaiming: "Kashmir na koi le sakta hai, Kashmir na koi de sakta hai/ Kashmir mein bas teen din aur do raat ka honeymoon package ho sakta hai". And it just carries on from there, one phatichar line after another: from "Bomb woh thhi, blast main ho gaya" to "Main aapke door ka padosi hoon".
Meanwhile, the Jai character (Ravi Baswani in the original) is played to hilarious excess by Siddharth Suryanarayan (last seen in Striker, first seen by Hindi film audiences in Rang de Basanti). Siddharth throws himself into his impromptu renditions of nineties numbers, from "Tu tu tu tara, phans gaya dil bechara" to "It's raining" with supreme OTT abandon – and his genuine enjoyment of it all is really quite infectious.
There is one disgusting, offensive non-joke – involving a voluptuous Lilette Dubey giving a beggar money because he's starved for three days and saying to herself, I wish I had that much self-control. Poverty is not, repeat – not, never, funny.
But other than that one irredeemable moment, inexplicably for dialogue-writers Sajid-Farhad – who're the real spine of the 100-crore club, having written the dialogues of Housefull 2, Bol Bachchan, Ready, Singham – this film's humour is not toxic. No, it doesn't challenge or push the mainstream understanding of anything, but it steers clear of being offensive, and it keeps you smiling non-stop.
Saeed Jaffrey's marvelous Lallan Mian, a paanwalla who doles out love-life advice to the boys in the original, is replaced here with Rishi Kapoor's café-owning Joseph Furtado, who gets to have his own romance with the boys' fetching-and-still-single landlady, Lilette Dubey as Miss Josephine.
In a fascinating shift, that the boys of 2013 – unlike the boys of 1981 – don't think they have anything to learn from an older man. In fact it is he who is the innocent, and they who will set him up with a romantic partner. To complete the arc of that transformation, the film transposes much of the bumbling of the original Farooqe Shaikh character onto Rishi Kapoor – and even gives the Chamko detergent sequence away to the older generation romance. The inherently domestic touch of detergent – charming as it was -- cannot taint the carefree gadding about of Ali Zafar (playing Farooque Shaikh's character) and his bike-riding ladylove Tapasree Pannu.
It's the romance between Tapasee's Seema and Ali Zafar's Siddharth (now of course there are no Siddharths left in the Bollywood universe, so he's Sid) which feels a little thanda. Tapasree is a ten-film-old actress down South, whom I have seen play a very different character in the fascinating Tamil film Aadukalam.
She brings an infectious joie-de-vivre to her role as the girl running away from her authoritarian army-man father and the arranged marriage he wishes her to quickmarch her into. (The army man father and his teacher twin give us a double role from Anupam Kher, who seems to be thoroughly enjoying himself delivering such brilliant rubbish as "Lahaul vila kuwwat… I said, Lahaul, via Kuwait".)
Tapasee's Seema is straightforward and satisfyingly un-coy, and this totally works for her role as the girl whose singular form of appreciation for her man's charms is to say, "Dum hai, boss!" with an attractive gleam in her eye. But there was a girlishness to Deepti Naval, an old-world demureness she managed to combine with more than the requisite gumption. That, and the purity of Farooque Shaikh's surprise that a lovely girl like her can really be in love with him – we do not have those.
But, as I have said before and I will say again, one should not go into this film with thoughts of the tender romance and impish humour that made the 1981 Chashme Buddoor such a perfect encapsulation of both its time and its director's marvelous sensibility.
The new film may not be a classic, but it is undeniably a fascinating creature – a well-acted, crazily high-octane comedy whose sense of pastiche bears the un-mistakable directorial stamp of David Dhawan. It has the simplicity of the 1981 plot, remade with all the oopari coolness of 2013 – but also, at its core, a laughing, deliberate, gloriously musical homage to the high-decibel, lowbrow humour of Bollywood's 1990s. Fun stuff.
Entertainment
Photo-Prem is a funny, quintessential take on what we leave behind for memories but quickly loses potential with half-baked writing and slow pace.
Entertainment
Time to Dance is pulled down by its unexceptional story, prosaic dialogues and colourless performances by the leads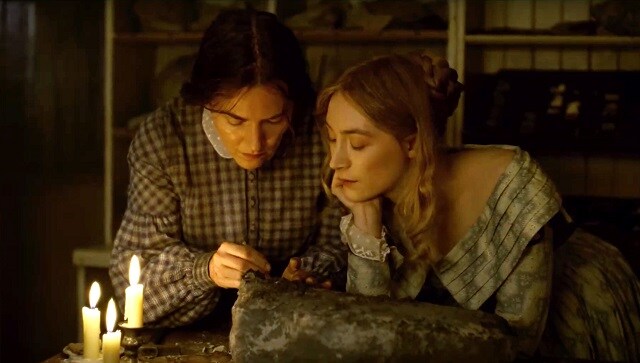 Entertainment
Ammonite suffers from a slowness, that intends to mimic the pace of life, but does not build or culminate into anything profound or satisfying.