Move over, Salman Khan: Lawyer pulls up MSCW for neglecting complaint against KRK
In the Salman Khan rape comment matter, the MSCW took cognizance suo moto, however, it's alleged that the Commission failed to show similar interest for KRK.
In the Salman Khan rape comment matter, the Maharashtra State Commission for Women (MSCW) took cognizance suo moto, however, it's alleged that the Commission failed to show similar interest and promptness when it came to the matter concerning 18 women celebrities who were "sexually harassed on a public platform by Kamaal Rashid Khan".
Salman had sparked a controversy few weeks back when he said that he felt like a 'raped woman' after the shoot of a tough wrestling scene for his upcoming film Sultan and within no time the MSCW had summoned the actor to clarify his remarks.
Advocate Rizwan Siddiquee has served a legal notice to Vijaya Rahatkar, chairperson, MSCW for a wilful failure and neglect on her part to take cognizance of a "serious" complaint submitted to her with evidence, on the 29th of June. "The complaint had corroborative evidence to support my claim of sexual harassment meted out to the said celebrities," asserted Siddiquee.
Here are some of the tweet posts of Kamaal R Khan (actor-producer-critic KRK) about the Bollywood actresses:
Bipasha Basu: Posting a picture of papayas on Twitter, he wrote, "These are as big as bipasha ke in bipasha song?#Jodibreakers" He further added, "Believe me I go crazy when Bipasha move her boobs on the song Bipasha of Jodi breakers."
Nargis Fakhri: "Nargis Fakhri says- My butt is bigger than my lips. Yes yes I know this yar but kabhi milo Tho Sahi yaar. @NargisFakhri How long can a woman go without sex? We r supposed 2have sex n don't lie 2me tat nobody wants it.[sic]."
Malaika Arora: "There comes an Item.song from an Old lady Malaika Arora Khan who still dances at her best with hotness and curves, it was fun watching this dance."
Priyanka Chopra: "I want to ask only one question to @priyankachopra ji Madam ji are you also a virgin like Rakhi Sawant? ?#?JustAsking?(sic)."
Huma Qureshi: "I want to ask you one question if you will not feel bad? I want to have sex with you. Hahaha." He then addded, "Now watching Gangs of Wasseypur 2 for the 2nd time n only for Huma Qureshi and dialogue Kahke Loonga"
Sunny Leone: "I request to Digvijay Singh Ji to have a strip show of Sunny Leone in the function of his marriage and I will pay Rs 1 crore to the Congress party fund."
It all started with a twitter duel between KRK and writer-director Vikram Bhatt after the release of his film Love Games. Then came KRK's review of the film 1920 London (for which Bhatt has written the story) in which he made insinuations against Bhatt, while calling him a fraud and a pimp.
Not letting the twitter troll get away with these offensive remarks against him, Bhatt slapped a defamation case against KRK and sent him a legal notice following his "nasty" review of 1920 London, and for also making a personal attack in which Bhatt was accused of trying to "supply Meera Chopra (actress of his film) to a well known producer by many dirty tricks."
Further, Vikram took the cause of other actresses and complained to the MSCW through his lawyer Siddiquee for KRK's tweets "outraging their modesty".
Bhatt, who believes that KRK's "disgusting" tweets about Bollywood actresses amounts to sexual harassment, was earlier quoted saying, "This isn't just about me now. This is fighting for a larger picture. Salman Khan makes one comment and the whole world chases him, what about this (KRK)? He will perpetuate lies and continue to do so. He's been making these comments for years, and no one has stopped him. There are apps which hire him for interviews. How is he getting away with all this?"
Siddiquee has alleged that the MSCW's acts of non-cooperation and no-concern shown to his complaint, as well as neglecting to return any of his calls regarding the matter proves that MSCW was least interested in performing their role, duties and obligation of protecting the rights and interests of women.
"MSCW has failed to abide by the provision of Section/Clause 3 of The National Commission for Women (Procedure) Regulations, 2005 – Part II," said the legal notice. The advocate further added, "Your publicity seeking actions coupled with acts of being biased is proved when you instead gave more priority to the matter pertaining to actor Salman Khan and took out "special time" to give interviews in the said matter and took prompt action for "obvious reasons".
Pointing out certain sections as per the National Commission for Women (Procedure) Regulations, 2005 – Part II, the lawyer has said in his notice that the chairperson was duty bound to register his complaint within 24 hours of receipt of the same, and send him an acknowledgement within three days. "This has not been done," he said.  "If she (MSCW chairperson) doesn't act fast I will be constrained to initiate strict legal proceedings against her as per the provisions of law, entirely at her risk, cost and consequences," said the notice.
While it's given to understand that the MSCW chairperson is currently in Delhi, repeated attempts to contact her on her cell phone, failed. The Commission's social counsellor Anjali Kakde confirmed receiving Siddiquee's notice. Kakde further stated that their member-secretary, A N Tripathi has advised the matter be taken up for hearing. "We will be soon talking to Siddiquee," said Kakde.
Subscribe to Moneycontrol Pro at ₹499 for the first year. Use code PRO499. Limited period offer. *T&C apply
Entertainment
Akshay Kumar's Bellbottom was scheduled to see a release in April this year but was later postponed due to lockdown restrictions
Entertainment
"At the beginning of the show I felt living in Bigg Boss house was not my cup of tea," says Rubina Dilaik, who was announced winner of Bigg Boss 14 on Sunday.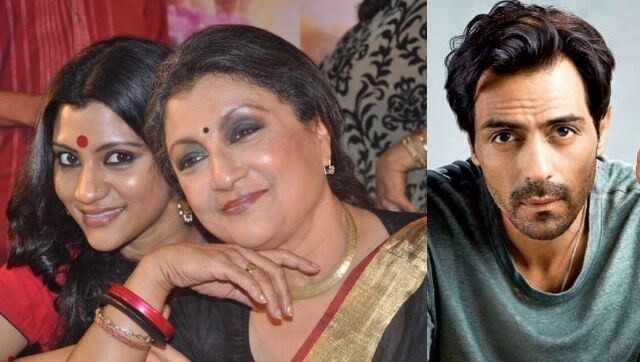 Entertainment
Aparna Sen describes The Rapist, which is currently in pre-production, as a "hard-hitting drama that examines how much of society is responsible for producing rapists."