Mohalla Assi movie review: Bombastic monologues dominate this taxing Sunny Deol-starrer
The small things and little metaphors are more impactful than the bombastic monologues which dominate Mohalla Assi
Mohalla Assi refers to the neighbourhood near the ghats of Varanasi. Director Chandraprakash Dwivedi's adaptation of a novel called Kashi Ka Assi converts into a verbose satire on religion, communalism, globalisation and neo-colonialism.
The film opens circa 1988 and progresses to the late 1990s following the story of Pandeyji (Sunny Deol), a Sanskrit teacher and part-time priest, and the other sundry characters that populate the banks of the Ganges. Sakshi Tanwar plays Deol's fickle and frustrated wife. The livelihood of most of the residents of the community depends on wide-eyed western tourists seeking quick-fix moksha. Ravi Kishan plays a street-smart tourist guide who peddles exotica and also serves as a broker finding budget and long-term visitors with local paying guest accommodation.
An ensemble of actors including Mukesh Tiwari, Saurabh Shukla, Rajendra Gupta and Mithilesh Chaturvedi play characters such as a lawyer, a priest, armchair intellectuals, right-wingers, leftists etc who sit around for hours sipping tea and arguing about politics. Most of them make long speeches pontificating on religion, communalism, corrupting of tradition, reservations and so on. The conversation changes with the passage of time as we come to 1990 and then onward to 1998.
Dwivedi represents change in small ways – the clay tea cups have been replaced by glass tumblers. The neighbours wife shows off her affluence by speaking a smattering of English and parading her gold jewellery. But Pandeyji's family continues to live a hand-to-mouth existence as the import of Sanskrit begins to fade, replaced by the need for English language literacy.
Dwivedi's satirical drama has battled production delays, opposition and threats to finally release after a seven-year struggle. Mohalla Assi is less cinema and more textual. The small things and little metaphors are more impactful than the bombastic monologues which dominate this taxing and ponderous chronicle.
Entertainment
The film is a teen revenge drama set against the backdrop of high school shaming and ostracising.
Entertainment
With every plot uptick, first in the form of nationwide media attention, then a CBI enquiry, comes a greater fall. When Siya refuses to be guilted into marrying one of her rapists and pursues justice, her father is tied to a tree and publicly lynched to death.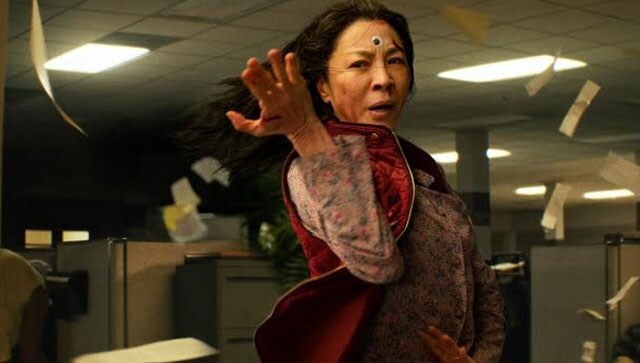 Entertainment
The Daniels take us on a freewheeling adventure where metaphysics and martial arts don't exactly make for the strangest bedfellows.