MLA trailer: Nandamuri Kalyan Ram, Ravi Kishen, Kajal Aggarwal flaunt well-etched characters in this action drama
MLA pits Nandamuri Kalyan Ram against a rustic Ravi Kishen as the two battle it out for power in Upendra Madhav's upcoming release.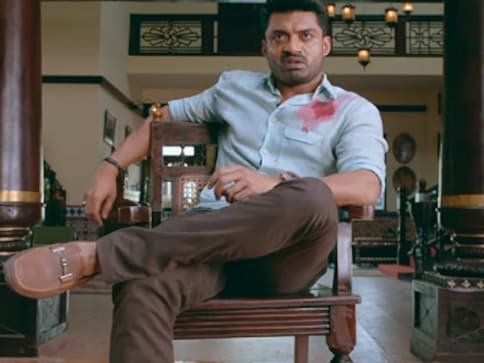 With three days to go for the release of MLA aka Manchi Lakshanalu Unna Abbayi, the Telugu film's makers give us a more detailed glimpse into this upcoming action drama.
The theatrical trailer presents to us an entertaining war for power between Nandamuri Kalyan Ram, who notoriously calls himself Manchi Lakshanalu Unna Abbayi, and Ravi Kishan, in a rural area of Andhra Pradesh. What kick-starts as a fun loving story of Kalyan Ram goofing around with his family and love interest Kajal Aggarwal, later turns into a battle.
The actor, who seems to be inspired by Kajal's thoughts on education, sets out on a mission for children's access to education. Meanwhile, Kalyan is also pitted against Ravi Kishen from the opposing party as the two battle it out in the elections.
From the latest two-minute glimpse, we see that Kalyan Ram is on a roll on screen as he throws powerful punchlines and also tickles a bone or two. Kajal, on the other hand, plays the role of the girl next door with inspiring ideals. Ravi Kishan is seen as what he does best for Tollywood, the dhoti-clad antagonist/politician.
The film is evidently about the Kalyan Ram's journey to power while fighting against corruption and how the good wins over the evil. The actor is all enthusiastic yet sarcastically arrogant as he tries to win his people. Fans are now eagerly looking forward to watch how Kalyan Ram and Ravi Kishen drive this story in both a humorous and a revengeful manner.
Directed and written by Upendra Madhav, MLA hits screens this Friday on 23 March, and also poses an entertaining background score and some peppy tracks by Mani Sharma.
Watch the trailer here:
Bollywood
With shows Like ESCAYPE LIVE and Human, Disney+ Hotstar is presenting breakthrough content.
Bollywood
Be it Hatoda Tyagi, Jaana Or Compounder, Abhishek Banerjee never fails stands out with his versatility.
Entertainment
Having entertained audiences with six successful seasons and a feature film, the Crawleys are back with another feature film 'Downton Abbey: A New Era'.