Mili to Monsoon Wedding: Ahead of Piku's release, 10 endearing on screen father-daughter relationships
Piku releases this Friday, and while we wait to find out how the story between Piku and her father progresses, here's a list of other endearing on-screen father-daughter relationships
'Ayeee Piku. Arre flush mein paani nahi haii (Piku, there's no water in the flush)," yells Amitabh Bachchan in the trailer of Piku. Deepika Padukone, who plays Piku, his daughter, sighs heavily and look grudgingly towards their domestic help.
In another scene, she confronts him about a message he sent her while she was at work. "Semi-liquid motion first, then two days gas and constipation. What should I do? -- yeh koi message hota hai (What kind of a message is this?)," Piku asks her Baba sternly. Bachchan, or Baba, finds his hearing aid, plugs it in and looks blankly at her. Because of course, he hasn't heard a word she said.
These snippets become our introduction to the warm and funny relationship between Piku and her father. Piku is a working girl, committed to being a perfect daughter to her aging father. Or at least she tries. Bachchan, with his endearing Bengali accent, aptly portrays her ageing father. (We're going to try and forget Bachchan and Padukone's previous outing as father-daughter in Aarakshan, which can be described as forgettable, at best.)
The relationship in Piku piques interest and what endears Padukone and Bachchan's characters to us is its familiarity. It's cute, it's classic, but what we see in Piku is not stereotypical.
Piku releases this Friday and while we wait to find out how the story of Piku and her father pans out, here's a list of other endearing and unconventional on-screen father-daughter relationships.
1. Jaya Bachchan and Ashok Kumar in Mili (1975)
In this light-hearted film that ended up being a tearjerker, Jaya Bachchan played Mili, a young girl who suffers from pernicious anemia, which was not treatable at the time. Instead of being overprotective of his sick daughter, Ashok Kumar played a friendly and open father. They're more like friends and their relationship makes you want to call your father up and chat with him.
2. Bindiya Goswami and Utpall Dutt in Gol Maal (1979)
Most of you will remember the laugh riot Gol Maal for Utpal Dutt's massive confusion between a moustached Amol Palekar and a non-moustached Amol Palekar. But beyond that, it is no hidden fact that the entire series of events happens because of one person: Urmi, played by Bindiya Goswami. Her character epitomises the baby of the family, who falls for a defiant (or atleast in the eyes of the traditional Dutt, who is only looking out for his daughter) and the whole spiel of confusing twins and covering one lie over the other starts with her. Dutt eventually accepts Urmi's choice, like any doting father would.
3. Pooja Bhatt and Anupam Kher in Daddy (1989)
Pooja Bhatt plays a rebel in this film. She been brought up by her grandparents and has no recollection of her mom and dad. Under the impression that her father is dead, certain events in the film bring her closer to her father. Keep a box of tissues in hand before watching this film. It's a beautiful, coming-of-age story between a father and daughter.
4. Manisha Koirala and Nana Patekar in Khamoshi (1996)
As if the film wasn't sentimental enough, Nana Patekar's portrayal of a deaf-and-mute father to Manisha Koirala is just plain adorable. You can see how he translates all his ambitions onto his daughter, without being imposing. Apart from being a brilliant actor, which he undeniably is, Patekar is able to capture the heart-warming pride a parent gets at the success of their child with very high emotional capability.
5. Sana Saeed and Shah Rukh Khan in Kuch Kuch Hota Hai (1998)
Shah Rukh Khan travels all the way from Mumbai to Shimla to tend to his daughter because she has a cold. That's not even the cherry on the cake. It's the fact that his daughter, played by Sana Saeed as Anjali, already predicts that he would do exactly that. Ok, so the kid's a little too cute and Khan as her dad is a bit of a clown, but there is something undeniably sweet about the father-daughter relationship in Kuch Kuch Hota Hai. He takes care of her and spoils her like any father would, but Anjali also takes care of him and is his sole emotional support. Pretty great for an eight year old.
6. Aishwarya Rai and Amitabh Bachchan in Mohabbatein (2000)
She kills herself because her father doesn't approve of her love. He shows no grief or sadness because of his ego. Amitabh Bachchan in Mohabbatein plays a stern patriarch, and even though it takes till the end of the film to melt him, in the few snippets between Aishwarya and Amitabh during the film, you can tell how much Amitabh's character loves his daughter. We've seen the stern father many times in Bollywood and he's difficult to digest, particularly in this day and age. Plus, his overreaction to the idea of his daughter having a boyfriend is just plain creepy. More annoying, though, is the daughter's meekness. Still, if you're a traditionalist, this one's for you.
7. Preity Zinta and Anupam Kher in Kya Kehna (2000)
Rarely do we see a father openly walk down the streets, hand in hand with his pregnant-out-of-wedlock daughter. This film was released in 2000, and even though there was rampant Y2k, new-age enthusiasm at the time, never had we seen this sort of unconditional support from a father to a daughter. Anupam Kher plays a doting father to a carefree, bubbly Preity Zinta in this ahead-of-its-time film.
8. Shefali Shah and Naseeruddin Shah in Monsoon Wedding (2001)
Shefali Shah doesn't play Naseeruddin Shah's daughter in Monsoon Wedding; she's actually his niece, but Shah is very much the father figure in the relationship. (The role of his daughter is played by Vasundhara Das, but that is a completely different track in the film.) While planning his daughter's wedding in Delhi, Shah's character finds out disturbing news about his niece having been sexually harrassed by a relative. His unflinching support of his niece in the tight joint family and his vocal support of her (he calls out the well-respected uncle) makes you want to give Shah a bear hug.
9. Tabu and Paresh Rawal in Cheeni Kum (2007)
In another case of putting a daughter's desires over their own, father Paresh Rawal in R. Balki's Cheeni Kum finally agrees to let his daughter, played by Tabu, marry a significantly older man. Think about it. Which father would do that? (It's a different matter that the older man is played by Amitabh Bachchan.) The peace-loving, Gandhian father that Paresh Rawal takes his time to adjust to his daughter's boyfriend because he can't deal with the fact that the boyfriend is actually older than him. He even indulges in a "satyagraha", but all's well that eventually ends well.
10. Kareena Kapoor and Dara Singh in Jab We Met (2007)
While technically Dara Singh plays Kareena's grandfather in the film, he is the supreme patriarch of the quintessential Punjabi family, which means he's the Big Daddy of all daddies. Sitting on a throne like structure, he asks questions about Shahid and Kareena's relationship. "Humaari umar mein sab pata chal jata hai (at my age, I can tell everything)," he says. After Kareena's Geet stops him from embarrassing her, he embraces Shahid's character with the same enthusiasm that he used to question him, and asks him to stay with their family. One of those rare occasions when you can (sort of) get behind the conventional father figure, even if he is a bit overbearing.
Subscribe to Moneycontrol Pro at ₹499 for the first year. Use code PRO499. Limited period offer. *T&C apply
Entertainment
Chehre was earlier scheduled to release in July 2020 but was pushed due to the coronavirus pandemic.
Entertainment
"Can't wait for you guys to witness the outstanding world Ayan Mukerji has created," Nagarjuna wrote, calling co-stars Alia Bhatt and Ranbir Kapoor "stellar performers."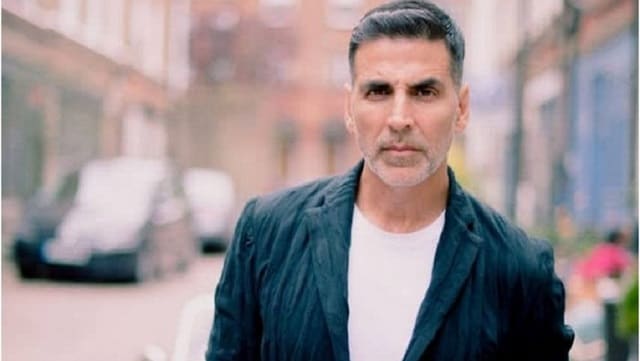 Entertainment
Sushant Singh Rajput was posthumously honoured with the Critic's Best Actor award at the Dadasaheb Phalke International Film Festival 2021.