Meyaadha Maan: Move over Mersal; here's why you should watch this rom-com instead of Vijay-starrer
Meyaadha Maan is definitely one of it's kind.
Kollywood's big Diwali release, Mersal, sure took away all the hustle and bustle that usually surrounds friday releases, but here is a movie that has emerged as a slow winner. Make way for the Tamil romantic comedy of the year, Meyaadha Maan.
Meyaadha Maan, inspired by the short film Madhu, directed by Rathna Kumar and starring Vaibhav Reddy, Priya Bhavani and Shankar, is a one-sided love story of 'Idhayam' Murali made engaging with the mix of very relatable friendship and sisterhood tales.
While Mersal is top class cinematagrophy, bucket loads of Illayathalapathy packed into 3 hours of masala entertainment, Meyaadha Maan is a light, slow paced romantic comedy, both heart-warming and rib-tickling in parts.
This week, here is why you should break away from all the Vijay madness and watch this Kollywood flick instead.
- Meyaadha Maan strikes big time with it's simple story filled with humour. Rathna Kumar doesn't try glorifying themes in this everyday plot and keeps the characters closer to life. It's quite the opposite to a thriller drama like Mersal.
- Vaibhav as Idhayam Murali is a natural and apt in his potrayal as the guy suffering from unrequited love. He is super relatable with all his drunk antics and gives us a blast from the past with the Tamil songs he performs as a wedding singer in the suburbs of Chennai.
- Indhuja, who plays Sudar, Murali's sister, is the most underrated and one of the best roles of the film. Another reason to watch this film is the Kuthu sequences, especially that of the brother and sister. The kuthu in this film, is not your usual Tamil dandanaka. It is subtle yet groovy. It is not only catchy but is also filled with humourous lyrics. Extra whistles to the superbly choreographed song between Vaibhav and Indhuja.
- Meyaadha Maan unlike Mersal isn't larger than life. Not one fight sequence, or high end song-dance between the main leads. Yes, the cast in this movie do not suddenly jump into exotic foreign locations, neither do they indulge in otherwise unbelievable stunts.
- The film's music definitely strikes a chord. From the folkish Enga Veetu Kuthuvilakke song to Tasmac-style S. Madhu and Rathina Katti, the romantic comedy is enjoyably musical, thanks to some fine tracks by Santhosh Narayanan and Pradeep Kumar.
- Meyaadha Maan is also one of those films in which the supporting cast deserve equal credits. Idhayam Murali is nothing without his friend Vinoth, sister Sudar and the love of his life Madhu.
- As a sucker for romantic comedies, I felt like Kollywood suddenly jumped onto the Hollywood style rom-com bandwagon. However, this film does a good job at that. Though the first half is pretty slow paced, you want to sit through this film, eagerly waiting to watch how this love story unfolds.
- The climax. No spoilers ahead; I'm not giving away this well written script, but you know a movie is good when the climax makes you laugh. The climax makes you walk out of the theaters content.
Meyaadha Maan is definitely one of it's kind.
Entertainment
Srikant Tiwari has to hold together a family as well as a nation. He symbolises Delhi, which has to deal with both claims of alienation from family members (contentious states) and threats to national security and sovereignty.
Entertainment
Sherni delivers unrelenting yet noiseless excitement in addition to food for thought all the way up to its concluding minutes.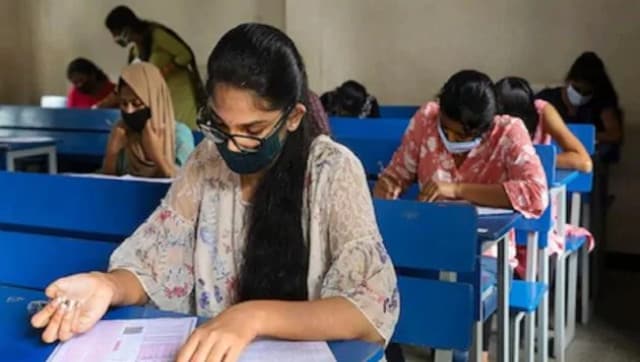 India
State education minister said 3,08,000 students had been enrolled in Class 12 in government, aided and private schools under the PSEB in the 2020-21 academic session