Met Gala 2017: Deepika, Madonna, Rihanna dazzle the Rei Kawakubo themed red carpet
Celebrities interpreted Kawakubo's whimsical, geometric, colourful clothes that are more than larger-than-life.Met Gala 2017.
It's been a volatile year so far, to say the least. Which is why we need the frivolity, beauty and low-stakes drama of the Metropolitan Museum of Art's Costume Institute Benefit – a.k.a. the Met Gala or Met Ball – more than ever.
After last year's tech and robot-inspired 'Manus x Machina,' the theme for the 69th gala (and accompanying exhibit at the institute) honors one of the fashion world's most beloved and singular living designers, Comme des Garcons' Rei Kawakubo.
Met chief, Vogue editor-in-chief Anna Wintour, who has been a chair of the event since 1995, is hosting this year's gala with the help of host committee members Gisele Bundchen, Tom Brady, Katy Perry and Pharrell Williams. This year it was interesting to see how celebrities, including our very own Priyanka Chopra, interpret Kawakubo's whimsical, geometric, colourful clothes that are more than larger-than-life.
(Also read: Met Gala 2017: Priyanka Chopra wows in long Ralph Lauren trench coat dress)
Here are what our favourite celebrities wore to the Met Gala 2017:
Madonna
The 'Vogue' girl opted for a camo-print gown by Moschino and a distressed stole.
Kim Kardashian
Kim Kardashian sadly stuck to a boring ol' white Vivienne Westwood dress.
Katy Perry
Gala co-chair Katy Perry showed up in a Maison Margiela Artisanal custom gown by John Galliano. Could you help us decipher the head gear?
Rihanna
Work times five! Rihanna did not disappoint for 2017, wearing a very, very elaborate Comme des Garcons Fall 2016 piece with red strappy sandals.
Kylie Jenner
This attention loving Keeping Up With The Kardashians star wore a glittery Versace gown dripping with sea shell and pebble embellishments.
Selena Gomez and The Weeknd
Selena Gomez stepped out in a pretty lace maxi by Coach featuring subtle sequin embellishment and The Weeknd looked dapper in a tux and tie.
Nicki Minaj
Nicki Minaj's custom H&M dress featured a hidden ode to the Met Gala theme: Japanese designer Rei Kawakubo's face.
The singer's dress, paired an off-the-shoulder black and red top with extravagant raw-edged silk taffeta and black vinyl roses trapped at the hem and beneath the train.
Cara Delevingne
As a Met Gala regular, Cara Delevingne has changed it up every time she's set foot on the red carpet. With her head freshly shaved for Life in a Year alongside Jaden Smith, Delevingne debuted a dramatic slick of silver paint that gave her buzzcut a metallic edge, plus a brocade Chanel pantsuit from the Spring 2017 couture collection that looked like it was out of upcoming film Valerian and the City of a Thousand Planets
Anna Wintour
Vogue Editor-in-Chief Anna Wintour descended upon the Met Gala in a personalised Chanel gown.
Kendall Jenner
Kendall Jenner's dress was completely sheer except for her black couture G-string, designed by luxe lingerie label La Perla.
Priyanka Chopra
Priyanka Chopra dazzled in a Ralph Lauren dress.
Deepika Padukone
Deepika decided to stay safe and not wear anything out of the ordinary. She opted for an elegant and classy white backless gown.
Find latest and upcoming tech gadgets online on Tech2 Gadgets. Get technology news, gadgets reviews & ratings. Popular gadgets including laptop, tablet and mobile specifications, features, prices, comparison.
Entertainment
Kangana Ranaut claims the film industry runs on an unwritten rule of "you hide my dirty secrets I will hide yours," in response to top Bollywood filmmakers and producers moving the Delhi high court against media houses and journalists for "defaming the industry."
Entertainment
Director Nag Ashwin reveals Amitabh Bachchan will not have a guest appearance but will have a full-length role in the movie.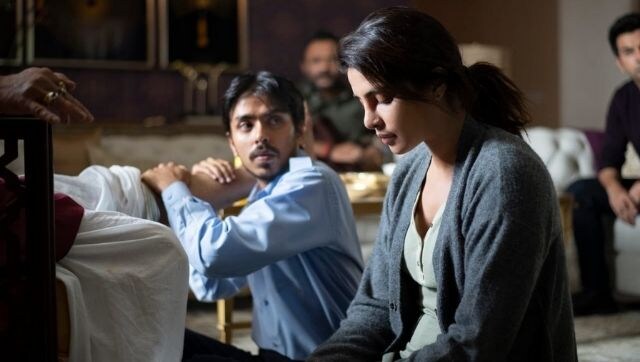 Entertainment
Priyanka Chopra describes Netflix's The White Tiger, based on Arvind Adiga's Man Booker Prize-winning novel, as a "powerful" film that will make viewers "uncomfortable"