Mersal music review: A mix of Vijay's commerical influence and AR Rahman's trademark sound
With few catchy and few forgettable tracks, Mersal is a mixed bag of tunes and lots of noteworthy lyrics.
The Mersal audio was launched amid much fan fare and stardom in Chennai on Sunday and it was evidently quite special for fans, as Vijay and AR Rahman come together after ten long years. The last time the actor-composer duo impressed audiences was in 2007 with Azhagiya Tamizh Magan. Though the movie wasn't one of Vijay's commercial hits, the music definitely stood out.
Also, co-incidentally both Thalapathy (as Vijay is known) and the maestro complete 25 years in the industry.
Right from the Aalaporaan Thamizhan teaser to Neethane and the announcement of GV Prakash's Mersal Arasan, the period thriller's audio has been high on buzz since day one.
Is this yet another successful album from Vijay? Has AR Rahman maintained his trade mark style? Here is what we thought of the most anticipated Kollywood album of the year.
Aalaporaan Thamizhan
This track is full of motivation, aspiration and praise, and definitely the most impressive of the lot. It screams of celebration, of a Thamizhan and claims that there is nothing he can't achieve.
What I love about this track is the opening sequence with brilliant traditional folk music. Set in a rural background, with Vijay and Nithya Menen killing it in rural attires, Aalaporaan Thamizhan has some foot tapping beats throughout. The song is a perfect celebratory track and strikes a cord in presenting to us one of Vijay's character's in the movie.
Aalaporaan Thamizhan is a combination of three artists adding noteworthy variations to the track. Crooned by Sathya Prakash, Deepak, Kailash Kher and Pooja AV, the track is a mix of genres. It goes from 'Chinna maake raasa vaaran,Meese murekke' to T'hamizhan da ennalum, Sonnale thimirerum' and aptly transcends into Pirai neeti Pournami Aakkum.
Kudos to Vivek for some interesting work on the lyrics, as the premise of the song could have gotten quite cliche.
Neethane
Neethane is the surprise package of this album. The romantic track moves away from the usual quirky tracks we see Vijay groove to. What isn't surprising is Shreya Ghosal's vocals. One glance at the song and I could tell it is Shreya's rendition. AR Rahman too joins on the vocals and the two together give us the melodious track of the album.
Neethane is composed for Vijay's rapport with Samantha Ruth Prabhu in Mersal and it's the perfect song to listen to on a rainy drive. The most beautiful part of the song however is the way the instruments play out and when the Hindustani beat sets in. This is when I felt the AR Rahman touch.
Macho
Macho, sung by Sid Sriram and Shweta Mohan, is not as impressive as the previous tracks. The track is peppy and reminds us of Google Google Panni Parthen from Vijay's Thuppaki at parts, but doesn't really get us humming. Composed for Vijay and Kajal Aggarwal this time around, the only catch part of 'Macho''s is the chorus. While Sid Sriram and Shweta do a good job individually, the song doesn't sink in well.
Mersal Arasan
Mersal Arasan is pitted as the title track and sung by GV Prakash. Much like Aalaporaan Thamizhan, Mersal Arasan is both fast and subtle at parts. This one is a crowd puller and one could typically imagine Vijay putting out his best moves to the kuthu beats. Though Mersal Arasan sets the mood of the film with lines like Thalapathi entru, Sidhari sidhari, we have heard better title tracks from Vijay's films in the past. This Mersal Arasan is not Mersal enough.
The Mersal album is not a typical AR Rahman one. It doesn't weave magic or get you grooving immediately, but it is exactly what would happen if you mix Vijay's commerical expectations and AR Rahman's trademark music. With few catchy and few forgettable tracks, Mersal is a mixed bag of tunes and lots of noteworthy lyrics.
Mersal directed by Atlee is set to release on 18 October and has Vijay in triple roles.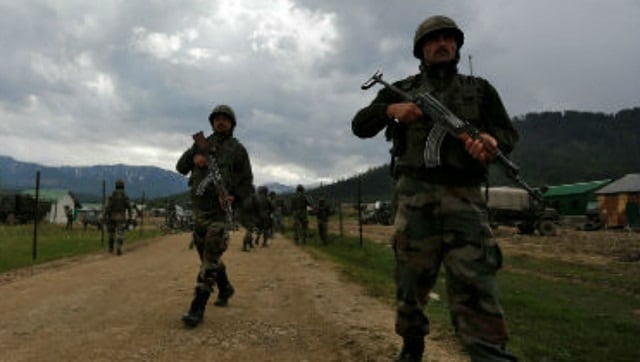 India
The police said that one of the militants, identified as Fayaz War, was involved in several attacks and killings of civilians and security personnel. He was the last perpetrator of violence in north Kashmir
Entertainment
"These actors are portraying themselves as champions to bring social justice in the society, but their acts are not in consonance", the court said.
Entertainment
"Instead of having boxing as just an element in the story, we have tried to narrate a life in the film," says Arya on Sarpatta Parambarai.