Mersal all set to cross 200 cr worldwide; has politics around the film led to exemplary box office collections?
In Tamil Nadu, the controversial film Mersal has emerged as the second highest grosser of all time, after Rajinikanth's 2010 mega hit Enthiran.
The 43-year old Tamil superstar Vijay, lovingly called Thalapathy (Commander-in-Chief) by his army of fans, is having a dream run at the worldwide box-office, with his Diwali release Mersal on a record breaking spree.
And thanks to BJP's Tamil Nadu leaders making caustic remarks attacking Vijay, and naming and shaming his religion — the raging controversy has now boosted the film's collection. With state BJP leaders asking the producer to delete dialogues and scenes in the film that mocked at GST and Prime Minister Modi's digital India imitative, an ordinary hit has now become a mega blockbuster.
Mersal grossed approximately Rs 150 crore in its opening week worldwide, with Tamil Nadu alone accounting for somewhere between Rs 75 to Rs 85 cr.
In the overseas market the film is reported to have done around Rs 45 crores, Kerala another Rs 12 cr , Karnataka Rs 11 cr and North India another Rs 4 crore. The Telugu version will have a delayed one week release this Friday. In Tamil Nadu, the controversial film has emerged as the second highest grosser of all time, after Rajinikanth's 2010 mega hit Enthiran.
Kamal Haasan, followed by Rajinikanth, tweeting their support for the film has helped it generate huge numbers worldwide. Popular star Vishal, the chief of actor's association and Tamil producer's council voiced his concern on targeting Vijay and Mersal. He also came down hard on H.Raja for watching a pirated version of the film and bringing in a communal angle by saying it is a Joseph Vijay film.
This created a sympathy wave throughout the Dravidian state for Vijay, where parties pride themselves on their secular image and rationale thinking. Mersal also had very strong Tamil identity, with the Aalaporan Tamizhan song topping the charts.  This also stirred up the curiosity factor around the film across the globe.
Mersal is Vijay's first film to cross the $ 1.1 million in North America and beat the actor's previous hit Theri's lifetime collection in the overseas market in four days.
Mersal stormed Tamil cinema's biggest overseas territory, Malaysia, and created a new record for a Tamil film by collecting $1,709,939 [₹11.12 crore] during the 5-day Diwali weekend.  In Australia it grossed A$407K during same period to become the third biggest grosser there, just behind  Kabali. In UK with £353K in its opening weekend, Mersal broke Kabali's record of £295,000.
For every Tamil hero, the US market is now all important, where only Tollywood heroes and the big two, Rajinikanth and Kamal Haasan films, have done over $ 1 million. For Vijay, who was number two after Rajinikanth in all other international markets, breaking into USA big league was of prime concern.
A spokesperson of Atmus Entertainment, one of the distributors of the film in USA, said: "Mersal's pre release marketing and well-cut teaser created the right buzz among US audiences. The premiere reports from all over USA confirmed the level of Vijay's craze, which has only grown multi fold in the last couple of years. Timing of the release and no big hits in Tamil for a while, except Vikram Vedha, helped the film to hit $550k before the weekend even started. This doubled over weekend and hit $1.1M by Sunday. The controversies back home in India added fuel to fire, where people were curious to find out what's creating all these headlines."
Now the big question is whether  Mersal will cross the magic Rs 200 crore club during its second weekend? Yes seems to be the answer, as Mersal will race past it and certainly join Kabali, Endhiran , Viswaroopam and I. Explains Rakesh Gauthaman of the popular Vettri Theatre in suburban Chennai: " The TINA factor for Mersal is strong as there is no alternative or any other big releases lined up for the next week. I'm almost sold out for the second weekend, daily five shows, as Vijay's strong family audiences are thronging the theatres."
Trade analysts also believe that with the opening of national multiplex players PVR and Inox screens in Tamil Nadu from today, who had shut down over the state's double taxation policy, it would be easy for Mersal to cross new records.
India
The Congress party alleged that Rupani's resignation was an attempt to 'hide its mismanagement during the pandemic' in Gujarat. 'The saffron party can not cover up the failure of its 'remote-controlled' government by simply changing the CM, the Congress said
India
Rupani (65), the fourth chief minister to demit office in BJP-ruled states during the coronavirus pandemic, was sworn in as chief minister in December 2017.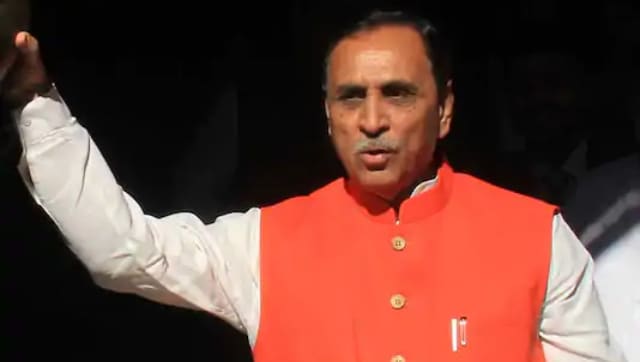 India
"My government brought in several laws with strict provisions. Be it the law to save cows from slaughter, the law to stop land grabbing, or the law to punish those involved in chain-snatching," he said.