Mental Madhilo, Fidaa, Pellichoopulu: How Tollywood is turning weddings into a powerful narrative
Telugu films like Mental Madhilo, Fidaa, Ninnu Kori, and last year's runaway hit Pellichoopulu have made way for fresh ideas about how to treat their female protagonists.
In Mental Madhilo, Telugu cinema's latest addition to wedding-themed films, there's a scene where Aravind Krishna (Sree Vishnu) goes to meet Swetcha (Nivetha Pethuraj) for the first time at the latter's house at the behest of his parents. It's an arranged marriage scenario (called 'Pellichoopulu' in Telugu).
Few moments later, when the girl's father tells Aravind that Swetcha is waiting outside in the balcony, he replies, "It's okay uncle. We can wait for her." Aravind's father is stunned with his son's reply and reprimands him saying, "You are such an idiot. When they say she's waiting in the balcony, they want you to go talk to her." Once Aravind begins talking to Swetcha, she realises that there's nothing in common between them. He's too shy, an introvert, has led a normal life, barely adventurous, and more importantly too confused, among many other things. Aravind is quite forthright about his inability to talk to women and he asks her for tips to overcome his shyness. She smiles, and asks him, "Are you serious? You have never spoken to women before?" He nods. She smiles again. She might have fallen in love with him at that very moment, although she doesn't quite say it aloud, but much later, when Aravind asks her why did she say 'yes' to him, Swetcha says, "I know what I want. And you are the one for me."
It might sound like a simple scene, perhaps a more logical one, but it holds a lot of significance, especially in the context of Telugu cinema.
For far too long, there have been far too many films, which have entrusted this decision-making power to the male protagonist. It's almost always he who falls in love first, it's he who proposes (if the girl doesn't say yes immediately, then he stalks and stalks for days altogether before she gives up and says 'yes'), it's he who fights for her and turns into a living example of Atlas trying to lift a planet full of worries and issues that come along with a relationship.
And the female protagonist, who's there alongside him throughout the journey, is right there in the frame - without much to say, either about how their relationship is evolving or what she wants. She exists, but we aren't sure if she's alive or a prop in the man's life. We barely get to know what she wants, or thinks, from the relationship and life, and if she voices any concerns, then it's more often than not brushed aside by the man because he knows what's the right thing.
It goes without saying that the imbalance in the gender dynamics has been taken for granted, and that's exactly why some of recent Telugu films like Mental Madhilo, Fidaa, Ninnu Kori, and last year's runaway hit Pellichoopulu need a closer look because, to be frank, these films have made way for fresh ideas about how to treat the female protagonists.
Shekhar Kammula's Fidaa, one of the biggest hits of 2017, has a fiery female protagonist Bhanumati, played by a terrific Sai Pallavi, who has her own ideas about the life she wants to live. She loves the place she spent her whole life in, and she's so worried about her father's failing health that the idea of leaving him alone after she gets married worries her a lot. Although Bhanu does fall in love with Varun (Varun Tej), an NRI, she decides to say no to him when he overhears him convince another girl to leave India for good because "there isn't much to do here." In the end, when she is told that it was a clear case of misunderstanding, she agrees to marry Varun; however, it's only when he tells her that he has decided to respect her decision and stay back in her village that she's truly happy about choosing the right one.
The beauty of this narrative lies in how carefully Sekhar Kammula's turns the tables and makes Sai Pallavi the central character of the romantic drama. One of the underlying themes of Fidaa was how much do you trust and have faith in the person you are going to marry. And this is underlined in a conversation between Bhanu and her elder sister Renuka. When Renuka meets Raju (Varun's elder brother) for the first time, their conversation is awkward in the beginning. She knows that he's a bit tensed and so, she asks him, "Do you want to smoke?". She offers him an ashtray, and as they get talking, it doesn't take too long for both of them to realise that they are made for each other. When Bhanu asks her how did she know that he's the right one, she says, "Nammakam (Faith)." The only difference is that it takes a long time for Bhanu to develop this sort of faith in Varun.
It's a new world order, often disguised as a romantic comedy or a romantic drama, where the protagonists, especially the male character, talk about their deepest insecurities and how they end up drawing strength from the women they meet. For instance, take Tharun Bhascker's wonderful debut Pellichoopulu, starring Vijay Devarakonda and Ritu Varma. When they first meet, they tell each other about their love stories and how life has taken a different turn following a breakup respectively. It's quite evident that Vijay is still clueless about what to do in his life and is lazy to a large extent, but Ritu, on the other hand, is a confident young woman who wants to be an entrepreneur. Despite their first conversation, Vijay still sticks to his way of life; however, as they get to know each other, he begins to appreciate the person she is and that brings about a huge change in him in the end. He even apologises to her when he commits a big mistake, a feat that doesn't quite occur as often as it should in Telugu films.
For the longest time, stories about jilted lovers have been a mainstay in films, and Nani, Nivetha Thomas starrer Ninnu Kori went a step further to put a different spin on it. After Uma (Nani) comes to know that the girl he loved, Pallavi (Nivetha Thomas) has gotten married to someone else, he convinces himself that she'll never be happy in her life and that it's his responsibility to convince her to leave her husband.
Although Pallavi acknowledges that she got married reluctantly, she isn't the same person anymore and she's actually in love with her husband Arun (Aadhi Pinisetty). Pallavi tells Uma that she's very content and happy with her life, but she's equally worried about Uma's current state of mind. As a result, she invites him home to prove how happy she's with Arun. Soon, the film explores the concept of marriage, and how strong the commitment is, even a character from a previous chapter of someone's life walks into the their current one.
Marriage has been a dominant theme in cinema from its early days, and in the 60s and 70s, there were scores of films which showcased how families struggle to keep the relationships between all of them together. What has changed now is the approach and in the context of millennials, where there's no dearth of aspirations, the aforementioned films has given us plenty of insights into how relationships are slowly changing. There's no fear of society anymore and people don't mind walking out of a relationship, if it doesn't respect equality of the two partners; however, this still is a growing trend with more voices supporting the need to give the power to make decisions to women as much as men do.
With more films, such as Rahul Ravindran-Sushanth's Chi La Sow among several other films in the making set in a similar space, there's a lot more to come in Telugu cinema in near future. This theme isn't restricted to films alone. While TV serials have long toyed with ideas of marriage and how female protagonists move heaven and Earth to keep the family together, the latest entrant is the web-series medium where hit shows like Muddhapappu Avakai have fiddled with similar ideas for the Youtube generation.
In another recent series, Mana Muggiri Love Story, the female character Swathi (Tejaswi Madivada) freaks out when her parents bring up the topic of marriage at home, and she goes to Hyderabad to work, because she's too young to even think about getting married. Although it's a romantic comedy, the concept of a girl being approached by prospective suitors is a running theme throughout the series.
Whether a film is set in the backdrop of a wedding or in the run-up to a wedding, it's also interesting that filmmakers have found this space to explore how men and women interpret relationships. Naturally, their deepest fears about their life partners become a fertile ground to build a conflict between the characters; however, no one has dared to question the institution of marriage.
Perhaps, it's part of the evolution process which has led the filmmakers and writers to choose this middle path for now. After all, how would we know what change feels like if women aren't allowed to speak their mind and men, smart enough, to listen without judging them? It's about power, not dominance, and contentment that one's solace lies in choosing the right one. And that can't be a one-sided process, whether it's in real life or in films.
Politics
Prasada's induction will further wear away whatever's left of the Congress and the Gandhis in Uttar Pradesh, even if it does not yield dividends for the BJP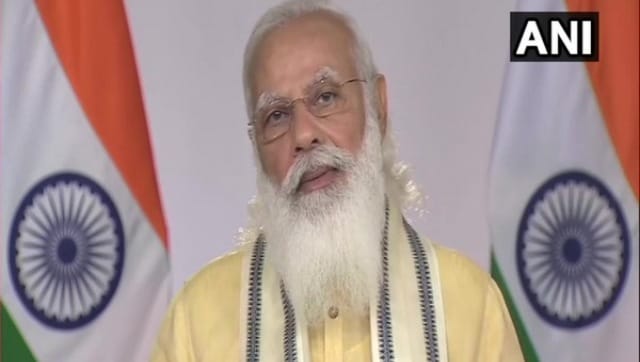 India
While the prime minister's address was no doubt a full-frontal political attack, it was in retaliation to sustained politics of slander
India
Unity in diversity is the fundamental ethos of Indian culture, land and people but the education system seems to be heading in the opposite direction