Mayat movie review: Moving story documents struggles of the marginalised to make a living
Mayat is the latest glittering offering from the goldmine that is the New Marathi Cinema
Assuredly directed by Suyash Shinde, Mayat is a 26-minute film that won the National Award in the Best Short Fiction category for 2017. Pirouetting deftly between laughter and tears, it is a moving tale steeped in irony that documents the struggles the marginalised and the poor go through daily to make a living. It features a cleverly etched protagonist whose street-smart ways charm, delight and surprise in equal measure, switching between wildly different emotional registers from scene to scene with consummate ease. And yet the film never veers away from the realism that the new Marathi cinema has become acclaimed for.
Nama is a poor villager who's suffered at the hands of famine and is trying hard to eke out a living for his family. He may be at a financial disadvantage but is blessed with a sharp mind that is always sniffing around for opportunities. One day, he discovers that people throw coins as votive offerings during funerals. So he starts keeping an eye out for fresh dead bodies that leave the morgue at the village hospital. His wife and school going daughter are more than impressed by the coins stacking up in the house. They have no idea about his vocation. However, the village is small and there are only so many dead people at a given time. When his wife starts demanding a new schoolbag for his daughter, Nama must find a way to find a more consistent source of money.
For a short film, Mayat packs a lot of action in its limited runtime. Buffeted by a convincing and enigmatic central performance, it is always engrossing. It has a lot to say about the lives these people lead and the urgency of their troubles. But the ideas are communicated with a light touch, deftly disguised beneath the little twists and turns of the narrative. More than anything else, Kailash Waghmare portrays Nama with such an infectious rustic charm that the audience can't help but empathise with his moral choices.
Shinde, meanwhile, is cocksure about the emotions he wishes to elicit from his audience. At no point does he devolve into stirring up pity for the family. Their struggles are a fact of their daily existence and, fully cognisant of this, Nama dedicates his entire day to combating them as ably and cleverly as he can. This is Mayat at its strongest, presenting a window into the lives of a people without remotely appearing to judge them differently from other, more privileged ones. That, and the subtle commentary upon life and death and the way the two play so beautifully against one another in shaping the fate of a family. There are no promises of a pot of gold at the end of the rainbow nor total despair. Just the simple pleasures and often seemingly insurmountable troubles that can be dispelled by a smart decision or two.
Shinde even manages to lodge a little dream sequence into his film. It comes as a stark reminder of the urgency facing Nama. It could have done with more polish because it seems relatively less thought through compared to the remainder of the film. But the director must be lauded for the great courage he displays in dropping it into the narrative. It definitely has a place in the film for it tells us that there is no running away from the troubles assailing Nama. He must choose action above everything else or he shall be haunted beyond waking life as well.
Riding through the village on his bicycle, Nama is framed against the spare, unforgiving landscape in a series of wide angles. The enormity of the land, now stripped bare of its fertile heart, surrounds him on all sides. A reminder of the consequences that await him if he were to fail. Nama speaks little, for some scheme or the other is always running around in that brain of his. At certain junctures it appears as if the bleakness of the land and his fate will swallow him up. But Shinde surprises us at every turn. He is committed to upholding his faith in the human capacity for finding a way when it fails to make one. This unwavering faith elevates the film, wins over the audience and announces another talent to watch out for in the goldmine that is the New Marathi Cinema.
Entertainment
Filmmaker Ashima Chibber's movie Mrs Chatterjee Vs Norway starring Rani Mukerji revolves around a mother's fight for her two young children who were literally snatched away from her on the grounds of bad parenting by the Norway Children's Welfare Program.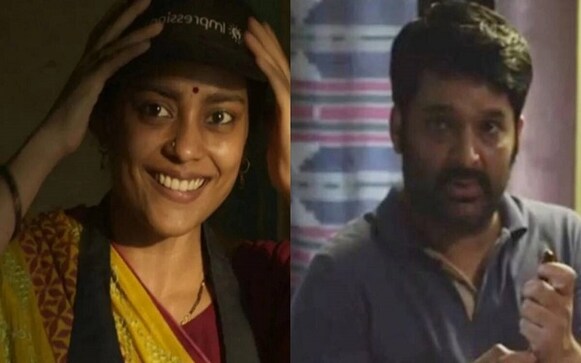 Entertainment
Nandita Das directorial Zwigato strikes a conversation on gig economy and unemployment situation of our country.
Entertainment
Thuramukham chronicles a workers' movement in Kochi with stunning cinematography, a charismatic cast but middling emotional heft