Matt Groening's Disenchantment lacks satirical edge, geeky charm of The Simpsons, Futurama
If Disenchantment was supposed to be a reaction to Game of Thrones and The Lord of The Rings, it fails miserably due to a pretty flimsy effort at parody.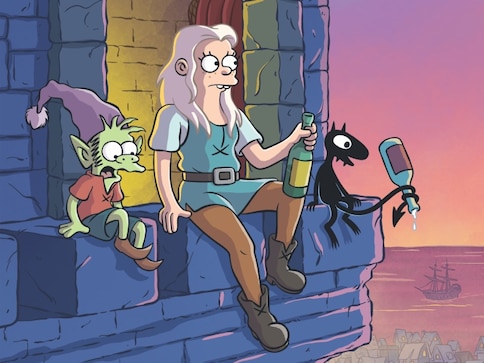 He made us fall in love with a beer-guzzling halfwit and his endearing suburban family in the '90s. He then transported us to 31st century 'New New York' taking us on many an intergalactic adventure with another beer-guzzling halfwit, his misanthropic robot sidekick and his one-eyed aviator companion. Now, Matt Groening hopes to enchant us with the fairy-tale exploits of a beer-guzzling princess, her misanthropic demon sidekick and her half-wit elf companion.
Set in a medieval fantasy world, the ace satirist's latest animated sitcom, Disenchantment, shares many of the character traits and functions from his earlier creations, The Simpsons and Futurama.
The premise too sounds intriguing enough: Princess Tiabini aka Bean (voiced by Broad City star Abbi Jacobson) is a hard-drinking, slacker princess and heir to the medieval kingdom of Dreamland, who refuses to be bound by rigid, restrictive gender roles and genre tropes. When her gruff, gluttonous father King Zog (John DiMaggio aka Futurama's Bender) tries to marry her off to a prince from a neighbouring kingdom to seal an alliance, she defies him by setting off on a series of misadventures with her two sidekicks — Elfo (Nat Faxon), a naive runaway elf from a Smurf-like utopia and Luci (Eric André), a deadpan pet demon she is mysteriously cursed with.
The characters here are stylistically similar to their yellow, four-fingered cousins and their 31st century descendants with their bug eyes, protruding upper lips and non-existent chins. From the character designs to the world building to the fluid animation, it might seem, at first glance, like a worthy extension of the Groening-verse. But, the similarities are only skin-deep as Disenchantment lacks the biting wit, the storytelling inventiveness and the clever visual gags of The Simpsons and Futurama.
While both of Groening's previous shows had you hooked right from their opening sequences — be it with original couch gags in The Simpsons or with the Planet Express ship crashing into a big screen showing some classic cartoon in Futurama, Disenchantment lazily settles for silhouettes of scenes from the forthcoming episode.
When you consider the wealth of material there is to satirise in the fantasy genre and the background details in the show itself, you realise just how much potential is wasted. Disenchantment shares its DNA — albeit a much weaker strain — with the comedy of Monty Python with its penchant for visual gags. But it often relies too heavily on outdated ba-dum-tish one-liners and physical comedy, making it a hit-or-miss affair with more misses than hits.
With a strong female lead in Bean, Disenchantment does stand out from most other animated sitcoms. Her belching, rebellious ways are a much-need middle finger to the singing Disney princesses and their patriarchy-mandated beauty ideals. Her two sidekicks pretty much function like the proverbial angel and demon on her shoulder, representing the two conflicting impulses of her conscience. The tone-deaf optimist Elfo and the absolute pessimist Luci are the Pangloss and Martin to her Candide if you like. And the voice-acting is pitch-perfect. Yet, none of them really leave a lasting impression and you're left with cardboard cutouts with mostly ambiguous motivations.
Ever since the show was announced by Netflix, there was plenty of excitement about the prospect of a Groening-helmed irreverent, adult themed parody of a genre ripe with tropes. Disenchantment was supposed to be a reaction to the thriving TV genre that is fantasy, especially with the wildly popular Game of Thrones and the upcoming Amazon production of Tolkien's The Lord of the Rings — the gold standard for the modern fantasy genre. With the creative liberty afforded by Netflix combined with the scope to create a neat 10-episode-long season (rather than a 20-odd episode season on network television), all the ingredients were in place to create a crisply written satirical series. It worked wonderfully well for other adult animated sitcoms like Archer, Rick and Morty and BoJack Horseman. Yet, it doesn't for Disenchantment.
Groening employs a more serial format perhaps to appeal to the sensibilities of Netflix's binge-watching audiences. But its rhythm and pacing feel like a leaky faucet. Its tone too is more serious and dark to fit the 'adult animated sitcom' tag.
There are moments where it gets 'real' (à la BoJack Horseman) but they are too few and far between. For instance, when Luci admonishes Elfo for hiding his feelings for Bean, it seems like universally applicable advice to all the unassertive and lovelorn ("Decide what you want, drink till you have the nerve to go for it, and then keep drinking so the inevitable rejection doesn't hurt so bad"); or when he gets a bit too self-aware ("Entertainment is just a tool that pacifies the masses and leads to the decay and ultimate collapse of the civilisation. Let's clap along!").
The show does catch you by surprise with a single moment of emotional depth at the end of the season's penultimate episode, providing hope for a stronger second instalment.
Hopefully, it gets better with each season, like BoJack Horseman. And with a more clear-cut mythology, improved characterisations and better execution of its jokes, Disenchantment could leave behind a legacy akin to The Simpsons and Futurama.
Disenchantment is currently streaming on Netflix.
Entertainment
After Shershaah, this is another gripping offering from the actor that fans have been saying should have been a theatrical release instead of a Netflix one.
Entertainment
"Even if hypothermia kicked in then people were willing to stay for as long as possible because a lot of money was on the line," said one contestant to British tabloid The Sun.
Entertainment
Mission Majnu is a middling spy thriller that squanders the opportunity to delve deeper and ask pertinent questions.