Marvel's Cloak and Dagger, starring Olivia Holt, Aubrey Joseph, to return for second season in 2019
Cloak and Dagger will return with ten episodes for a second season, showrunners announced at the San Diego Comic-Con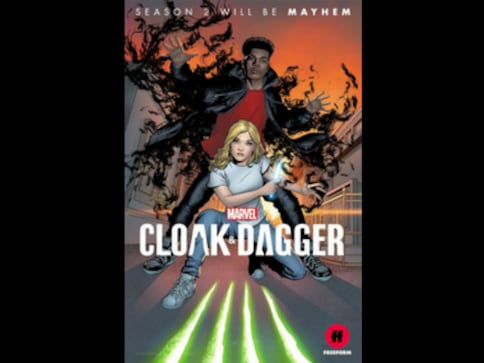 The series Cloak and Dagger, based on a Marvel comic of the same name, has been renewed for its second season by Freeform, according to a Variety report.
The announcement was made by the showrunners at Cloak and Dagger's first appearance at San Diego Comic-Con, Hollywood Reporter said.
The panel featured cast members Olivia Holt, Aubrey Joseph, Emma Lahana and Ally Maki, as well as executive producers Joe Pokaski and Jeph Loeb.
The series, co-produced by Marvel Television and ABC Signature Studios will return with a 10-episode season in 2019, the Variety report said.
The report in Hollywood Reporter added Cloak and Dagger, created by Disney-owned cable network Freeform ranks as Freeform's No. 1 series debut in more than two years.
It follows the story of Tandy Bowen played by Holt and Tyrone Johnson essayed by Joseph, who are two different kids from very different backgrounds. They find themselves burdened by newly discovered superpowers through which they are mysteriously linked to one another, Variety said.
Freeform has in its lap shows like Grown-ish, The Bold Type, Siren, Alone Together and the upcoming Fosters spinoff Good Behavior and Pretty Little Liars spin-off The Perfectionists.
The first season of Cloak and Dagger premiered in June 2018 and accumulated 4.4 million viewers across all platforms, Variety added.
Entertainment
Put-upon suburban housewife and mom finds a calling that leads to a big business idea, translating into fame and fortune — it's a story that's been told before. In Physical, the new Apple TV+ series starring Rose Byrne, it gets the dark comedy/dramedy treatment.
Entertainment
Karunesh Talwar's Special Aalas Motaapa Ghabraahat is a hilaire-a-thon into how he negotiates a balance between his ever-caustic sense of humour and how he unwillingly places his parents as its targets.
Entertainment
When asked about his first thought on India, the Loki star said, "Shah Rukh Khan"