Manoj Bajpayee on Aiyaary: 'Neeraj Pandey films are the kind of mainstream cinema I love to be associated with'
Manoj Bajpayee will be seen as an army officer sharing a mentor-protégé relationship with Sidharth Malhotra in Neeraj Pandey's upcoming film Aiyaary
Manoj Bajpayee, who seems as much at ease with mainstream as with parallel cinema, is quite charged up. He is gearing up for his first release of the year — Aiyaary, an action thriller touted to be an intriguing tale with twists and turns. And it is the presence of director Neeraj Pandey that makes it more special for Bajpayee, who has collaborated with the him earlier on films like Special 26 and Naam Shabana.
"Neeraj is a great talent that happened to mainstream Indian cinema. Look at his track record, look at the scripts he has written in the mainstream genre — he has set an example. He doesn't follow the rules, doesn't surrender to the formula and still makes a film which is intriguing, interesting, engaging and popular as well. Films like A Wednesday and Special 26 were unique and for Aiyaary, he has experimented a lot in his writing and yet it has the capacity to reach every person," says Bajpayee, convincingly. "Neeraj could have approached any big star for Aiyaary and they would have given both their hands and feet to grab this role. I feel very lucky he chose me. I know am not a huge star and I don't have any illusion about it," he adds.
The film shows Bajpayee as an army officer sharing a mentor-protégé relationship with Sidharth Malhotra in what looks like an unconventional pairing. "The story revolves around how two people of different ranks work together and suddenly come at loggerheads. Also, both the characters are masters at disguising and tricking the other person. This is something that I have never done before. The behrupiya avatar is quite fascinating," said Bajpayee.
What also appealed to the actor is playing the protagonist who's focused, honest and yet very clever. "This combination is very rare. An honest person being clever and not willing to compromise is interesting. One can't be like this character, Abhay Singh (his character) is like that because in real life because he will not bend, whereas Manoj Bajpayee bends whenever the need arises," he laughs out loud. "It was a difficult film to write and so it was difficult for us to perform. But Neeraj makes sure that he gets the perfect shot," he says.
The trailer gives a sneak peek into the evolution of the relationship between the two officers. Bajpayee says, he was happy sharing the frame with the young actor. "Sid comes from a different world and I really admire in the manner he has established himself despite coming from outside the industry. I have seen the kind of impact he has on youngsters. Coming from the outside and making place in mainstream industry is in itself remarkable," said Bajpayee.
"When I heard that Sid will be my co-star, I was excited that I will be getting to meet a new person, a new actor. I don't judge people without meeting them. I need to have my own experience to analyse the person. We started rehearsing and now we get along very well. We relate to each other because both of us have come from a middle-class family," he added.
While the director was "adamant" about Bajpayee being a certain kind of fit, the latter believes more in the "mental condition". "Neeraj needed a certain kind of persona and he was quite adamant about it. I went out and exercised a little to get that kind of body, but for me, losing or gaining weight or exercising for the role is not part of the performance. For me, the mind and the unsaid things between two lines is more important. Changing my look, putting a moustache or losing and gaining a few kilograms, are an actor's personal choice. At the end of the day it is the mind of the character that is important," said the actor.
Like every year, Bajpayee will be seen in a good mix of commercial and offbeat cinema, and he is particularly excited about the psychological thriller, Gali Guliyan, which has travelled to many festivals across the world. Then there's an action thriller with Nikhil Advani and John Abraham which will be directed by Milap Zaveri. "Gali Guliyan has been the most difficult role I have done in my entire career. As far as mainstream goes, Neeraj Pandey is mainstream and that is the kind of mainstream I would love to be associated with. Or the mainstream I am doing with John for Nikhil. It is a fantastic script. Then, Baaghi 2 is a masala film and I have done it for my relationship with Ahmed Khan. Also Mukesh Chhabra (casting director) insisted I do it. I had a great time shooting," says Bajpayee. The versatile actor is also looking forward to Devashish Makhija's Bhonsle in which he plays a terminally ill local cop, retired against his will and Abhishek Chaubey's Son Chiriya alongside Sushant Singh Rajput.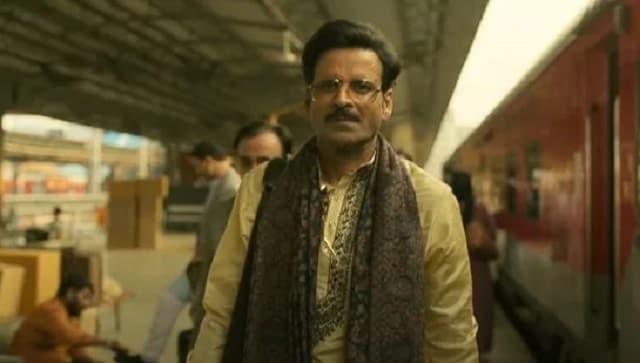 Entertainment
"We love you're part of this family, man," says Netflix India to Manoj Bajpayee
Entertainment
Shweta Basu Prasad, Ali Fazal and Anindita Bose star in Forget Me Not, a segment in Netflix India's anthology Ray, which premieres on 25 June.
Entertainment
The actor talks about the foibles of Srikant Tiwari, and why there are no villains (but only heroes) in The Family Man.