Manju Warrier, Nayanthara, Jyothika: Female stars are marching to a different, but no less successful, beat
The journey of a female superstar — be it a Manju Warrier, Jyothika or Nayanthara — is very unlikely to be similar to that of Chiranjeevi, Rajnikanth or Kamal Haasan. This doesn't make their journey less admirable or their successes any less sweet.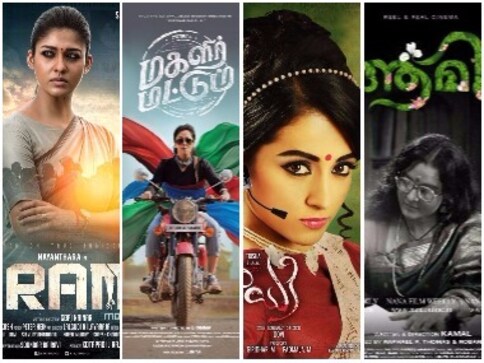 "As long as our films are male-centric, we'll be producing only male stars. What happens to our female stars then?" asks Karthik Keramalu in his article for the Firstpost. He argues that the stardom of a female star is short-lived, often limited by age. If they take a break in their career for any reason, he suggests, they either die like Soundarya, or are relegated to supporting roles on return, like Simran. Even then, they do not get the grand welcome that returning heroes do.
In his article, Keramalu inadvertently does the same thing he accuses the film industry and the audiences of doing. In drawing from the work of male stars to support his arguments, he ignores the entirety of female stars who are paving their own paths — different and smaller in market size but distinct paths that should give us much to rejoice.
Are they welcome back?
Keramalu begins his article discussing the return of Chiranjeevi to films last year and "reclaiming his throne". He points us in the direction of several others who have returned after sabbaticals, and provides a list of potential (younger) stars, who may have occupied said throne. "What would happen if a female star makes a comeback after ten years?" he asks, bringing Manju Warrier to my mind. While Keramalu draws his boundaries at Tamil and Telugu cinema, one can not write about returning actresses without including Manju's stellar story.
After a 14-year-long sabbatical, Manju Warrier returned to Malayalam cinema much to the delight of her fans, both in Kerala and elsewhere. She won several awards for her successful comeback film How Old Are You (2014) — a film where she is the "hero" — including the Manorama newsmaker of the year award, for what it's worth.
When Jyothika returned to films in 2015 following a eight-year break, she followed Manju's steps, choosing to remake How Old Are You as 36 Vayathinile (2015) in Tamil. Nayanthara returned to films after a much shorter sabbatical of 11 months with the Telugu film Krishnam Vandhe Jagatgurum (2012). All of them got a roaring welcome across the board, continuing to have flourishing film careers.
Who is on their side?
Keramalu argues, "They are no longer paired with the top heroes as newer and younger ladies take the center stage." While this is true when looked at from the perspective of male stardom as the gold standard, it would do us well to see who returning female stars tend to work with.
After working with Kunjako Boban in How Old Are You and with Mohanlal in Ennum Eppozhum (2015), Manju went on to appear alongside Rima Kallingal in Rani Padmini (2015), as Indrajith Sukumaran's boss in Vettah (2016) and in C/O Saira Banu (2017), opposite Amala Akkineni, another female star who made a welcome return to films.
It couldn't be clearer that Manju Warrier isn't looking to be the 'pair' to leading stars, but wants to be the leading star in her own right. She has created for herself a place in Malayalam cinema where pushing Mohanlal to the background in a film's promotional poster is acceptable to both his and her fans.
Nayanthara, on the other hand, has chosen a different path. Even as she romances Arya in Raja Rani (2013), Ajith in Arrambam (2013), Vijay Sethupathy in Naanum Rowdy Thaan (2015), she slays Karthi in Kashmora (2016), plays a single mother in Maya (2015) and an avenging wife in Nee Enge En Anbe (2014). In Malayalam, she acted in Puthiya Niyamam (2016), getting nearly equal screen time with Mammootty, which is unheard of. She is able to deftly juggle being paired with top heroes and appearing in films where she is the top hero.
The point that Keramalu makes about returning actresses not being offered roles of the hero's love interest is indeed true. The reason, which he doesn't discuss, is that there is a pervasive discomfort in imagining a married woman as desirable to a hero in the film, and vicariously to male audiences.
Nayantara herself and Amala Paul — who recently returned to cinema after a sabbatical due to marriage — have enacted physical intimacy with their co-stars on screen. However, neither of them are now in the relationship, for which they took their sabbaticals in the first place.
While married male stars joyfully woo and romance young women on screen, the discomfort caused by a married woman expressing desire seems unshakeable. This is certainly sexist, making it practically impossible for actresses to continue an acting career while also having a family of their own.
The unintended silver lining of this sexist situation, that actresses have so tactfully utilised to their advantage, is that opportunities have opened up for female stars to play their age — an age group whose stories never get told. Manju has done a fabulous job of bringing to fore the stories that are often hidden away. In How Old Are You, she plays a middle-aged woman in search of an identity. In Ennum Eppozhum, she plays a classical dancer, lawyer and a single mother. In Vettah, she is a single mother and a top cop. In Rani Padmini, she is a wife in an unfulfilling marriage, which she goes on a road trip to fix. In C/O Saira Banu, she is a postwoman, foster mother of a young boy. In three years, Manju has done more service for womankind than most contemporary filmmakers can hope to in a lifetime.
Jyothika's careergraph has achieved much less so far, but shows great potential, which I am eager to see. Bramma's Magalir Mattum is believed to be ready for release, where she appears along with yesteryear actresses Urvashi, Saranya and Banupriya. She is also reported to be working on Bala's Naachiyaar and Mani Ratnam's next.
Even after the failure of Nee Enge En Anbe (2012), her first film as the solo lead, Nayanthara has found opportunities in Maya (2015), Dora (2017) and the upcoming Aramm. In fact, in the trailer of Aramm, she says, "Munneri adikkardhu thaan veeram" (valour is the punch of progress), a dialogue that has long only been uttered by heroes.
Who is watching?
Perhaps Keramalu interprets stardom as the 100-crore club and thousands of fan clubs. On this scale, it is undeniable that female stars don't stand on the same field as their male counterparts. But it would be incorrect to assume they don't enjoy any 'fan fare' — Kavitha Muralidharan reports about a Dora screening that "there were larger than life cut-outs, there were celebrations, and there were all the cacophonous cheers when Nayanthara made her first appearance or uttered a particularly appealing dialogue."
While the 100-crore club is a far reach, it is becoming increasingly common that films are sold completely on the stardom of these female stars — without the need for a hero to bring the audiences in. "Nayanthara in", "Jyothika in", "Trisha in and as" have become sufficient to sell a film.
From the days when films made for and featuring women were seen as unworthy of investment, today, several female leads today are considered bankable, however small the banking. While the careers and successes of Vidya Balan, Kareena Kapoor, Deepika Padukone and Kangana Ranaut in Hindi, gets talked about with greater intensity, female stars of south India seem to still be overshadowed.
Parvathy's Take Off (2017), Anushka's Arundati (2009) and Size Zero (2015), Amala Paul's Amma Kanakku (2016) are among the popular films that not only put the female star front and centre, but also tell stories of women, that have become so rare in our cinema.
In addition, all of these female stars have been vocal about the discrimination they face and their discomfort with the work they're offered. Jyothika hasn't minced words in calling out the lack of substantial roles for women, Nayanthara stood up for Tamannah when her director was being inappropriate. Manju Warrier and her female colleagues have set up the Women's Collective in Cinema.
In continuing to look through the prism of "who is the next superstar?" we miss out on the progress we could be part of.
Before we all walk away thinking we have reached post-feminist south Indian cinema bliss, this is not to say that the industry (and our cinema) is now devoid of gender pay gap, sexism, misogyny, and other problems that result from the lack of representation for women in the creative process.
It is to say that female stars are already around us. Until recently, the stardom — and market value — of an actress was defined by who she is paired with. Today, there are several actresses who are carving a place of their own. Soon, they will become superstars, in ways that will be unfamiliar to us. They might not sing their own praises, or have their names in placeholder film titles, or get Twitter emojis and hashtags.
The journey of a female superstar is very unlikely to be similar to that of Chiranjeevi, Rajnikanth or Kamal Haasan. This doesn't make their journey less admirable or their successes any less sweet.
Entertainment
Bhediya's biggest flaw is that it looks at 'human-versus-nature' conflict through an outsider's lens (outsiders being Bhaskar and his contractors) as opposed to offering the native's or tribal perspective.
Entertainment
Actress Aindrila Sharma died after a week-long battle for life following a brain stroke.
Entertainment
New theatrical releases must deal with increasing competition from its counterparts released on OTT platforms