Malayalam actress Bhavana marries partner Naveen; Priyanka Chopra at Sundance: Social Media Stalkers' Guide
Malayalam actress Bhavana ties the knot with long-time partner Naveen while Priyanka Chopra lets her hair down at Sundance Film Festival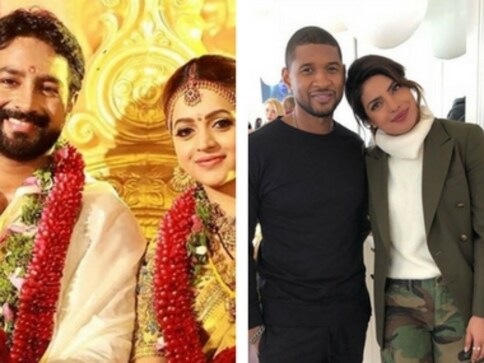 What's more fun than passing off stalking celebrities on social media as work?
Very little, right?
And so, we scanned the Instagram and Twitter accounts of celebs from India and abroad, to bring to you weekly updates from the interwebz. Who tweeted to whom? Who re-posted last night's party pics? Who went on a rant about what. Whatever it is, don't worry, we've got you covered.
We stalk, you read. Deal?
 Bhavan ties the knot with long-time partner Naveen
Here are some clicks from #BhavanaWedding from thrissur..#Bhavana pic.twitter.com/PjUenatKOI — Namma Trend (@nammatrend) January 22, 2018
Dear #Bhavana
They say couples are already matched in heaven..For the kind & sweet being you are, god has chosen the exact quality man for you👫 Live life the fullest with your man..Wish you the best darling..love you💐 #tirussur #BhavanaWedding pic.twitter.com/K3XC0tK2rv

— SUJU (@sujavarunee) January 22, 2018
Malayalam actress Bhavana got hitched to her long-time partner, Kannada producer Naveen. The duo look like a match made in heaven in their wedding pictures, which have taken the internet by storm.
It's a wrap for Ranbir Kapoor
And it's a wrap 🎬 for the team behind #DuttBiopic! All set for the release on #June29, save the date! #DuttsTheWay#RanbirKapoor @sonamakapoor @RajkumarHirani #VidhuVinodChopra pic.twitter.com/gQwgSYbXvB — Fox Star Hindi (@foxstarhindi) January 22, 2018
It's a wrap. Dutt Biopic shoot done. pic.twitter.com/dWlt7c6TCS

— Rajkumar Hirani (@RajkumarHirani) January 22, 2018
Ranbir Kapoor and Sonam Kapoor have finished filming Raju Hirani's yet-to-be-titled Dutt biopic. The team shared the news with a quirky video on Twitter.
Alia Bhatt's stunning wedding look  
Alia Bhatt's current plans include attending a wedding with her gal pals and looking flawless at all times. This girl knows how to have fun!

Ranveer Singh unleashes the 'monster' in him
MONSTER#Khilji #Padmaavat pic.twitter.com/Z87TobQ5M3

— Ranveer Singh (@RanveerOfficial) January 22, 2018
Ranveer Singh is revelling in his Padmaavat avatar and is making sure the world knows how much he's enjoying it. The actor took to Twitter to share his favourite Alauddin Khilji moments from the film.
Priyanka Chopra's casually chilling with Usher  
Our favourite export Priyanka Chopra is casually hanging out with Usher and shared a photo on her Instagram. The two are attending the Sundance Film Festival.
Jim Parsons and Priyanka Chopra make the most of Sundance

Priyanka Chopra, apart from spending time with Usher, is also posing for photographs with Jim Parsons and Octavia Spencer. This trio looks like a lot of fun.
Find latest and upcoming tech gadgets online on Tech2 Gadgets. Get technology news, gadgets reviews & ratings. Popular gadgets including laptop, tablet and mobile specifications, features, prices, comparison.
Entertainment
Top Bollywood producers have united to sue Republic TV and Times Now for 'defamatory' coverage. With theatres reopening after seven months of shutdown, it is imperative that Bollywood clean its name.
Entertainment
The advertisements which, featured stills from a few Bollywood films of actors Salman Khan, Ranveer Singh, Katrina Kaif, were deemed as ' vulgar' and 'offensive'
Entertainment
"I'll get out of this," Sanjay Dutt said about his battle with cancer, adding that he's happy to be back at work for Shamshera and KGF: Chapter 2.