Mahira Khan posing with 'Shiv Sainik' at Halloween: No one should have to say sorry for good humour
Mahira Khan apologising for the Halloween picture is as absurd as a cartoonist apologising for making fun of a politician.
It all began when the Shiv Sena announced in the last week of October that it will not allow any Pakistani actor to step on Maharashtra's soil. The party also made it clear that Pakistani actors like Mahira Khan or Fawad Khan would not be allowed to promote their upcoming films in Maharashtra.
Mahira Khan's response, however, could not have been wittier. An image surfaced online a few days back showing Mahira at a Halloween party in Lahore posing with film director Asim Raza, who was dressed up as a Shiv Sena leader holding the placard that read, "Mahira ko bahar nikaalo".
Anger and outrage erupted against Mahira Khan because of that image, reported IANS. Filmmaker Ashoke Pandit, who has thundered in support of the right-wing several times on TV news channel debates and has also tweeted saying that "Shiv Sena was so right in their act of blackening" Sudheendra Kulkarni's face, also tweeted against Mahira.
Pandit said that he condemned the 'intolerant' act of Mahira Khan, stressing on the fact that she was a Pakistani artist.
I condemn this act of #MahiraKhan who makes money here & then insults our national leaders like #Balasahebthackeray. pic.twitter.com/6yM8XhW6qw

— Ashoke Pandit (@ashokepandit) November 5, 2015
The most intolerant act by a #PakArtist. Will she do this to any #PakLeader? pic.twitter.com/u6Ju50LISm

— Ashoke Pandit (@ashokepandit) November 5, 2015
Eventually, Mahira Khan apologised for the picture. She said she didn't intend to hurt anyone's sentiments and artists should not be dragged into politics. She also said the image was made out "to be something it never was", although she didn't mention who the people responsible for that interpretation were.
But why should Mahira Khan have to apologise for that picture in the first place?
Did that picture contain any communally offensive jibe?
Was it sexist, racist or elitist?
Was it anti-India?
The answers, we can all agree, are no, no and no.
The picture was just a response to a political party whose idea of patriotism is to ban everyone from Pakistan from entering Maharashtra — except Malala Yousafzai, of course.
The picture was a counter-view (and that too, in the form of a joke) to a hardline stance taken by a political party. What seems to be lost on the likes of Pandit is that if what Mahira and Asim did was indeed an act of 'intolerance', then political cartoons and caricatures — which by nature take digs at political parties and their ideologies — become 'intolerant' acts.
Without belabouring the point, the biggest irony is that the picture is being called 'intolerant' by a person who could apparently not tolerate a light-hearted joke about the behaviour of a certain political party to which the person has taken a fancy.
Far more unfortunate, however, is the fact that one should have to justify the context of a picture. Bear in mind, this wasn't an inflammatory statement delivered from the pulpit of a rally, or oven a television broadcast. It was a photograph of two people at a party.
The merits of freedom of expression notwithstanding, so long as that expression is not sexist, or communal or racist, or biased against a community, this sort of attack on someone's expression is baseless. Disagreeing respectfully with that point of view is one thing, attacking the right to make a point — not to mention turning the whole issue personal — is a different thing altogether.
Moreover, one of the most ridiculous aspects of this situation was that Mahira Khan had to apologise whereas the person actually dressed up like a Shiv Sena leader and holding the placard was Asim.
Of course, this doesn't mean what he did was wrong.
This just goes to show that the outrage, apart from being wrong in principle, was also misdirected. Is this also a thinly-veiled case of sexism or just the fact that Mahira is probably better known in India than Asim? Whatever be the reason, it's laughable when the person who faced the most criticism was someone standing next to the person who caused all the outrage.
Intolerance against a point of view which opposes a political party's stand is exactly the kind of thing that worsens the already terrible reputation of tolerance in India.
When people have to worry about what they can wear at a Halloween party, we're entering a truly dangerous time.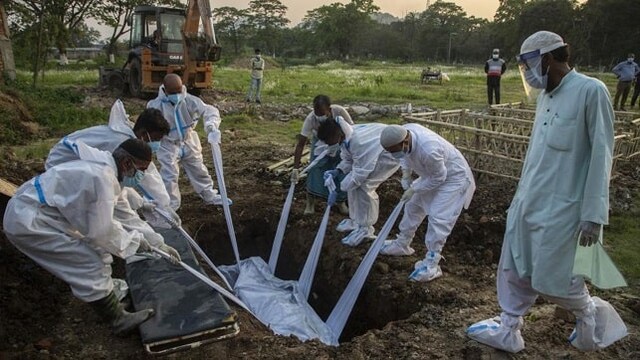 India
We are facing our worst moment in modern history, struggling to stay afloat. If we do not show courage and honesty to speak for justice now, we may never be able to recover compassion.
Politics
The ECI failed most notably in issuing detailed guidelines for campaigning activities and making sure they were followed
Entertainment
"It was impossible to tell if the 2021 Oscars was meant to signal an acknowledgement of pandemic circumstances or a guarded return to normal," say NYT critics