Lust Stories reunites Karan Johar, Zoya Akhtar, Anurag Kashyap, Dibakar Banerjee; film to premiere on Netflix
Before Lust Stories, directors Karan Johar, Zoya Akhtar, Anurag Kashyap and Dibakar Banerjee had collaborated for the 2013 film Bombay Talkies commemorating 100 glorious years of Indian cinema.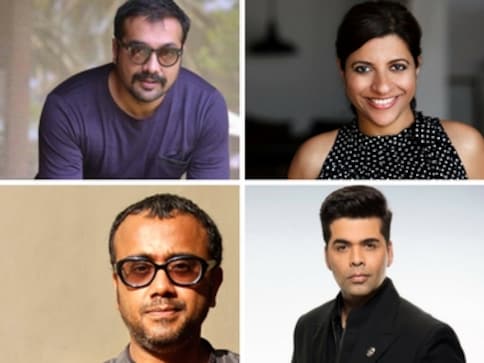 In the year 2013, the Indian film industry paid homage to the 100 glorious years of Indian cinema with the Bombay Talkies, helmed by this generation's most promising filmmakers — Karan Johar, Zoya Akhtar, Anurag Kashyap and Dibakar Banerjee. Being one of its kind, the film had managed to grab enough attention. Ever since, the talks of a sequel had been doing the rounds for a while now.
Now it is reported that the second installment of the film is titled Lust Stories and instead of a theatrical release, the film will be premiered on the streaming giant Netflix. It will be exclusively available to over 117 million Netflix members in 190 countries simultaneously in June 2018.
Lust Stories features Radhika Apte, Manisha Koirala, Vicky Kaushal, Bhumi Pednekar and Kiara Advani in lead roles.
Speaking about the upcoming film, all the four directors shared their excitement in an official statement.
Anurag Kashyap said, "The opportunities that a streaming service such as Netflix provides to creators are unparalleled, with the freedom to execute our vision, reach new audiences in 190 countries and tell a memorable story. As audiences move towards enjoying entertainment online, I'm delighted to play a part in welcoming this shift in India."
"A theme of lust....a new age and dynamic platform...the company of prolific filmmakers...the vision of Ashi Dua and Ronnie Screwvala made this experience immensely sexy and satisfying! (no pun intended)...Lust Stories breaks ground and even tears the envelope at times! This one is worth the price of a subscription! (sic)" says Karan Johar.
Zoya Akhtar explains, "Viewers today demand freedom in how they consume entertainment and since our stories have evolved to reflect modern sensibilities, so should the medium. It's very exciting to make my Netflix debut with this film, and I can't wait to see how a world audience receives it."
Dibakar Banerjee opines, "I feel incredibly lucky to be in this film, in this company, and the fact that this will be seen by people who want to see films with subjects and treatment like this. I already feel a lot smarter, cooler, and maybe more honest. Something traditional theatricals do not make you feel any more."
Lust Stories will be backed by Ronnie Screwvala's production house RSVP along with Ashi Dua of Flying Unicorn Entertainment. It marks the second collaboration of RSVP with Netflix, after Love Per Square Foot.
Screwvala said, "Lust Stories - four short films that deal with real life relationships in modern India and brought together as one film brilliantly under a common theme by Anurag, Dibakar, Karan and Zoya is a perfect premiere for global audiences on Netflix. Diverse global audiences will discover, engage and enjoy this movie."
also read
Entertainment
Just after her wedding Swara Bhasker completes the filming for her next 'Mrs. Falani' Mrs. Falani is real special film.
World
The multi-billion dollar firm said it has to 'invest heavily' in new content, but users are taking to social media to share their anger – and some are even deleting their accounts.
Entertainment
Actor Richa Chadha all set to make her international debut with Indo-Brit Production "Ainaa", with the official launch of the film at the House of Lords in London