Love live indie music? Go beyond noisy clubs to these alternative spaces, to get your fix
Living rooms, art studios and galleries, even bakeries are the new playgrounds for indie musicians in the country. Far from the chatty crowds in clubs who go straight for the bar, there are now spaces for musicians and listeners alike.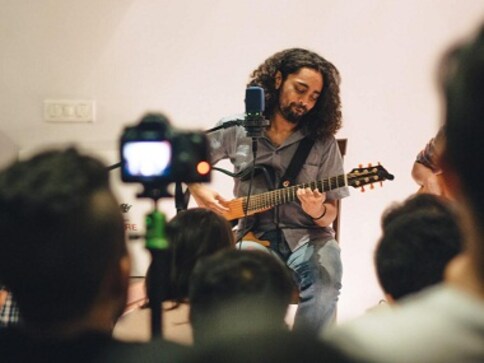 Living rooms, art studios and galleries, even bakeries are the new playgrounds for indie musicians in the country. Far from the chatty crowds in clubs who go straight for the bar, there are now spaces for musicians and listeners alike. While friends calling upon musicians for an acoustic show in their living rooms is not at all new, the idea of formally organising concerts on a regular basis is something India is entirely new to. After all, the culture of going to clubs on a weekly basis for gigs is only being promoted much more now.
Songs From A Room (Sofar), which started out in 2009 by Rafe Offer and Rocky Start in London and recently found an impressed fan and new investor in Virgin CEO Sir Richard Branson, kicked off in India in around 2011. But after a shaky start, they're much more organised now and running shows in Mumbai, Chennai and Bengaluru. The invite-only shows are held in living rooms (or at least, considering India's cramped spaces, 50-person capacity studio rooms) with the artist line-up also being a surprise — from electronic music producers to full-fledged bands but mostly singer-songwriters.
Bengaluru leader Prarthana Sen, who works under the designation of city expansions and training coordinator at Sofar Sounds, told me in an earlier interview, "It's not often you get a quiet room of listeners." Prarthana came across Sofar while she was studying in Leeds and came back to India with a plan to get Sofar running not just in Bengaluru, but in as many cities as possible, starting off in October last year.
Run by a team of volunteers with optional donation as entry fees, Sofar unceremoniously invited a police raid in Ahmedabad (completely uncalled for, since there was no smoking or drinking allowed at that show) — a troubling it-happens-only-in-India moment for an organisation which currently operates in nearly 300 cities. Arul Kacker, one of Mumbai's city leaders says, "It's a very tight-knit community. We had a guy come down to Mumbai from Birmingham who knew of Sofar and attended our show. It adds to why you want to do it."
Delhi-based artist management firm REProduce's Rana Ghose, also a filmmaker, kicked off Listening Room sessions in the capital in February this year, possibly to show that you didn't need commercial venues and you definitely needed to promote music that would probably never find a place at said venues. From a bakery in Mumbai to a restaurant in Bengaluru and the bare artist studio spaces in Pune and more, Listening Room's monthly shows include off-kilter collaborations — like pairing a experimental artist like Ari Jayaprakash with sludge band Shepherd or a harpist like Nush Lewis with an ambient music producer Jamblu aka Kartik Pillai.
No one puts it better than Delhi-based Ruhail Kaizer, who brought out his noise project S I S T E R in a live setting at one of the Listening Room shows. He says over email, "Sounds on this scale are rather much appreciated in empty rooms rather than business-oriented bars and restaurants. The content itself is too withdrawn to be presented to a collective with weekend goals, selfies and zero introspection. It has to be converged towards the sound itself and therein lies true fulfillment."
Sixteen editions in, Ghose's pickiness with venues is what makes Listening Room gigs stand out. "I just can't do these things in a place that doesn't line up with where I'd want to see this kind of event go down. I mean, if I don't like being there then what's the point?" He admits that finding venues and partners to host the shows is challenging, but he loves tackling trials. "For me, it's kind of like impossible Lego in an anti-gravity chamber — just a lot of moving pieces that have to fit at the right time, and that remain fun to put together."
Inspired by the choice of artists Listening Room shows would host, there's also BYOH Live — Bring Your Own Headphones — in Pune who have so far given artists like Mumbai ambient producer Shadaab Kadri aka Riatsu one of the more ideal settings over the chatter of buzzed audiences in a club.  BYOH Live, hosted in a recording studio Gray Spark Audio in Baner, aims to give the artist a live recording experience, feeding off the reactions of an audience about 30 people listening in over headphones.
There's a need for these spaces for artists like Riatsu, who, by his own admission, didn't even have a good gig at one of his two Listening Room shows, misjudging the vibe and a distracted crowd milling about instead of being fully immersed in his audio-visual set. At least it wasn't a dreaded club setting. Shadaab says, "I know for a fact that I need an intimate setting and people to connect with my music, so I can't play in a club, unless they have ambient music only."
These shows have been regular, which also means it doubles up as a good launchpad for artists. Ruhail says he was encouraged by the existence of Listening Room gigs. "I wasn't confident enough to unsheathe this within the public eye, but I was pushed towards the live aspect by Rana, who along with Bhanuj (Kappal, Mumbai-based culture and music journalist), curated these sessions."
On the same line-up as Riatsu at both, the Listening Room show in Mumbai and BYOH Live in Pune, was producer-singer Sharath Narayan, who had just launched his electronic project Cosmic Attic and already doing a live collaboration with producer Kumail Hamid. Sharath says of the experience, "It was a really good opportunity and it certainly opened a lot of doors. It opened my mind a little bit, probably."
Sure, Listening Room artists such as Ashish Sachan (Hashback Hashish), Suryakant Sawhney (Lifafa) and Sanaya Ardeshir (Sandunes) are regulars on the club circuit, but perhaps the future of a truly alternative scene that prefers to grow on the fringes doesn't just belong in clubs, but these alternative spaces. Sharath says it's not meant to be restrictive or too exclusive either, "I think it's for everybody. It's a totally different experience, that's all. It's not tailored for people who have a certain taste in music. I've seen people come in for the first time and be surprised by it."
Ghose sees the quality of work among upcoming (and somewhat still unknown) electronic music producers such as Sparkle and Fade, Disco Puppet and more, their "totally different way of navigating an existence as an artist". He adds, "as far as I can tell, there's a real need to showcase this generation of music the right way. It seems I'm not alone in having this opinion."
Entertainment
From becoming a member of one of the biggest bands in recent history to dealing with creative existentialism, and then rising to create one of the greatest rock bands even, Dave Grohl has drummed up a lifetime of experiences.
News & Analysis
Union minister Nitin Gadkari has said once the new law is passed, only sounds of Indian musical instruments will be allowed for vehicle horns in a bid to slash noise pollution.