Look back in anger: Rage as a theme has all but disappeared from mainstream Hindi cinema
Irrespective of the era that they were made in or the genre that they fell into many of the films that would constitute the all-time great lists across Hindi cinema seem to have the element of rage as a common thread.
Be it Mother India in the 1950s, Mughal-E-Azam or Satyakam from the 1960s, Zanjeer, Deewar or Nishant from the 1970s, Ardha Satya, Albert Pinto Ko Gussa Kyon Aata Hai or Arjun from the 1980s or Ghayal or Krantiveer from the 1990s, rage has been a present in some form or the other in Hindi cinema be it mainstream or parallel. For an emotion that has more often than not seeped into the narrative of Hindi cinema, it's surprising then to see how films no longer seem interested in exploring rage anymore.
The only full-blown cinematic experience to express rage in the last decade and a half would be Badlapur (2015). Just glance around at what surrounds us and it (rage) is far more commonplace than ever before. In a day and age when 140 characters is all what it usually takes to express outrage and anger, one might imagine that a film would be a sought after platform to express rage — but that does not seem to be the case.
Looking at how films have depicted rage over the last few decades it would not be totally incorrect to say that cinematic rage is also a manifestation of the times a film is made in. But at the same time, film commentators also believe that the more any film chooses to ignore the times it is set in or does not directly address the socio-political scenario, the chances of its longevity increase.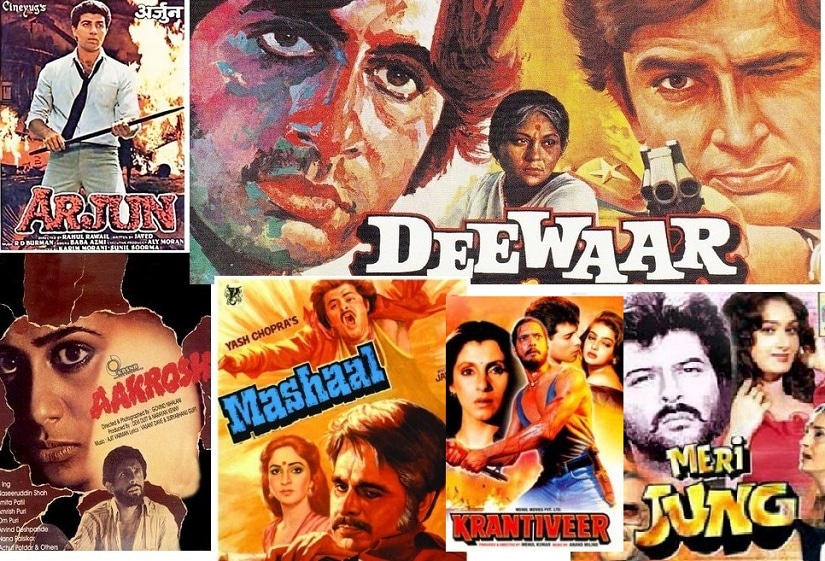 Take for instance the 1960s, which is a decade marred with great social upheaval and equally significant political churning and yet the films that best depicted the era were far from the ones that directly addressed what was happening. The films that best showcase the rage from that period would probably be Satyajit Ray's Mahanagar (1963) that reflected contemporary realities of the urban middle-class and has been called "one of the most rewarding screen experiences of our time", by the late Roger Ebert. Similarly, in Hrishikesh Mukherjee's Satyakam (1969) Dharmendra's Satyapriya 'Sath' Acharya portrays the era's idealism that lays great stress on doing the right thing. Intriguingly enough both films were set in different times than when they were made — Mahanagar was set in the 1953 and Satyakam between the mid-1940s and the mid-1950s, which is also an era when disillusionment with post-independence expectations had set in.
In the same vein, the Emergency of the 1970s does not have a direct bearing on Deewar or Nishant yet there is a rawness that perhaps owes itself to the underlying anger towards the current events of the time. Once again, both the films and more so with Deewar, can be transported to any era and much like Ganga Jamuna or Mother India, which were the inspiration for Deewar would still seem relevant. By that token, the films of the 1980s that dealt with similar subjects were slightly more direct while addressing the anger. Right from the beginning of the decade with Albert Pinto Ko Gussa Kyon Aata Hai and Aakrosh to Shakti, Ardh Satya, Mashaal, Meri Jung and ultimately Arjun both mainstream and art-house Hindi films could not avoid the seething anger across the board.
The level of moral decay in the society, the rising unemployment and the general disenchantment with the system was at an all-time high and this made its way through almost every kind of narrative and genre. Even films that were not meant to talk about rage ended up depicting it in some form or the other. This could be seen in Ek Duje Ke Liye, a love story that ends violently, Ek Nai Paheli where a man (Kamal Haasan) fights with his father and leaves home to fall in love with an elder woman (Hema Malini), whose daughter (Padmini Kolhapure) falls for the man's father (Raaj Kumar), family dramas like Naam where the lure of an easy life takes an unemployed man (Sanjay Dutt) away from his family, vendetta films like Ghulami and Dacait where the evils of caste system drive men to take up arms. Films of N Chandra can best define the rage of the decade — Ankush where a bunch of unemployed slackers are saved from perdition by a widow and her daughter only to resort to crime when the girl kills herself after being raped by her boss; Pratighaat (1987) where a school teacher (Sujata Mehta) must avenge herself after she is publicly disrobed for testifying against a local politician and finally Tezaab (1987) where circumstances force a college student (Anil Kapoor) to become a criminal who is hired by the father (Anupam Kher) of the girl (Madhuri Dixit) he loved to get her back from a kidnapper (Kiran Kumar). Chandra's films grew in scope and scale and went from showing the ills in a locality, a city and ultimately the whole wide world.
Although the 1990s did not have enough reasons to be angry, rage was not done away till the middle of the decade when Dilwale Dulhaniya Le Jayenge came and changed it all.
Films such as Shiva, a remake of Ram Gopal Varma's own 1989 Telugu original, Ghayal, Gardish, a remake of the Malayalam Kireedam (1989) where a man aspiring to be a cop, Jackie Shroff, is forced to take law into his own hands when he witnesses his police constable father (Amrish Puri) being beaten up and Krantiveer come to mind the moment one thinks of rage in the 1990s. Post-DDLJ the worldview of Hindi cinema began to transform and rage was relegated to hardcore action films. Even romance became softer and it was almost impossible to imagine an Ek Duje Ke Liye or Qayamat Se Qayamat Tak. Rather love was now either the Yash Chopra variety where the ultra rich fell for each other (Dil To Pagal Hai) or Karan Johar esque (Kuch Kuch Hota Hai­) or the comic Govinda kind (Hero No. 1, Hadh Kar Di Aapne). Those who grew up watching these films would find it to imagine that the pasha of romance Yash Chopra was once associated with rage be it Dharamputra, Deewar, Trishul and Kala Patthar, one of the few films in the Salim-Javed pantheon that depict rage across a series of characters and not just limit to the 'angry young man.'
There were fewer films in the 2000s that showed rage in the truest form but amongst the ones that addressed the likes of Sriram Raghavan's Ek Hasina Thi, Ghajini and Neeraj Pandey's A Wednesday stood out. The former probably owes its genesis to the cult Japanese female prisoner exploitation films such as Female Prisoner 701: Scorpion and its sequels and much like Badlapur it is an individual's rage against another individual. Ghajini also had the hero going postal in a style that had been previously seen in films like Mera Jawab or Nyay Anyay but with a twist of short term memory loss as inspired by Memento. On the other hand, A Wednesday was truly a contemporary tribute to the classical one man against the system template of the 1980s with a nameless Indian (Naseeruddin Shah) taking on terrorism. In many ways A Wednesday had its protagonist 'going postal' in a fashion similar to the lead in the cult American film from 1990s Falling Down where an unemployed and divorced engineer's increasing frustration levels lead him to act out violently and commit several crimes.
Films such as We Need to Talk About Kevin, where a mother comes to terms with the massacre committed by her teenage son or the classic Taxi Driver that had mentally unstable ex-Marine who returns from Vietnam and ends up killing a pimp to save a preadolescent prostitute in order to clean the sleaze of the city are not far removed from the India of today. While popular Hindi cinema might take a while to come to terms with that fact, other cinemas in India have already started telling such stories. Recent Marathi films such as Nagraj Manjule's Fandry and Sairat have addressed collective rage brilliantly. Even Chaitanya Tamhane's Court that examines the Indian legal system through the trial of an aging folk singer at a Sessions Court in Mumbai falls in the same category.
What could be the reason for popular Hindi films not talking about rage anymore, especially in the previous decade and a half?
Are we just a happy bunch with no real reason to complain? Or are we just too comfortable? Or are we simply not making films about the underclass as regularly as we once were? Perhaps a genuinely enraged person is no longer our hero and we have traded rage of the common man/woman for the aloofness of crooks. We would rather pick Dhooms and Bunty Aur Babli over a Nayak (2001) where an enraged common man (Anil Kapoor) becomes a scheming politician to cleanse the system from within. Hardly surprising then that Nayak failed in Hindi while the Tamil original was a smash hit.
Updated Date: Dec 11, 2016 09:02:58 IST