Lindsay Lohan accuses fiancé of cheating, hints at pregnancy in Instagram rant
Things had been going well for Mean Girls star Lindsay Lohan. She is out of rehab, and seemed to be reasonably happy with her fiancé, Russian millionaire Egor Tarabasov.
Lohan mentioned that there was trouble between them in a Snapchat video on Friday, July 22, saying, "My fiancé's being really angry at me, but I'm drinking water to get him to come home. Honey, come home, please." She captioned the video "ET phone home."
The starlet posted a picture with her boyfriend captioned "He wore black and I wore white…." (a reference to the 1966 Cher song "Bang Bang (My Baby Shot Me Down) along with three wise monkey emojis and an anchor "I guess #art is whatever you make of it," she added.
This was followed by another picture (now deleted) with the caption "I guess I was the same at 23… S---ty time-it changes at 26/27 @e2505t thanks for not coming home tonight. Fame changes people."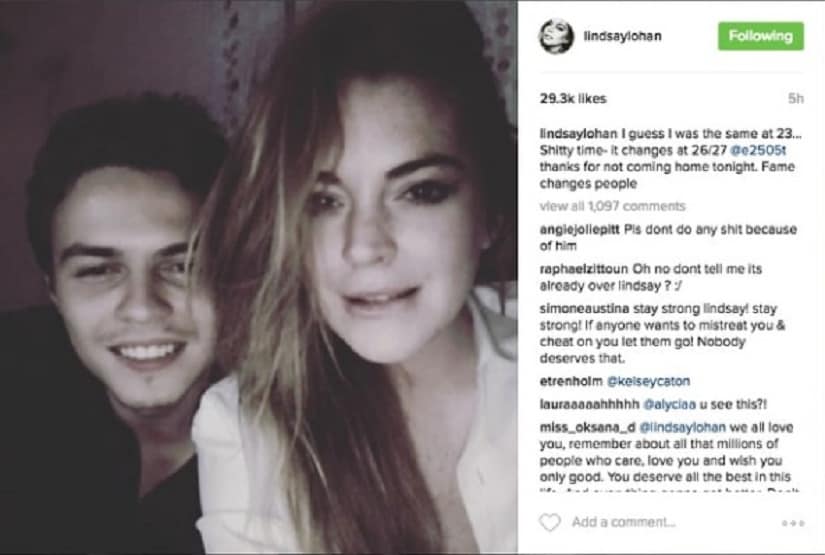 A little while later she tweeted a picture of herself with a baby bump from her 2009 movie Labor Pains, about a woman who pretends to be pregnant. "Lindsay Lohan labour pains trainer – I am pregnant!!" she wrote.
lindsay lohan labour pains trailer - I am pregnant!! https://t.co/f1vsqJnX1f

— Lindsay Lohan (@lindsaylohan) July 24, 2016
Lohan again Instagrammed and deleted an email identifications of the woman she claimed Tarabasoc was cheating on her with (rumoured to be Dasha Pashevkina, the creative director of PA5H) and captoined it, "It's legal if you're selling yourself and not a Russian from #moscow right my baby @e2505t," and hashtagging Vladimir Putin and  Donald Trump in the post. She also deleted a post with Egor at a party saying "Wow thanks #fiance with Russian hooker @dasha_pa5h," and tagged Dasha PAshevkina in the post.
But alas, this was not enough drama for Lindsay Lohan's life.
The police had to pay a visit to the star's Kensington home to attend to a disturbance at the property: her front door was visibly damaged: with several marks and scuffs on the wood. She woke up her neighbours shouting that her fiancé had almost tried to kill her.
She screamed to her neighbours,''Please please please. He just strangled me. He almost killed me. Everybody will know. Get out of my house.'' The police are still investigating her claims.
The actress has been dating Egor since last year and in recent months has been seen wearing a huge sparkling emerald and diamond ring on her finger.
Updated Date: Jul 25, 2016 11:15 AM