Let's face it, in India film certification seems to have no impact on the ground
The film certification, a blip on the screen before a movie starts, is a blind spot for much of India's population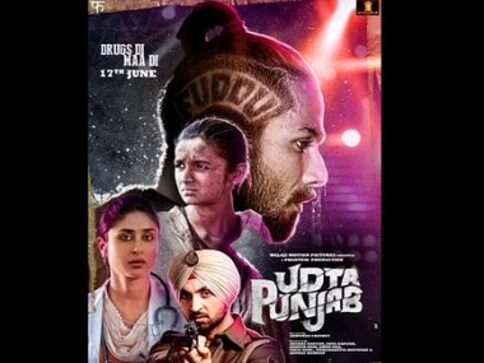 M*****f*****! read the subtitles of scene in Udta Punjab to a cuss word uttered in frustration when a packet of heroin is lost.
As adults who have seen this movie's producers fight with the Central Board of Film Certification (CBFC) to prevent any cuts to their precious film showcasing the drug menace in Punjab, as adults who took up to social network activism signing petitions and posting slogans on freedom of the arts to get the Censor Board to pass the raw, gritty and violent story of drug trade, it seemed like an earned birthright to sit watching a profanity being uttered on screen without it being beeped out. The cuss word seems pretty tame in the whole movie, since it is a real time beacon cry for Tommy Singh, a titular character in the movie, when he feels lost, sober or has simply lost his pouch of cocaine.
I watched in awe, the close up of a syringe needle pricking the heroine's skin to deliver the murky solution of "heroieenee" that she needs to buoy her body against impending gang rape. "Wow! What gutsy cinema. Glad the censors were taught a lesson," I thought.
But while these notions passed through my "world cinema" appreciating psyche, the person next to me nibbling hard on caramel popcorn, was fidgeting in his seat because his feet didn't reach the floor. M****F****! It was a 10-year-old boy sitting next to me watching a Certified A (adult) movie.
I felt queasy. I looked beyond this tiny boy to see his brother, a teenager; his mother and father... completely lost in the movie, sniggering at the cuss words booming through the dark hall thanks to the surround sound. They were enjoying themselves, a poster perfect bunch for family entertainment. This same family can possibly be found watching hard core action films, watching Sunny Leone gyrate to Baby Doll Sone Di, watching Salman Khan slam dunk himself on a frail man, watching a serial killer whacking his victims with a metal pipe. The popcorn will be munched with much gusto.
The film certification, a blip on the screen before a movie starts is a blind spot for much of India's population. Parents don't care, and even movie halls do their courtesy call of putting up posters that announce Universal or Adult certification that Hollywood and Bollywood movies as expected under government laws.
But who really checks if a toddler is brought in by a careless parent for a raunchy sex comedy? No usher till date has asked the parents to leave their kids out of the movie hall. Save a horror film, cinema halls in Mumbai, Delhi, Bengaluru and other cities have their share of underage viewers , impressionable minds soaking up the pelvic thrusts and blood flying from a human head that has been shot at blank range. Paisa vasool.
Film certifications seem to have no impact on the ground.
The young parents who desperately hope to have a night-out are left bereft of capable nannies or grandparents to baby sit, and will get their underage off springs for adult movies. Most parents however simply don't care.
If you have seen stage shows, school dance competitions, TV dramas where children are made to showcase dance "moves", it is cringe inducing watching their tiny bodies gyrate to Bollywood item numbers, replete with the raunchy choreography they have watched on screen. Parents tutor the kids to dance these moves. Parents take them for adult movies.
While there are no perfect parents in the world, a small step of trying to preserve innocence and keep their gullible minds at ease from the stress of seeing decapitated heads or heaving bosoms, could help us have saner future adults. Being a kid is not easy, and parents need to be aware of the long lasting impact movies shown at the "wrong time" could have on their young ones. Looking at film certifications, just like doing a check of for carcinogenic ingredients on a cereal box, should be a must for parents. The little eyes do see a lot — make it worth their while.
also read
Entertainment
Aryan Khan to set to make his directorial debut with Stardom
Entertainment
Naseeruddin Shah recently revealed that he uses his Filmfare Awards as door handles for his washrooms