Lena Dunham, Gal Gadot and the 'failings' of the woke feminist celebrity
Lena Dunham and Gal Gadot's 'woke'-ness seems to be nothing but a smokescreen built on the foundation of their privilege as successful stars. This brand of activism is convenient; confronting your friends accused of sexual harassment is not.
I love Olivia Munn. She played the feisty Sloan Sabbith on The Newsroom — a woman with a mind of her own, driven by her ambitions and decision to not back down at the hands of a male harasser.
She also recently made a point about weeding out harassment in the entertainment industry. Speaking about how only the more prominent names in Hollywood had been called out as abusers, she said, "The incredibly gross people will be thrown into the fire in the hopes that the masses will quiet down… But what they're doing is pruning the tree – cutting off the wilder vines. And the disease still remains in the tree."
I also love Robin Wright, not just because of her spot-on portrayal of cold-hearted, poised First Lady and President Claire Underwood, but also because she decided to loudly voice her concerns about the wage gap between her and Kevin Spacey in House of Cards.
At a time when many female celebrities shy away from the F word and associating with it, it would not be a stretch to say that I like any public figure who proudly calls themselves a feminist far more than others. In today's world — and especially in the wake of the accusations against Harvey Weinstein, Louis CK and countless other men in Hollywood — we look up to women to say and do the right things.
We look up to them to call out abusers, to acknowledge the sexist and patriarchal situations they work in, to stand in solidarity of those who have faced abuse and harassment. To be the feminists we want to see in society.
This expectation is not entirely unfair, if you consider the sheer star power and influence they wield over the minds of fans; it can be argued that they have a social responsibility to shoulder, along with their acting projects.
Such a perception of female celebrities is further strengthened by the roles they take on in films. However superficial it may seem, fans do associate the choice of character with the kind of person a celebrity may be. Wonder Woman's overtly feminist stance makes one imagine that Gal Gadot believes in the cause of women empowerment. Girls star and creator of the women-oriented website Lenny Letters Lena Dunham challenged the notion of femininity in the show, and she maintains the same stance in her own personal life. Take India's own Vidya Balan, who refuses to fit into the stencil of what is considered 'desirable', and embraces characters who are extremely likable whilst being imperfect.
Recently, Gal Gadot was appreciated when she refused to be part of the Wonder Woman sequel, if producer Brett Ratner, accused by several women accused him of sexual harassment, would be on board. She made a strong statement with that one move – she was willing to give up a large project to boycott an abuser. In another tweet she recently put out, she said that she stands by all women who courageously confront their fears by speaking up about abuse. "Together we stand. We are united in this time of change," she said.
But a Medium post written by a user who goes by the name 'Ima Survivor' shattered this perception with an account of how Gadot allegedly blamed her and offered no support when she was raped by the Wonder Woman star's friend. She goes on to talk about how Gadot allegedly pressurised her to confess what had happened to the perpetrator's then girlfriend, because she thought that the author was at fault for being raped. She was more concerned with her own friend, the abuser, rather than the victim. "Gal is more than a bully; she is a predator who enables predators," the author wrote, adding that she had acted in a similar manner with another of her roommates. Gadot has not responded to these allegations, and Medium has suspended original post because it violated the website's guidelines (a cached copy can be read here).
Days later, there emerged criticism against Lena Dunham for coming to the support of her friend Murray Miller, a writer for Girls, who was accused of assault by actor Aurora Perrineau. "... Our insider knowledge of Murray's situation makes us confident that sadly this accusation is one of the 3 percent of assault cases that are misreported every year," she said in a joint statement with Girls co-showrunner Jenni Konner to The Hollywood Reporter. She momentarily gave up on one of feminism's biggest ideals — believing the survivor.
Both these incidents have raised many questions about the authenticity of female celebrities' feminism and the hypocrisy of the image they are trying to portray. It makes fans question why they put faith into these women in the first place, in a sense feeling cheated.
Taking a stand in the professional space is hardly easier than it is in one's personal life. Ask any woman who has faced or witnessed harassment at the workplace, and they will tell you that they have either faced the backlash of reporting such an incident, been denied projects or promotions, or simply asked to leave an organisation. Or worse, they never reported it, fearing the possibility of such an aftermath.
When it comes to personal equations, confronting one's own abuser requires immense courage and strength. Confronting a friend or family member who has abused someone you know could entail alienation from a social circle, a sheer lack of disbelief ("He's our friend, he's never do this"), and badmouthing (or worse) at the hands of people who support the abuser. And that is if you even go so far as bring up an incident of abuse.
Many of us stop short at listening to stories of victims, preferring to maintain the status quo. A lot of us, despite our views against victim blaming, might extend the undeserved benefit of doubt to individuals close to us, simply because such abusive behaviour seems uncharacteristic of said individuals. Dunham cited this as the reason why she came out in support of her friend, and later apologised for doing so, emphasising the need to listen to women who report abuse.
In Gal Gadot's case, we must exercise caution. The allegations against her have been documented in an anonymous blog. If there is any truth to them, they are of the most serious nature and must be taken into consideration by anyone who looks up to her. There may be several other unheard stories such as this one, where Gadot's alleged predatory behaviour has cost women their well-being, even destroying their lives, and contributed to rape culture.
But the betrayal is worse when you look at Dunham. This is the same woman who vehemently tweets against male privilege and rape culture. This is the same woman who built Lenny Letters, which gives a voice to women of colour and is unafraid of talking about women's sexuality. As if her decision to stand by the accused friend was not bad enough, soon after, there emerged an account of a Lenny writer who had decided to quit the publication because of what Dunham had done. This is a real person, not an anonymous blog, accusing her of ignoring the actions of abusive men and racist women in her friend circle in college, suggesting that she has knowingly turned her head in the other direction in the past, too.
Do celebrities benefit from portraying themselves as feminists? They do, as any public figure would from proudly wearing any ideology, whether pro-animal rights, anti-government or even Scientology, on their sleeve. Fans are drawn into these personas because they make actors and other famous people seem more normal and aspirational at the same time; normal because they believe in "the right causes", and aspirational because fans wish they could influence as many people or effect as much change in the world.
This is not to say that many of these celebrities are simply voicing what they truly feel and believe in on social media; many of them are genuine. But whether genuine or tailored by PR agencies, they stand to gain so much in goodwill.
Celebrities also profit from not believing in certain ideologies; if only we could count on our fingers the number of actors in the Hindi film industry who refuse to call themselves feminists because they don't believe in 'bra-burning', because it is too extreme as an ideology, or my personal favourite — they think 'humanism' is better than feminism. This stance stems not necessarily from the lack of knowledge about the movement, but also an understanding of how some sections perceive it as being undesirable, and how they can possibly win their support.
Are celebrities' public and private personas different?
These sort of (in some cases, alleged) double standards do seem to suggest that there exists a fracture between what actors want to look like vs what they actually believe in. Their 'woke'-ness (millennial speak for socially aware) seems to be nothing less than a smokescreen built on the foundation of their privilege as successful stars. Gal Gadot can afford to refuse a film, because another project will turn up. Lena Dunham can afford to run a website that focuses solely on women; she has a large safety net as a white woman with an upper class upbringing, college education and stature in Hollywood.
This brand of activism is convenient; confronting your friends is not. And that is all-the-more reason to hold them accountable.
But do public figures, just like many of us, still grapple with the sexist, patriarchal notions that we have all been exposed to ever since we were children? Because of how deeply entrenched these notions are, they can still find expression in our conscious and subconscious minds. Take for example every time you have looked at the hair on your own or another woman's exposed legs and thought that she should make a trip to the salon. Or when you have innocently expressed shock at a mother's decision to not cook meals for her family.
Celebrity culture has evolved such that silence on any particular matter is equal to complicity. We expect actors as young as Games of Thrones' Maisie Williams and Stranger Things' Millie Bobby Brown to take stands.
But here's the thing: No one is ever born with a perfect understanding of any ideology. Moreover, ideologies are not static; they change over time, with a deeper academic and practical understanding of the world. The allegations against Gadot are hardly forgivable if they are true, but can we crucify every celebrity who may have said something uninformed? Does stardom come at the price of not being able to explore perspectives and arrive at one's own ideologies, whilst fumbling and making mistakes in the process?
Arts & Culture
In Golden Girl, Vivi and her friend Savannah are talking about staying in the attic of Savannah's home and whether Savannah's parents would approve.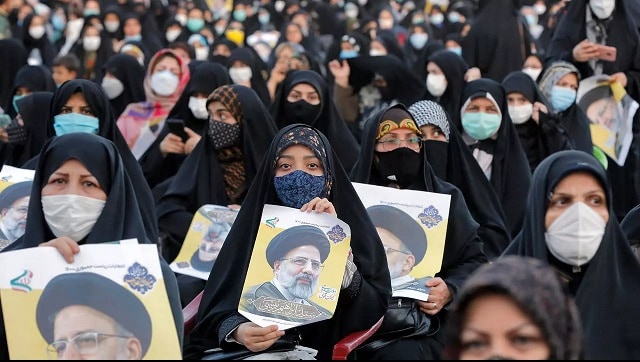 World
Ebrahim Raisi, who heads Iran's judiciary, is the clear favourite from an all-male field of seven candidates to replace President Hassan Rouhani, a moderate elected on promises of social and cultural reform.
Entertainment
Banes, who featured in Cocktail and Masters of Sex, passed away 10 days after she was injured after a scooter collision on 4 June.