Leave No Trace review: Debra Granik returns with a subtle yet stirring drama about life on the fringes
After introducing audiences worldwide to Jennifer Lawrence and Vera Farmiga, Debra Granik unearths another precocious talent in Thomasin McKenzie in her new film, Leave No Trace.
Eight years after discovering a then-unknown young actress named Jennifer Lawrence and bringing her to the world's attention in Winter's Bone, indie filmmaker Debra Granik makes a long-awaited comeback with her new feature, Leave No Trace. Having recharged her creative batteries, the New York-based director delivers a tender socio-realist drama and, in the process, unearths another precocious talent in teenage Kiwi actress Thomasin McKenzie.
Much like her previous two films (Down to the Bone, 2004 and Winter's Bone, 2010), Leave No Trace offers another fascinating character study of people living on the fringes of society. The film follows a traumatised army veteran, Will (Ben Foster), and his devoted daughter, Tom (McKenzie), who live off the grid illegally in a large public park in Portland, Oregon.
Granik opens the film in the sunlit, thick rainforest, drenched in various shades of green — from the pine trees to Will and Tom's camouflage clothing that match the foliage and dirt. We follow them through their daily routines, a seemingly perfect combination of self-sustenance, vigilance and survival skills. They live in a makeshift shelter and mostly grow their own food bar the occasional trip into the town supermarket to buy supplies they can't forage. Will finances these trips by selling the PTSD drugs he procures at a local health center to other army vets living elsewhere in the woods. Due to the limited cash supply, the thoughtful Tom always checks with her dad if a purchase is a "want" or "need." They rely little on modern technology, preferring to use a knife and flint to start a fire and conserve the propane stove for a rainy day. Despite living in the wilderness, Will doesn't deprive his daughter of important survival and life lessons and imbues her with an appreciation for books, chess and even ethics.
There is a lovely moment when Tom finds a seahorse necklace in the woods and Will agrees to let her keep it if it's still there once they return from their shopping trip. But, in a little act of rebellion, she secretly hides it by covering it with dirt, worried someone might beat her to it. These little moments and simple exchanges reveal everything we need to know about the father-daughter duo and their relationship.
Their seemingly idyllic existence in the wilderness cut off from human contact is not due to some notion of misguided idealism or rejection of materialism but simply due to Will's inability to shake off his PTSD-induced demons.
It is important to note that Granik doesn't antagonise any of her characters in the film, be it those living within the confines of society or those outside of it. She examines the world through a humanist lens and thus depicts her characters in an objective, non-judgmental manner.
The second act takes off after Will and Tom's idyll is disrupted when they're arrested by local authorities for living on public land. They're briefly separated and made to take a series of aptitude tests and psychological assessments. But, on realising that Will is not a threat to his daughter, a sympathetic social worker works out a deal to relocate them to a remote countryside town, where a kind Christmas tree farmer offers them a place to live and Will, a job on the farm.
The threat, however, to this loving father-daughter bond is more internal than external as Will finds it hard to reintegrate into society. Tom, on the other hand, quickly adjusts to her new living arrangement as she rescues an escaped rabbit, befriends a boy her age and joins a youth club. Will refuses to conform: "We're wearing their clothes, we're in their house, we're eating their food, we're doing their work." He grows increasingly restless and looks for a way out, preferring self-exile over the luxury and conveniences of modern-day life.
So, he compels her to escape and she complies. After all, for her home is where her father is.
Out in the woods again, they discover a self-sufficient community of outsiders living in a trailer park. The park's manager is again nice enough to offer them accommodation and a fellow army man even lends Will the assistance of his PTSD dog. Tom again quickly begins to adjust to their new lifestyle.
Granik employs a delightful metaphor of beekeeping to highlight the importance of our need for connection and community. After learning how to commune with bees from one of the park dwellers, Tom tries to pass on the lessons to her dad. "You put your hand over it, you can feel the warmth of the hive."
Will is proud, like any parent would be, but he still resists. And this scene has an epiphanic quality to it as Tom realises her dad's resistance with society has become so extreme that it is unsustainable. She needs a safer and more stable lifestyle. And, as children do as they grow up, she must learn how to be independent and make her own decisions even if it means separating herself from her father.
But is Will ready to give her the freedom to go her own way?
Starting with Down to the Bone — which provided a career-making showcase for another then-little-known actress named Vera Farmiga, Granik has proved that aside from her keen eye for talent, she is also an exceptionally gifted filmmaker with an appreciation for simplicity and subtlety in her storytelling. She doesn't need loud, kitschy moments or heart-breaking proclamations, enhanced by dramatic music. Instead, she relies on her evocative writing, assured direction and powerful performances from her two lead actors.
And the heart of the film ultimately lies in the emotional connection between the father-daughter pair played by Foster and McKenzie. They can telegraph their thoughts and sentiments with a simple shared glance and body language without much need for dialogue.
Foster captures his internalised suffering and conflict with sensitivity and grace and he is matched note to note by McKenzie, who remarkably holds her own. She portrays her character with a mix of innocence and wisdom beyond her years. Like Farmiga's cocaine-addicted single mother Irene in Down to the Bone and Lawrence's quietly heroic Ozark teen Ree in Winter's Bone, Mckenzie's Tom is a strong female protagonist hoping to assert her independence.
Leave No Trace is a deeply affecting but ultimately universal tale of children leaving home to embark on an independent life. Letting go may be painful, but it's a necessary process.
Leave No Trace will be screened on 26, 28, 30 October and 1 November at ​Jio MAMI 20th Mumbai Film Festival​ as part of the "World Cinema" section.
Entertainment
Ryan Reynolds recently visited Seneca College in Toronto and toured the premises.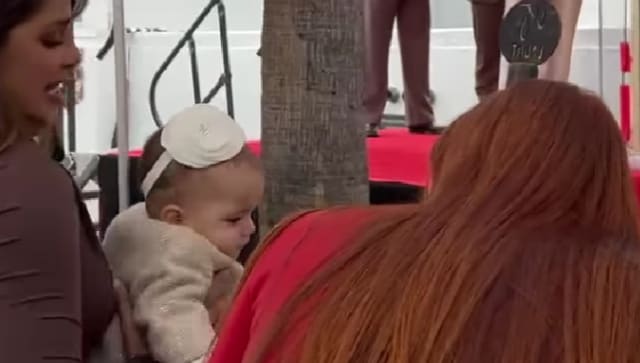 Entertainment
Priyanka Chopra and Nick Jonas welcomed their daughter last year via surrogacy and had kept the baby face's hidden since then.
Entertainment
Beyoncé, the most decorated woman in Grammy history with 28 wins, could break the late Hungarian-British conductor Georg Solti's record for most awards won if she wins four awards.