Late-night TV hosts Stephen Colbert, Conan O'Brien, Jimmy Fallon team up for a sketch to respond to Donald Trump
President Donald Trump had passed disparaging comments against the late night TV hosts at a rally on 26 June.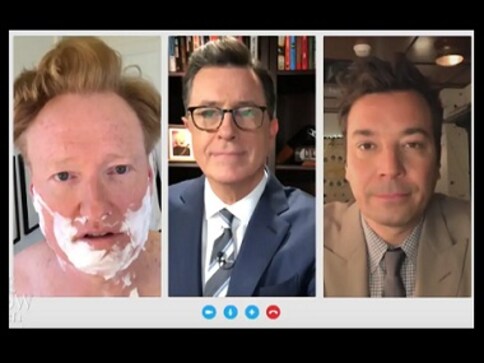 The hosts of three of America's popular talk shows have teamed up for a rare joint opening to respond to President Donald Trump.
Stephen Colbert's The Late Show on CBS and Jimmy Fallon's The Tonight Show on NBC began Tuesday with the taped segment in which the hosts video chat about comments Trump made about them 25 June at a rally in South Carolina, reported CNN.
According to Washington Post, while addressing the crowd at the rally, Trump asked, "Honestly are these people funny?" to which the crowd responded, "No." He also refused to say Colbert's name and called him 'that guy on CBS'.
The sketch begins with Colbert typing a monologue on a computer, which is interrupted by a video call from Fallon. Both hosts cheekily refer to one another by the names Trump had used for them.
Fallon says, "Hey, lowlife." Colbert responds, "Hey, lost soul." Fallon says he heard Trump said they are "all no-talent, lowlifes, lost souls."
Colbert says that describes TBS host Conan O'Brien, who appears while shaving and says he didn't realize Trump had become president.
O'Brien cautions the hosts to be civil. He says, "If we're not careful, this could start to get ugly."
Colbert and Fallon agree to meet at the restaurant in Lexington, Virginia that denied service to Trump's press secretary Sarah Huckabee Sanders.
Watch the sketch here.
(With inputs from Associated Press)
Entertainment
Sting's new release The Bridge has a strong pop-rock vibe that defined his #ThePolice and early solo years, but some of its best songs have Celtic and jazz influences
Entertainment
Nushrratt Bharuccha says Chhorii is a horror film with perspective: "It's communicating a social evil, something we should take cognisance of and bring a change"
Entertainment
Aayush Sharma on Antim: "The first time that I looked into Salman Bhai's eyes in front of the camera, I froze. He is the star I have grown up watching and now I was in the same frame as him"