Kygo gets candid about previous India tour, what he's expecting this time
EDM artist Kygo talks about his upcoming India tour, his experiences on the last tour and his collaborations with Selena Gomez, Ellie Goulding and more
New Delhi: Known initially as the "tropical house" artiste, Norwegian DJ and record producer Kyrre Gorvell-Dahll, who goes by the stage name Kygo, is now counted among the top disc jockeys in the world. He says the emergence of multiple sub-sections of genres confuses him, but ultimately it all boils down to what classifies as "great music".
Kygo, 26, is on a two-city tour in India, performing for Ola Sunburn Arena brought to the country by Percept Live. Its first leg takes off in Hyderabad on 24 November, followed by Mumbai on 26 November.
There are are a number of genres within the Electronic Dance Music (EDM) circuit which have blurred lines and definitions, making it difficult for many to understand. Kygo, who has performed all over the world, says it confuses him as well.
Kygo told IANS in an email interaction: "My original stuff was termed as 'tropical house', but to be honest, I don't really place my music in any one particular genre. I take inspiration from so many different types of music, from country to pop to rock to hip-hop, and I think my music reflects that. I think sub-sections of genres can definitely be a little confusing at times — I don't know even how some of them get made up these days. So, I prefer to recognise great music as being just that."
EDM came to India a decade ago and a question most artistes face is if the genre is a passing phase. Kygo, who garnered international attention with his remix of the track 'I See Fire' by singer Ed Sheeran, says he does not see it "disappearing".
"People have been saying this for years, but dance music is so unique in how it brings people together. It's a sound that really seems to resonate with the youth and I can't see it disappearing," he said.
Kygo has worked and collaborated with some of the best artistes in the industry like Parson James, Tom Odell, Kodaline, Conrad Sewell, John Legend, Ellie Goulding and Selena Gomez. He is a name to reckon with himself, so when he works with other big names, does ego come into play?
"It's only after you get to experience working with them that you know why they are where they are. I think I've been really lucky so far in the sense that all of the acts I have collaborated with have been so laid back and easy to work with. Selena Gomez, Ellie Goulding, Ryan Tedder — these artistes are some of the biggest pop stars in the world and I've been very fortunate to be able to work with them," said Kygo.
A lot of international artistes like Akon, Diplo, KSHMR, Snoop Dogg and British pop rock band The Vamps have collaborated with Indian talent in recent times. Is he up for it?
"I'm not too familiar with a lot of Indian music, but I did see Diplo's collaboration with Shah Rukh Khan (Indian film superstar) earlier this year when it came out. That song looked like a lot of fun to make and the video is great too.
"You can tell KSHMR's sound is definitely very influenced by the local scene here. I think everyone knows by now that I love to collaborate, so if the right opportunity comes my way, I'd love to do something with an Indian act," said Kygo.
The last time he performed in India in 2015, he was "in and out of the country very quickly". But he loved the food.
This time, Kygo says he is ready to try everything "recommended" to him as he does "quite well with the spicy stuff too".
After his India tour, Kygo will head to Dubai and Lebanon for the first time and then he plans to prepare for his New Year's Eve gig at Fontainebleu in Miami.
Entertainment
Last year, Surekha Sikri, bound to a wheelchair after a brain stroke, discussed winning her third National Award for Badhaai Ho, losing out on a lot of roles after the accident, and unfulfilled wish to work with Amitabh Bachchan.
Entertainment
At times, Schmigadoon! can feel like a Simpsons parody that outgrew its segment, or a classic movie butchered in order to insert commercial breaks. Luckily, it's also too fun for most of that to matter.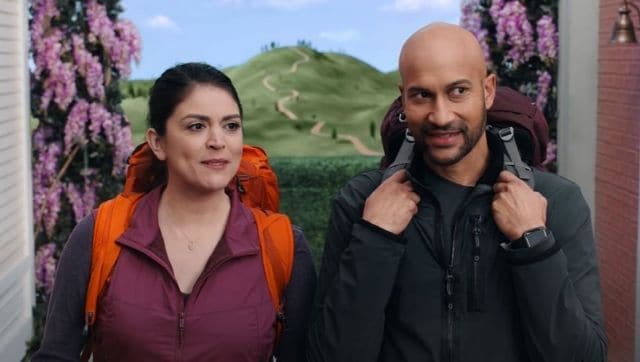 Entertainment
Though bumpy at times, Schmigadoon! is a feel-good comedy and a hat-tip to musicals, worth a slow-Sunday watch.