Kumar Vishwas-Amitabh Bachchan row shows artists themselves have little respect for copyright
The manner in which poet and Aam Aadmi Party leader Kumar Vishwas reacted to a tweet by Amitabh Bachchan, where the legendary actor informed the former of a possible copyright infringement, speaks volumes about how artists themselves are responsible for the sorry state of intellectual property in India.
Vishwas had used 'Need ka Nirmaan Phir Phir', by the late poet and Amitabh Bachchan's father Dr Harivansh Rai 'Bachchan', as a part of 'Tarpan' (a programme in the AAP leader pays tribute to noted Hindi poets). Amitabh Bachchan tweeted: "This is a copyright infringement! Legal will take care of this [sic]" and the AAP leader replied with the following tweet: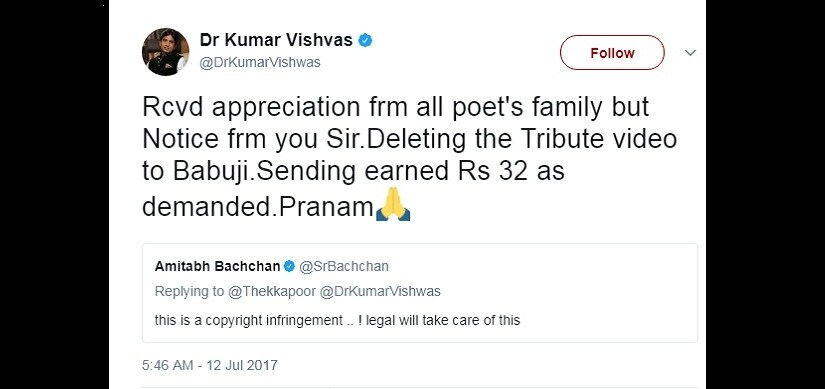 The issue between the legendary actor and the AAP leader can be summarised from the tweets that were exchanged but to understand what could have prompted such a reaction from Bachchan one needs to scratch beneath the surface. During the run-up to the Copyright Amendment Act 2012, screenwriter and lyricist Javed Akhtar, who was then a Rajya Sabha Member, made an impassioned speech about how artists had constantly suffered for decades at the hands of just about everyone and recalled many instances when stalwarts died penniless and in obscurity because of the millions that were rightfully theirs never reached them. It was the lack of a robust system that saw the great OP Nayyar, whose name (as Akhtar mentioned in his speech) was once enough to get people to the cinema halls, died in near penury in a fan's home in a Mumbai suburb called Nala Sopara. In fact, hearing Akhtar's speech was enough to make any regular fan or admirer — who at some point in time might have knowingly indulged in piracy or some such where the work of an artist was enjoyed but the benefit like royalty or proceedings from sales didn't reach the creator of the work — feel ashamed.
The fluid manner in which Bollywood has traditionally infringed upon copyright is not hidden from anyone. Here films or songs from anywhere and everywhere were plagiarised without apology for decades and this has almost became an acceptable norm. People would steal stories, plots, and the entire film down to the dialogues and proudly claim it was a 'remake' or 'inspired.' Forget giving the real creators credit or fee or royalty, the producers in many cases, would coerce the writer or music composer to lift a scene or a tune. But in the last decade or so, there has been a subtle change.
One of the big indicators of this transition was when producers began to insist that writers share their scripts or pitches only after it had been registered with the Film Writers Association, now called Screen Writers Association. The combination of corporates entering the business and the emergence of FWA where a notice from them would be enough to stall the release of film, resolved some troubles for the writers especially when it came to getting the credit. Perhaps it was such a fear that made Muazzam Beg get the credit of co-writer on Rockstar (2011) but that was still not enough to get a piece of the spotlight and adulation that followed; Beg was conspicuous by his absence from award functions where Ali walked up alone to collect all the writing awards. Then in 2012, Javed Akhtar, Aamir Khan, Sonu Nigam and Vidhu Vinod Chopra argued during the talks between artists and producers that were initiated in 2010 by the then UPA-2 government to reach a consensus in the Copyright law before it would be tabled in the Parliament.
Copyright infringement is a serious matter and like most things in life, doing the right thing can be as simple or as complex as one would like to make it. Artists have long suffered and can be lethal when it comes to protecting their rights. The late rock legend Prince once sued 22 internet users for a cool million dollars each for sharing links to bootleg copies of his live performance and closer home, the iconic Lata Mangeshkar once tried to get all singers and musicians to stress on demanding royalty from music companies and refused to sing with Md. Rafi who was against the idea. What's more Yash Raj Films in some areas wouldn't allow its songs to be played at a public event, music festival or even weddings unless a valid licence is obtained.
There is a segment of viewers who have criticised Amitabh Bachchan for initiating legal action against Kumar Vishwas for using his father's poem. For his part, Vishwas, also believes that he was just being a medium in making the works of great Hindi poets accessible to a newer generation and this is a sentiment that is being echoed by common folk who seem to enjoy Bachchan ji's poetry. The fact of the matter remains that Kumar Vishwas needs to respect the artist. As an artist himself, and also a social figure, did he not take permission from Bachchan ji's estate to use his works?  Of course, it's fine for Vishwas to say that he got good feedback and appreciation from the families of the other poets that he profiled — but that is a different issue. In art, as in life, one must simply never forget to do unto others as you would have them do unto you.
Updated Date: Jul 13, 2017 16:47 PM