Kuchh Bheege Alfaaz surpasses 'broken boy healed by happy woman' trope with Geetanjali Thapa's act
In Kuchh Bheege Alfaaz, Archana is meant to be a symbol of female resilience and vigour, and Alfaaz a testament to the extreme fragility of masculinity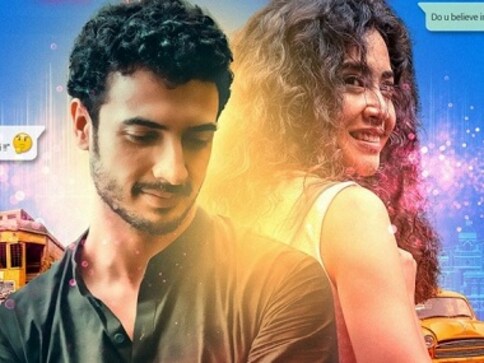 By Sharanya Gopinathan
In the week before the release of his latest movie (and very first love story) Kuchh Bheege Alfaaz, acclaimed director Onir was asked in an interview what the lead characters of Archana and Alfaaz represent. He responded, "Alfaaz is broken from the inside, whereas Archana, who has leucoderma, is broken from the outside."
Kuchh Bheege Alfaaz tells the unlikely but sweet story of RJ Alfaaz (played by newcomer Zain Khan Durrani) — a mysterious RJ with a troubled past (yes, the 'boys with troubled pasts' have left music and joined radio now) — and Archana (National Award winner Geetanjali Thapa), who is a chilled out, idealistic, leucodermic maker of memes and WhatsApp forwards. Their paths cross virtually after a minor Tinder-phone number mishap. When Archie (short for Archana) gushes on the phone to him about how much she loves and admires the mysterious and romantic RJ Alfaaz, he decides to tell her that his name is Abhimanyu.
That's pretty much all I remember him telling her, actually. See, if both Alfaaz and Archana are broken in different ways, it's certainly had vastly different effects on their personalities. Alfaaz's brokenness comes from a sorrowful experience with his teenage girlfriend, while Archana is apparently "broken" because she has leucoderma. She doesn't, to be honest, seem very broken at all in the movie, and is actually an endless repository of good cheer and strength.
Anyway, by the time we first meet them, Alfaaz's brokenness has inspired most of his personality to slowly seep away through the cracks over the years. All that's left seems to be a thick concentrate of intense poetry and love stories that he recites on his captivating radio show, but otherwise, Alfaaz is a man of few words and by extension you also feel few thoughts.
I like to think that Archana was meant to be a symbol of female resilience and vigour, and Alfaaz a testament to the extreme fragility of masculinity. It seems an apt metaphor to me. On the other hand, it could also be a different, although a far more hackneyed trope: That of the silent brooding man being saved by the perkiness of the manic pixie lady love.
Most of Alfaaz's responses to the delightful and engaging Archana on social media are barely a couple lines long. And until the very end, he doesn't seem to say much to anyone that isn't a response to a question or an assurance that he is, in fact, okay.
Archana, on the other hand, seems to have responded to her supposed "brokenness" by wearing the cracks with pride and embracing life with arms wide open. She may cover the patches on her neck with a scarf (until the end), but she has a love for roaming around Calcutta barefoot, and a unique approach to Tinder which involves saying yes to anyone who doesn't upload a photo of themselves, just like her. She goes on dates to tiny momo canteens, is always quick with her truly delightful smile, and has a complicated office-friend-romance type situation with her colleague that she handles with friendliness, compassion and a spine of steel.
She knows what she wants (to make "beautiful" memes, and RJ Alfaaz), and falls hard for so-called Abhimanyu because of how much her mysterious phone pal reminds her of the RJ. And I mean she falls hard. She sends him adorable, vivacious and amusing messages all day that make her smile in anticipation of his response when her phone buzzes, and she continues to text him even when he persists in being a boring and brooding sort of guy. There are moments when you feel sure that if you were one of Archana's friends and read his lacklustre responses, you'd immediately encourage her to cut her losses and move on to someone a bit more exciting. But Archana seems to give everything and everyone around her a chance, while Alfaaz retreats into his stark, white, bare apartment (with a great view) to read Faiz Ahmed Faiz.
There are lots of great views in Kuchh Bheege Alfaaz, and one of its best features is its pretty, nostalgic depiction of slow, slow Calcutta. The movie itself does feel a bit long, and it could have reached its conclusion a lot quicker than the 116 minutes it took. But perhaps it's just the newness of social media romances that we expect our characters to meet and climax earlier than they need to, or earlier than social media can let them get away without.
While it is kind of exasperating to see another broken boy reluctantly allow himself to be healed by a happy woman, the excellence of Geetanjali Thapa doesn't make it so bad. In fact, her skill and charm makes it easy to feel that perhaps the movie pushed Alfaaz into a bare room because it was aware of the talent it had at its disposal with Thapa, and decided to use it to create a strong woman character I'd loved to have seen more of. I guess this is one of those stories where you don't really care if the guy and girl get together in the end, as long as the girl is happy, which you have a feeling she will be because she at least has a personality.
The Ladies Finger (TLF) is a leading online women's magazine delivering fresh and witty perspectives on politics, culture, health, sex, work and everything in between.
Entertainment
After taking a long break from his career, Honey Singh is back to his work
Entertainment
In 2022, the actor delivered some impeccable performances with A Thursday, Dasvi, and Lost which also grabbed her national and international recognition
Entertainment
Priyanka Chopra and Nick Jonas often share photos of their little daughter, Malti Marie, and this Sunday was no exception