Kuch Kuch Hota Hai: Karan Johar's directorial debut introduced new grammar for a romance of aspirational India
With Kuch Kuch Hota Hai, that released on this day 20 years ago, Karan Johar proved not need to discount emotional intelligence for an aspirational lifestyle.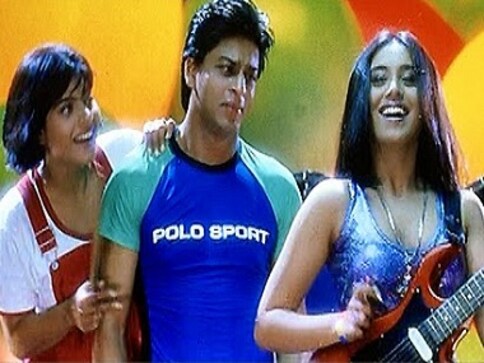 In his memoir An Unsuitable Boy, Karan Johar claims his attempt at making a cool film for the youth through his 1998 directorial debut was dwarfed by Farhan Akhtar's 2001 blockbuster Dil Chahta Hai. There is no doubt that Dil Chahta Hai announced the arrival of the new millennium, but given the freshness Kuch Kuch Hota Hai brought to the grammar of Hindi cinema, it would not be wrong to say that it pushed the envelope too, even if by a few inches less.
Kuch Kuch Hota Hai did not delve into the everyday realism of Dil Chahta Hai that came to be associated with the 21st century. But it made an otherwise resistant audience more prepared to embrace the whirlwind of change that the new millennium brought with itself.
Karan did not go all the way in shedding off the dust of the millennium gone by. The second half of Kuch Kuch Hota Hai was more influenced by his retro idols like Yash Chopra. But the first half reflected what can be termed as the MTVisation of Hindi cinema. The Neelam Show, which served as a significant inflexion point in the film, was a nod to the pervasive VJ pop culture and its increasing dissemination among youngsters.
With Shah Rukh Khan and Kajol as the leads, it must have been a gigantic task for Karan to not fall prey to aping Yash Chopra's 1995 classic Dilwale Dulhania Le Jayenge, where he was an assistant director to Aditya Chopra. But Karan was clear he did not want SRK-Kajol to channelise their inner Raj-Simran. He wanted them to be Rahul-Anjali: not star crossed lovers but BFFs who bond over basketball.
SRK's Rahul was not a victim of colonial hangover in terms of his wardrobe. He did not wear the chequered red shirt and black leather jacket. Instead, he slipped into branded athleisure. His 'Cool' chain became a rage back then though they are a strict no-no now. Anjali's polka dot hairbands also met the same fate. Anjali was in fact an extension of Karan's personality. Her metamorphosis from a tomboy to a woman in a sari was similar to that of Karan, who worked on every aspect to 'improve' his persona, from his baritone to his wardrobe. Rani Mukerji changed the game with her Manish Malhotra costumes that put the designer on the global map. Had there been no trademark Tina short dresses and fabric chokers, there would possibly not have been the unforgettable Poo (Kareena Kapoor Khan) in Karan's 2002 family drama Kabhi Khushi Kabhie Gham.
There was also an iridescence in the dialogues of Kuch Kuch Hota Hai. Though they were not as conversational as those of Dil Chahta Hai, they were colloquial to a great extent. This writer knows of a Rahul, a 20-year-old who was named after SRK's character. He has lived a life full of "Rahul is a cheaterrr" (in tune please) taunts and incessant offers of orange juice (Rahul, jeuce?). If there was a more jeucy dialogue than "Baby ko juice pilao", it would be this one. Every member of this writer's generation knows "I don't like jokes!" has to be countered with "I don't like youuu!". There is no other way. And then there is obviously the most succinct pick up line ever, Rahul's "Squeeze me" in response to Tina's "'Scuse me?".
This flavour also made its way to the film's music by Jatin-Lalit. Lines in English were incorporated into the lyrics logically. Unlike a gibberish 'My Name is Anthony Gonsalves' from Amar Akbar Anthony, English played a crucial part in the song 'Ye Ladka Hai Deewana'. When Rahul and Anjali war over the ethics of a basketball match, the entire college congregates to remind them, "But he's your best friend yaar." Farah Khan choreographed 'Koi Mil Gaya' with an unprecedented mix of orchestration and spontaneity that it set the template for every club/college number to follow. There may not have been a 'Koi Kahe Kehta Rahe' in Dil Chahta Hai had it not been for the popularity of 'Koi Mil Gaya'. The 'Raghupati Raghav Raja Ram' track was novel too, as it juxtaposed SRK's pulsating rock model to Kajol and Co's sanskari, bhajan version. This oscillation made an entire generation sit up and take notice of the fact that they were on the verge of a new era of storytelling. Even the background score deviated from the conventional dramatic effects to introduce character theme scores (read: Miss Breganza).
But Kuch Kuch Hota Hai was not a glossy surface skimmer. Karan may have treated it with all his SoBo (South Bombay) coolth, but he also lent it layers of emotional meat. He was aware that the Liberalisation Privatisation Globalisation (LPG) era risked diluting the emotional intelligence of the generation to come. That is why he only took out a page from the LPG era book and explored a romance through the prism of choice.
Karan realised when a consumer is empowered through choice, the same approach would also creep into their personal space. Rahul has to choose between Anjali and Tina, and he goes for the more 'glamorous' one. But that does not strip him off the choice to correct the course years later and pick Anjali as his life partner. He is allowed the choice to eat his own words, "Hum ek bar jeete hain, ek bar marte hain, ek bar shadi karte hain, shaadi bhi ek bar hi hoti hai, aur pyaar..."
As transactional as this writer makes the love of Kuch Kuch Hota Hai sound, its wide reach, limitless shelf life and perennial recall value only prove that one does not need to discount emotional intelligence for an aspirational lifestyle. And this is the beautiful dichotomy that Karan Johar and Dharma Productions have been synonymous with over all these years.
Entertainment
Mrs Chatterjee Vs Norway is inspired by the real-life story of Sagarika Chakraborty and Anirudh, an Indian couple whose children were taken away by Norwegian authorities in 2011.
Entertainment
As Rani Mukerji's Mrs Chatterjee Vs Norway hits the theatre tomorrow, Firstpost got in touch with Sagarika Chakraborty, the real heroine behind the story.
Entertainment
Sagarika Chakraborty opened up to Firstpost, in an exclusive interview, how she has been a victim of domestic abuse. It's time for women to identify the signs of abuse and stop being a sacrificing machine.