KU Mohanan and the lurid world of Miss Lovely
It is in Miss Lovely, however, that you can see the advantages of having a talented cinematographer in a film crew.
What do a remake of Don, a documentary on call centre workers, a film about loser teenagers, the Hindi adaptation of Stepmom and a film on low-grade, pulpy horror films have in common? A cinematographer:  KU Mohanan.
A graduate of Pune's Film and Television Institute of India, Mohanan spent 16 years shooting mostly documentaries before properly plunging into cinema fiction in the 2000s. Since then, he's worked on films like Talaash, We Are Family, Aaja Nachle and Don — all glossy, slick Bollywood productions that you wouldn't associate with the Technicolor gloom and grime of Mohanan's most recent release, Miss Lovely. It is in Miss Lovely, however, that you can see the advantages of having a talented cinematographer in a film crew.
Set in 1980s' Mumbai, Miss Lovely, directed by Ashim Ahluwalia, is the story of a nondescript man in the Indian B-movie industry, the armpit of desi movie-making. Mohanan first worked with Ahluwalia on the documentary John and Jane, a haunting and disturbing film about the tangled identity crises of call centre workers in India who have to adopt foreign persona for their jobs. In that film, Mohanan's camerawork brought a sense of intense empathy with the characters. Often, the camera zoomed in, bringing the viewer so close to the subject that you could almost feel their eyelashes as they blinked and their breath when they weren't speaking.
There were also some unforgettable shots of Mumbai by night – still as a photograph, illuminated windows pricking the darkness, the light from moving traffic occasionally quicksilvering through the dense shadows – that spoke of the city as the subjects of the film saw it. This was not the Mumbai that most of us know and see. It was another city, mostly in twilight and inhabited by the sleepless migrants from different time zones.
Miss Lovely is about Sonu Duggal, who works with his brother Vicky, the director of movies that are only concerned with titillating audiences with scenes of fantasy sex and violence. It's a world that swarms with sleaze and disillusionment. Here, the victims are also the victimisers, dreams are death wishes and middle-class morality is a joke. The story of Miss Lovely takes time to tell you all this, but from its very first scene, the cinematography of the film makes you feel the uncomfortable prickle of entering this strange, hellish world.
Even if you haven't seen an entire B-movie, chances are you're familiar with the genre. You can recognise the clumsy camerawork, the terrible acting, the non-existent plot and the senseless violence that goes with this territory of cinema with a single shot. Mohanan takes the luridness of this genre, the unpleasantly saturated quality of the colours painting the actors and the sets, and uses them to striking effect in Miss Lovely. Mohanan's cinematography is as much of a storyteller, speaking through colours and angles rather than words, as the script and the narrator.
Take, for example, the scene in which an upcoming actress is to do her first nude scene for one of Vicky Duggal's films. Just a few scenes ago, this young woman was in modest, Little-Miss-Nice clothing, squirming uncomfortably when being pawed by Vicky. Now, heavily made-up and slumber-eyed as though she's inebritated, that woman is an actress who recognises the game. She simply smiles when she's told there's no costume for her in the scene that's about to be shot. It's not as though she's being coerced into losing her clothes. She unbuttons and drops what she's wearing quite readily.
Mohanan shows us her smiling face and her bare shoulders. Then the camera shows us her legs, as a bit of fabric flutters downwards. She's wearing lace-up shoes whose ties crisscross her calves. Without any preaching or words, that one shot indicates to the viewer she's in a delicate bind. Then, as she gets down to enacting her scene, the camera looks away from her, turning its lens upwards to focus on the branches of a tree lit in gaudy, red light. Unexpectedly, the light flickers and the tree turns white, as though lightning has struck nearby. Then it goes back to its shadowy redness, only to tremble into whiteness again. That flickering light pulses with violence, making that scene more viscerally disturbing than any shot of the woman and her nude act could have been.
Later in the film, there's a scene in which Pinky, the ambitious young actress Sonu falls in love with, is doing a song sequence. The set she's dancing and lip-syncing against is all mirrors and bright lights, creating countless reflections of her and her back-up dancers. They become a flurry of sparkly bodies, all glittering desperately and weirdly indistinct despite the harsh, bright lighting.
Pinky stands out, but it's almost as though she's able to do this because we're seeing her through Sonu's eyes. Still, we almost never see just one of Pinky. There's always a reflection or a fragment of a reflection sharing her spotlight. It's the perfect picturisation of a character who has been revealed to be less a person and more a collection of facets put together with the singular intent of making it as a star.
There are numerous moments in Miss Lovely that seem indulgent or unnecessary – glimpses of curling staircases, lit in improbable colours; the camera lingering upon Sonu's face, bathed in a neon red light outside a cinema hall; silhouettes, smoke and light curling around one another; shots taken from angles that make the audience feel like a voyeur. Yes, they make Miss Lovely look supremely artsy, but these shots also speak volumes about the melancholia, menace, secrecy and pain lancing through the lives of these people who survive and love the world they inhabit.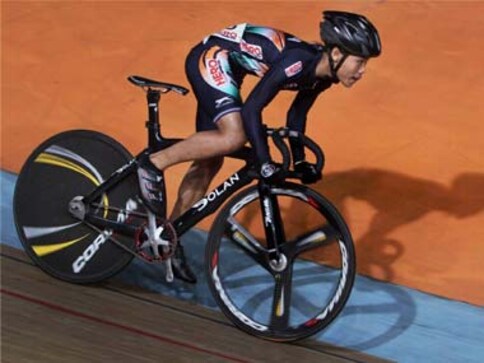 Sports
The campers were asked to participate in rope climbing activity to test their strength. While even the men cyclists managed to achieve the target just once, Deborah repeated the feat thrice and the coaching staff was convinced that she was the special one.
Business
The jury is out on the business impact of this change and whether it will significantly improve Pepsi's fortunes.
India
Child welfare committees in Delhi say that they see close to 15-20 cases a month of runaway or rescued children who were working as domestic help.