Kosovo's submission for Best Foreign Language Film Oscar is an LGBTQ-themed drama, and a big hit
Blerta Zeqiri's Martesa (The Marriage) is Kosovo's candidate for the Best Foreign Language Film category at the 91st Academy Awards.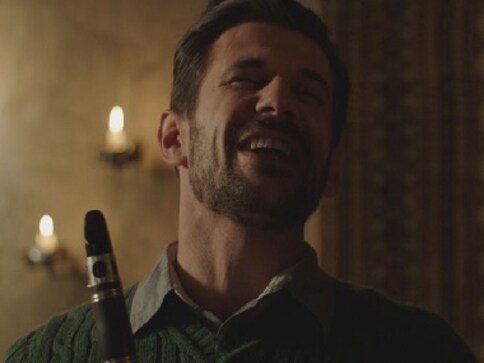 Kosovo is a small country of 1.8 million inhabitants. It now produces up to three or four feature films a year. The source of this information is Blerta Zeqiri, the Kosovar director/scriptwriter, whose Martesa (The Marriage), is Kosovo's candidate for the Best Foreign Language Film Oscar. Zeqiri answered some questions I sent over email. She said Martesa is the first ever LGBT+ live action feature made in Kosovo. "We had a feature documentary on gays called Beyond the Rainbow, and another short that has qualified for the Oscars this year." I also watched a screener, and the basic plot is this: In the lead-up to Bekim (Alban Ukaj) and Anita's (Adriana Matoshi) wedding, Bekim's friend and former gay lover, Nol (Genc Salihu), returns from abroad. And...
Martesa is the second LGBTQ-themed drama from a smaller filmmaking nation I saw this year, after Wanuri Kahiu's Rafiki (Friend; in English and Swahili, and the first film from Kenya to be screened at Cannes). To a liberal audience from a big city, Rafiki's delicately handled romance — a Juliet and Juliet template — may not exactly be revelatory. But this is a small town where gossip is thick and the church holds a firm sway, with exorcism-like rituals to "cleanse" homosexuals. (The film has been banned in its home country.) When a lynch mob descends on the achingly young couple, I was reminded of India, where your business is everybody's business.
Martesa too, is a product of its setting. (Time-wise, too. It's a decade after the Kosovo War of 1998-99, after which the Republic of Kosovo declared its independence from Serbia.) The film's Kosovar director/scriptwriter, Blerta Zeqiri, says in her note: "LGBT community members, although protected by the Kosovo laws, are continuously threatened, humiliated and physically attacked, to which the state turns a blind eye. Hiding their identity remains the only way to survive in this surrounding, forcing a large number of LGBT people to marry eventually a partner of an opposite sex, who inadvertently turns into collateral damage." In Martesa, this partner is a woman, already marginalised and without a voice in a patriarchal society.
But Bekim is marginalised, too. In an early scene, Bekim and Anita meet Nol at the bar Bekim runs. Nol has moved to France, where he makes music. He tells Anita that Bekim and he were war buddies. She's surprised, because she knows Bekim didn't fight in the war. Nol explains, "We were in hiding together." They were hiding from Serbian soldiers. They were also hiding the fact that they were lovers. Nol asks Anita if she wants to hear a story, but Bekim says, "Enough already." He is cagey. Earlier, when in the car with Anita (she's driving), she gets a message on her phone and asks him to see who it is. It's the decorator, who's sent them kitchen designs. Anita asks Bekim how the designs look. He says, "Not bad… I mean, I don't know." It's as though mere familiarity with fashion would brand him homosexual. He's still in hiding.
He says no when asked if a gay wedding can be conducted in his bar. But we feel sorry for him, because, unlike Nol, he's still stuck in Kosovo. In a beautiful flashback (the film keeps slipping into the past so delicately, we hardly notice the cuts) set during the war, Nol tells Bekim, "Unbelievable. There's a war, you know. People are dying all over. I feel so guilty sometimes. [But] I've never been so complete. If the Serbs weren't killing us, I would always want to live like this." But Bekim is a realist. He cuts short Nol's reverie. "[If they knew about us] Our people will kill us too." Turns out, he was right. In a horrifying scene, set in the present, Nol is beaten up. One of the men says, "Can't blame Hitler for wanting to turn you into a piece of soap." You feel sorry for Nol, too.
But most of all, we feel sorry for Anita – because we know what she doesn't. She thinks Nol's heartbreak (she sees him weeping) is due to a woman. She says, "Fight for her. Go after her." If only she'd seen the scene where Bekim and Nol have sex, after which Bekim says, "Remember how you used to get mad at me? I would lose it — go completely doolally, as if the world crumbled around me. And now, when I have a fight with Anita and she gets pissed off, I couldn't care less. In fact, I say 'God, I hope this lasts'. That's when I realised I never loved anyone like I loved you." How tragic for Anita, whom we see in a childhood flashback, wearing her mother's wedding gown. It's every little girl's dream. Will Bekim, now, give her what she wants?
The director says, "I wanted, at least for a moment, to make the audience leave the three main characters' gender aside and feel for them in this complicated triangle, where no decision is without a victim or suffering." In an interview with The Wrap, she spoke about the origin of the film. "The story started with a friend of mine who was married and had two children and then realized that her husband was gay — and at the same time, I had a very close friend who was gay himself, and he came to the point where he was saying, 'Either I have to get married and do what is expected of me, or I have to leave.' For him, it was getting impossible to even get partners, because it was so normal for everybody to have this cover of being married. It didn't seem right at all that people were not allowed to love, but it was totally okay to hate. And that was the starting point."
Zeqiri said there were fears about how Martesa would be received. "At the time we had plans to escape if things went wrong. I had plans to take my kids out of school in case something happened." But the film has done very well. "The box-office gross was approximately 11500 Euros, with around 3300 admissions, without counting the premiere, which was a record for a Kosovo film. In the first week it was the best-selling film (above Hollywood action films like Den of Thieves and Maze Runner). Although, since no other Kosovo films have been popular in the cinemas before (they sell maybe 200-300 tickets overall), we made a mistake by putting The Marriage on only two slots from the first week. If we have put it in 5 or 6 daily slots, it would have made much more."
It's always fascinating to hear about other movie markets. About the size of Kosovo's market, Zeqiri said, "We don't really have exact figures from all the cinemas - only a multiplex company called Cineplexx (6 halls) has given figures of 330,000 tickets a year, while there are 2-3 other cinemas that are very small. We used to have only one cinema after the war in '99. The pirate industry was booming, you could see a pirated version of any film months before it got to the cinemas, so nobody was going to the cinema. After switching to digital, cinemas are in again."
To me, the most revelatory aspect was the film's economics. "Our budget was around 250,000 Euros (192,000 Euro cash from the governments, plus other in-kind contributions). It might sound strange, this number in relation to the revenue, but here the film industry is supported by government grants, and we were supported by the Kosovo and Albania governments. Otherwise, we would never be able to make any films."
Baradwaj Rangan is Editor, Film Companion (South).
also read
Entertainment
When asked about the recent controversy surrounding Ryan Gosling being too old to plan Ken, she completely disagreed. Priyanka said, "Ryan Gosling will eternally be one of those guys who are hot!"
Entertainment
The incident took place on Monday and the 30-year-old accused was arrested the next day from neighbouring Thane district, he said
Entertainment
This year, Esha Gupta shall walk the red carpet in a specially curated designation led by Union Minister of State Dr. L Murugan.