Kodi review: Dhanush delivers a knockout performance in this perfect Diwali film
Kodi works largely because of the surprise twists and Dhanush's performances in a dual role.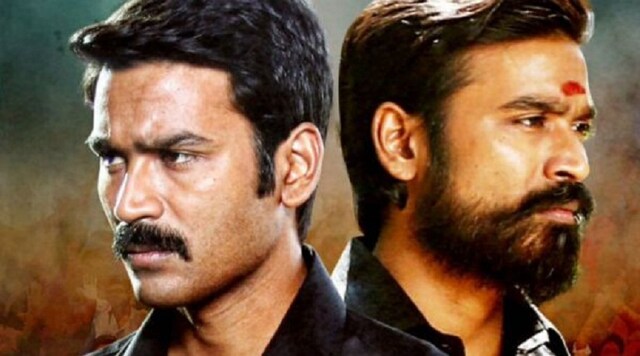 Every top Kollywood hero dreams of a festival release, especially for Diwali, that targets family audiences from metro cities as well as tier 2 and 3 cities.
Dhanush's Kodi is the perfect Diwali film, which will strike a chord with the rural mass audiences. The film is laced with sentiments, comedy, action and loads of entertainment. Dhanush plays a dual role as twins: the tough and righteous politician Kodi, and the soft and shy professor Anbu. He pulls it off in style with knockout performances.
Director Durai Senthilkumar has made the film set against a political milieu with lots of unexpected twists and turns within the commercial format. The film is set in the rural milieu of Pollachi.  A low-rung political worker (Karunas) of a Dravidian party gets twins. One of them is named Kodi (Dhanush) by the political bigwig (SA Chandrasekhar) and the other is Anbu (Dhanush again) who later becomes a professor in a college.
Kodi at a young age sees his father setting himself on fire, protesting against a factory that dumps toxic waste which causes environmental pollution and health issues in the village ( A leaf out of Kudankulam nuclear power plant protest).
Soon Kodi the angry young man who fights for people causes becomes the star speaker of his party and falls in love with Rudra (Trisha), the opposition party's rising star and platform speaker. Meanwhile, the soft spoken Anbu falls for Malathi (Anupama), who runs her own poultry farm.  A twist in the story takes place as Kodi is pitted against his lover Rudra in an assembly by-election. Lovers turn foes, as the reality of ground level happenings and dirty politics between rival parties create animosity and tension that leads to murder.
Kodi works largely because of the surprise twists and turns in Senthilkumar's script and presentation. It is quite racy at 2 hours and 20 minutes as Dhanush carries the show and is there in almost all frames. Hats off to Trisha for doing a brave and bold role which no mainstream heroine would dare to do in Tamil cinema.
Her Rudra is a totally negative character and even murders her lover without blinking an eyelid, in her lust for political power. Anupama Parameswaran is cast as a typical Tamil cinema's homely girl and she does a neat job. Saranya Ponvannan as usual is terrific in the role of the mother of the twins. Actor Vijay's father and director SA Chandrasekhar also makes an impression as a senior politician.
The downsides are far too many unexplained logical errors in the climax.
However, Kodi is a well written and packaged commercial entertainer that delivers the goods.
Entertainment
The makers have released the magnanimous title promo that is grand and massive as it looks. Introducing us to its goosebumps-worthy BGM and some heart-throbbing visuals of one and only Thalapathy Vijay
India
The Indian Army has recommenced induction of the Dhanush artillery system and is raising a second regiment of the indigenously upgraded gun