Kismath review: A moving real-life tale of 'love jihad' and blatant bias
Kismath has a self-deprecating air of being a small film. Do not be misled by its modesty.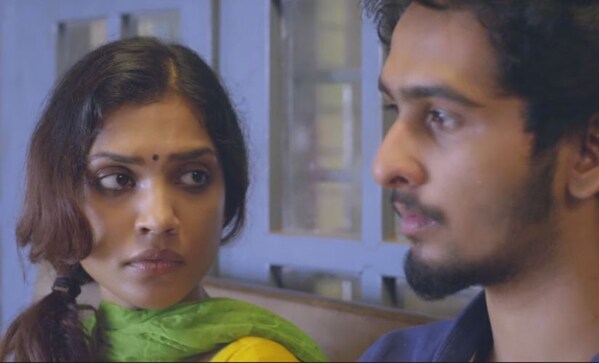 Kismath has a self-deprecating air of being a small film. Do not be misled by its modesty. It is large in ways that the arts are meant to be: large-hearted, open-minded, intelligent, aware and enriching, with a worldview that encompasses the nuances of Kerala society yet mirrors realities across India. This is, in fact, a very big film.
Debutant Shanavas K Bavakutty's Kismath is a remarkably understated account of a couple driven apart by social barriers. Irfan is Muslim. Anitha is Hindu. He is from a well-off family. She is financially less privileged and a Scheduled Caste. In a social milieu that deems it essential for a man to be older, wiser and wealthier than his woman partner, she is 28, he is 23. They are residents of the small town of Ponnani. They are in love. And though nobody in the entire damned vicinity of their lives seems to notice or care, they are good friends.
Anitha and Irfan are conscious of the hurdles in the path of their relationship. As an audience we too have read reports of the ugly ongoing 'love jihad' campaign exemplified by the pressure and threats against a couple from Meerut – he a Muslim, she a Hindu – in the run-up to the Uttar Pradesh by-elections of 2014. This awareness on both sides of the screen builds up a sense of foreboding from the moment we first meet the pair at the centre of Kismath.
The youngsters have already faced some aggression from their respective families and so, to pre-empt any eventualities, they head off to a police station in Ponnani to seek protection. There they discover what they ought to have known already: that the police do not emerge from a vacuum but are drawn from the same prejudiced society they are trying to escape. What follows is their battle on multiple fronts – against his relatives, her relatives, extra-familial busybodies and the people in uniform – over perhaps 24 hours in educated, seemingly progressive Kerala.
Even before their saga unfolds, a minor episode at the police station gives us an idea of the insights and detailing to expect from Kismath. It should have given Anitha and Irfan an idea of what they were in for too. An Assamese man is accused of causing a road mishap involving two locals. The chap does not speak Malayalam, but when SI Ajay C Menon enters the picture, he communicates with him via Hindi and physical aggression, and manages to extract some of the truth of what happened. Unlike Tamil Nadu, which has vehemently resisted and prevented the effort to impose Hindi as a national language on non-Hindi-speaking India, Kerala tends to look up to Hindi bhaashis and view the ability to speak the language as something of a virtue of a superior race. Meanie Menon has a swagger, his fluency in Hindi adds to it.
This adjunct to the main plot throws up other asides: all the cops know that the guy involved in the accident is Assamese, but they casually persist with calling him a Bengali (a moment of introspection for south Indians who get irritated when north Indians club all "south ke log" together as "Madrasis"); and when Menon learns where he is from, he immediately asks if he is a terrorist. The police station, you see, is a microcosm of the world outside.
The rest of Kismath is just as acutely observed. Interestingly, Anitha and Irfan speak of living together, not marriage. Equally interesting – and disturbing – are the unsavoury insinuations made about both of them by various parties. It is fashionable to romanticise small-town and village life but the film, at one point, gently reminds us that the impersonal nature of big cities can spell freedom from some shackles for marginalised and oppressed groups.
It is a relief too that Anitha and Irfan are not presented as an immature couple who were floored by each other at first sight. In that little town that is home, past gender segregation and communal biases, they meet by sheer chance, they hang out together for believable reasons, he does not stalk her (whew!), they become friends and gradually begin to see each other as potential life companions. Miracles do happen, after all.
Writer-director Bavakutty has been quoted in The Times of India as saying Kismath is "inspired by an incident that happened in the lives of a 28-year-old scheduled caste girl and her 23-year-old boyfriend, a B Tech student, at Ponnani in 2011" when he was the Municipal Councillor of Ponnani. Some reactions to Kismath have compared it to Ennu Ninde Moideen, last year's critically acclaimed hit starring Prithviraj Sukumaran and Parvathy, because it too was based on a true story of an inter-community romance in the state. With due respect to Moideen fans, I felt that film started out with immense promise but ended up being emotionally manipulative, high-pitched and exasperating. Kismath is none of the above: it is realistic, matter-of-fact and concise.
Shane Nigam and Shruthy Menon have likeable personalities, and deliver low-key, convincing performances as Irfan and Anitha. The pick of the talented cast though is Vinay Forrt as the corrupt, creepy cop who allies with their relatives.
It could have been called Love In The Time of 'Love Jihad', Dalit Suppression, Sexism, Casteism, Parochialism, and A Pretence of Liberalism. Frankly, the film should have been called anything but Kismath (meaning: destiny). Because it is not about what fate does to its helpless victims, it is about misery by human design and the manner in which we go about destroying lives with our ignorance and bigotry.
The misplaced title is one of my very few problems with this film. The other would be its failure to address one important aspect of Anitha and Irfan's relationship. Before the couple fall in love, we learn that Irfan dropped out of an engineering course, is whiling away his time at home, is unemployed, living off his family's money and already at loggerheads with his father as a result.
Considering that he is mature beyond his years and sensible enough to know the potential dangers they both face if they persist with their relationship, considering that they both come across as having their heads on their shoulders, it seems odd that they thought they could openly continue their romance – even with police protection – while he is financially dependent on his influential father. Keep in mind that Anitha herself is a research scholar with an old mother to take care of. Irfan's purposefulness towards her does not gel with his aimlessness elsewhere.
That said, Kismath is brave and well worth a visit to a theatre. It was released in Kerala on 29 July, and has travelled to Delhi a week later. I watched a subtitled version in the Capital — considering how whimsical producers, distributors and exhibitors are in this matter, do inquire about subtitles at your local hall. The subs had some spelling errors, which are annoying for an (ex-)editor, you may perhaps be more forgiving. Still, to the extent that I could judge when I occasionally glanced at the words flashing at the bottom of the screen, they conveyed the essence of what was being said. Non-Malayali film enthusiasts, do note.
It would be easy to take Kismath for granted because it does not make a song and dance about anything it says or does. Let us not do that. There are Irfans and Anithas in many corners of India and their chilling experiences need to be visited again and again until these horrible human-made societal walls are brought down. That is what Kismath does in a non-preachy, even tone. With this film, Indian cinema gets a courageous new voice. Here's looking at you, Mr Bavakutty.
also read
India
The villagers said there was no visible change in the surrounding environment and only a scientific study could ascertain the exact cause of the continuing underground sounds
Entertainment
Director Hansal Mehta's web show Scoop is an intense real –life drama. It makes you feel nostalgic and takes you back to your early journalism days when all you wanted was a byline on the front page.
India
Unless and until we have laws or systems in place that require government-issued IDs to create social media accounts, there is no way to verify whether the person whom we see online is actually the person they claim to be