Kim Kardashian's Yeezy photoshoot posture churns viral memes on Twitter, from Toy Story to Grand Theft Auto
Kim Kardashian West was modelling for Kanye West's new Yeezy Boost 350 V2 Butter trainers
Kim Kardashian West on 7 August had posted an image of herself on Instagram, modelling for her husband Kanye West's new Yeezy Boost 350 V2 Butter trainers. She is seen lying on a messy bed with her aims raised and staring blankly at the ceiling.
No sooner was the picture posted, Twitter exploded with hilarious memes with users swiftly churning out one post after another.
Some memes compared Kim to the image of a woman who has fallen from the bed
— Alice Tew (@BuckinghamAlice) August 6, 2018
Another one showed the celebrity as acing the game of Twister
pic.twitter.com/YJWUnOlNHF — Fabrizio (@breezy_y00) August 7, 2018
Kim's pose was deemed perfect to compete and win at the San Francisco marathon
— Adam Markajani✏️ (@ADAMATION) August 6, 2018
However, in some images, the reality star was depicted as the losing boxer pitted on the ground by her fellow competitor
#LikeButter #Yeezy #Kardashian pic.twitter.com/E8U2LvN6C1 — VisuallyBetter (@Isuckatpicking) August 7, 2018
Kim's pose reminded some of the toys from the franchise The Toy Story, who used to freeze as stationary objects the moment Andy used to enter the room
"Andy's coming!" pic.twitter.com/ZiWgaaxtm8

— AngelTFC (@AngeITFC) August 6, 2018
Kim's posture, for some, was reminiscent of the chalk outline of a body in the game Grand Theft Auto
pic.twitter.com/34zxnUSxvN — valpal.jpg (@Valpalbetch) August 6, 2018
Find latest and upcoming tech gadgets online on Tech2 Gadgets. Get technology news, gadgets reviews & ratings. Popular gadgets including laptop, tablet and mobile specifications, features, prices, comparison.
Entertainment
While Chhalaang is Rajkummar Rao's sixth collaboration with Hansal Mehta, it is the first time the two have worked on a romantic comedy. For Nushrat Bharucha, she is excited to play "a small-town girl for the first time."
Entertainment
Ravan Leela, helmed by Hardik Gajjar, is scheduled to release sometime later this year.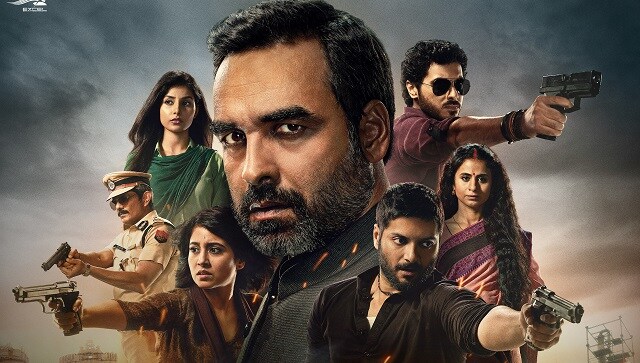 Entertainment
Mirzapur season 2, which debuted on Amazon Prime Video on 23 October, became the most-watched show on the platform in India within seven days of its release.