Khajoor Pe Atke review: Manoj Pahwa, Vinay Pathak impress but scattered screenplay sinks this comic-drama
Though the senior actors dive into the material and bring out the humour, random songs, side plots and an emotional vacuity eventually flatline Khajoor Pe Atke.
Whether it is someone leaving to go abroad or a person going in for surgery, you can bet on the great big Indian family showing up for all momentous occasions. It's much the same in Harsh Chhaya's comic-drama, Khajoor Pe Atke. News of a brother's health being vaguely fragile results in a network of phone calls, flight and train bookings, justifications and then a reunion of siblings, nieces and nephews in a Mumbai hospital waiting area.
Older brother Jeetu (Manoj Pahwa), his wife Sushila (Seema Pahwa) and two children (Mayur More and Sanah Kapoor) are the first to book airline tickets to arrive at Deven's bedside, followed by a pious and nutty sister Lali (Dolly Ahluwalia) and finally the youngest brother Ravinder (Vinay Pathak) with his high maintenance wife Anuradha (Suneeta Sengupta). They heap platitudes and weep crocodile tears while commiserating with Deven's wife Kadambari (Alka Amin), who is compulsively stress eating, and her son Alok (Vicky Arora).
This film is similar in some aspects to director Rajesh Mapuskar's Marathi film Ventilator. Both films feature a chaotic ensemble of family members but also the token cold-hearted doctor, the corrupt ward-boy Ganpat (Kishore Chougule) and a comatose patient whose life hangs in the balance. There are subtle comments about the cost of medical care, and an unsubtle interest in the dying brother's flat in Mumbai.
While the older generation has its own selfish agenda, the younger family members use the visit to assuage their small town fascination with the glamour of Mumbai. Nephews show up lured by Mumbai's liberal lifestyle only to have repeated run-ins with the cops. Another side plot is a poorly-performed and tackily-executed teen romance between Jeetu's daughter Nayantara (Kapoor) and her chat buddy Rocky (Prathamesh Parab). It offsets the wonderful chemistry between the comic talents of Pathak, Pahwa and Pahwa, and Amin. Harsh Chhaya writes some crackling dialogues and creates some funny situations – like the way in which the hospital lobby becomes the unlikely venue of an arranged marriage set-up. The scenes between Manoj and Seema Pahwa are among the best the film has to offer.
For his directorial debut, Harsh Chhaya juggles many hats as he serves as lyricist, singer and even makes a cameo. However, the screenplay and poor production values give the sense that Khajoor Pe Atke would have been better suited to the stage or as a teleplay. Though the senior actors dive into the material and bring out the humour, random songs, side plots and an emotional vacuity eventually flatline this film.
Entertainment
The film is a teen revenge drama set against the backdrop of high school shaming and ostracising.
Entertainment
With every plot uptick, first in the form of nationwide media attention, then a CBI enquiry, comes a greater fall. When Siya refuses to be guilted into marrying one of her rapists and pursues justice, her father is tied to a tree and publicly lynched to death.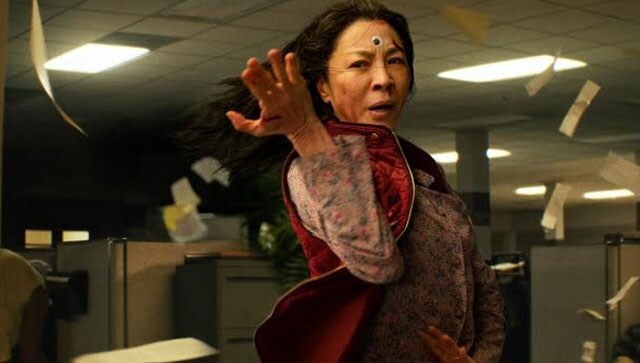 Entertainment
The Daniels take us on a freewheeling adventure where metaphysics and martial arts don't exactly make for the strangest bedfellows.