Kendrick Lamar's new video 'ELEMENT' is as hard-hitting as its lyrics about race
Clad in a white t-shirt stained by blood, Kendrick Lamar says that he won't let anyone take him out of his element.
"I'm willin' to die for this shit/ I done cried for this shit, might take a life for this shit," says Kendrick Lamar in the video of his song 'Element' from his latest album DAMN. And he sticks true to his claim; clad in a white t-shirt stained by blood in the video, he does not hesitate when he has to give it back to another man.
There are several glimpses of the ghetto life in the video, with a shot of an African American child holding a gun, groups of young African Americans jamming together, and a really unnerving shot of an attacked man wearing a white suit. Religious undertones formed a large part of his album DAMN., and even in Element, there are visuals of black nuns who wear sombre expressions on their faces.
Police brutality is another subject he touches upon here, with the words, "Fake my death, go to Cuba, that's the only option" playing when a shot of white policemen appears on screen.
There are several surreal shots where a young African American boy learns to punch an older man and watch a man leap from the top of a building — perhaps this is meant to represent young Kendrick, learning the ways of the world from childhood.
The video ends with a group of men breaking into what seems like a store, which if you connect to the visual of a burning house at the beginning of the video, could possibly be motivated by revenge, which is one of the themes of 'Element'.
In DAMN., Knedrick Lamar revealed much about his state of mind, the circumstances he grew up in and his opinions on American politics and violence in the country.
Watch the video here: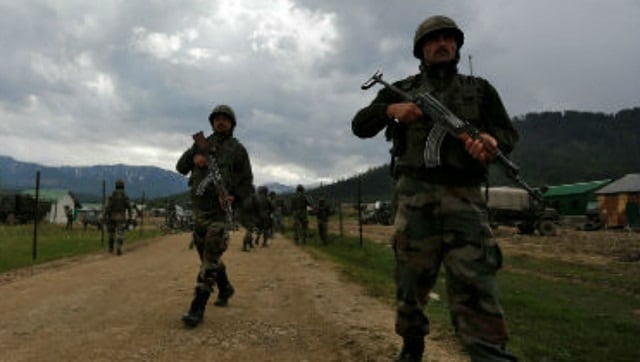 India
The police said that one of the militants, identified as Fayaz War, was involved in several attacks and killings of civilians and security personnel. He was the last perpetrator of violence in north Kashmir
Entertainment
Methil Devika in an interview said she has sent a divorce notice to Mukesh
Sports
FA chiefs on Monday said they had informed the Department for Digital, Culture, Media and Sport (DCMS) of the review over the weekend and vowed to identify those responsible for the "disgraceful scenes" both before and during the match.