Kehne Ko Humsafar Hain: Mona Singh, Ronit Roy are miscast in this ALTBalaji extramarital love story
Kehne Ko Humsafar Hain begins on a very rushed note of establishing Rohit and Ananya's love and the natural conflict of his own family coming in the way.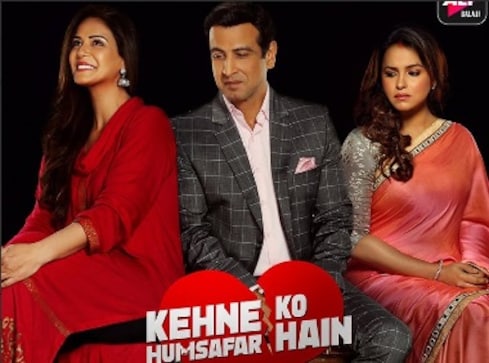 This pair could not be more in love. They wine and dine, hold hands and laugh, and have eyes only for each other. As they celebrate their third 'anniversary' and he gifts her lovely, silver earrings and she gifts him his favourite Omar Khayyam book, a young onlooker envies their love 'at this age'.
Indeed, the man is middle aged and his lady love is no twenty something, giggling dim wit. The onlooker may be convinced that they look like a 'perfect couple'. Except that only one of them is married. That is the man who instantly jumps when his phone rings, and the ''anniversary" date is abruptly cut short along with the lovey-dovey smiles and promises.
The above introductory few minutes of the lead pair in first episode of  Kehno Ko Humsafar Hain, along with the nice title track sung by Amruta Fadnavis, is everything that is expected of a TV soap: Clichéd, boring, unreal. Worse, it is not even poetic despite the Omar Khayyam lines, "raat ne apna safar tai kar lya hai... muskura." being thrust upon the characters.
Here are two wonderful actors with great screen presence but totally unsuited for romance.  Ronit Roy as the married Rohit and Mona Singh as the single Ananya are complete miscasts when it comes to expressing softer and more vulnerable moments of love. Ronit's strength has always been his intensity and we see that only at the end of the fourth episode, which is actually when his character and story actually begins to get interesting. Mona reminds one of Preity Zinta-attractive — confident, good but mostly herself, not her character.
Coming to the story, Rohit is a married man with two grown-up daughters, one of whom, Pooja Banerjee as Bani, is so bright and sparkling that she could easily be the next Kajol. His wife, Poonam (Gurdeep Kohli), is the typical housewife who loves her gold and her children, and believes life and marriage is a 'compromise'. In the most stereotyped contrast, Ananya as the third woman is the non-materialistic woman who prefers silver and loves claiming how she will not 'compromise' in her work as she is an 'artist' primarily.  Her best friends — classic urban clones one of whom looks totally uncomfortable smoking — point out that her relationship with Rohit is nothing but a compromise. Again, the more interesting part to the whole 'compromise' theory is extended in the younger generation's point of view through Miss Sparkles — Bani — who says she considers compromise a 'dirty word'. Moments like these, which question values, and rights and wrongs; lifts this series a notch or two.
Thanks to the web platform, there is freedom to explore a subject with more honesty, without the fear of offending the viewers' sense of morale and acceptability. The subject of extramarital affairs has always been doomed a failure on cinema as proved by the likes of Silsila and Kabhi Alvida Naa Kehna. On TV, the only successful series made on it was Neena Gupta's Saans as it tackled the subject from the betrayed wife's point of view. Now, for the first time, we have a man's story, where he is not condemned as the lustful two timing man but is instead seen as a man who wants to live his own truth apart from social norms.
The series begins on a very rushed note of establishing Rohit and Ananya's love and the natural conflict of his own family coming in the way . One cannot understand their love enough to empathise in his decision to take on his home and society beliefs for the sake of his love. None of the characters are given sufficient time and space for us to know and like them. Ananya is a successful interior designer but we only see her as a lonely woman whose friends keep telling her that she is nothing but Rohit's "dirty secret". Poonam is the classic housewife whose only intimate time with her husband seems to be straight from a Zandu Balm commercial where she does variations of 'ouch' while Rohit rubs a balm on her midriff. The two daughters do all the screaming in the household with their silly fights. Rohit is the man torn between the two women but beyond that, we do not quite know why anyone would fight over him.
As Ananya puts it with the best line of the series, "Tum koi prize nahin jo mujhe jeetna hai", the rest of the season depends on this middle aged, married man being worthy of our time and emotional investment in his journey. Hopefully, it will be, considering this AltBalaji story is written by Neena Gupta.
(Also read: With Kehne Ko Humsafar Hain, Mona Singh brings to the fore the successful-at-work lonely-at-home trope)
also read
Entertainment
Good performance, but lousy script massacred the film
Entertainment
Sohum Shah goes rustic and rousing yet again with Dahaad after Tumbbad and in an exclusive interview with Firstpost, he speaks about the show's success and lots more