Kee: Vishal addresses Simbu-Michael Rayappan dispute at audio launch, says 'haven't received any reaction from the actor'
Commotion broke out at the audio launch of Kee on when PL Thenappan asked Vishal about the status of the complaint filed by Michael Rayappan against Simbu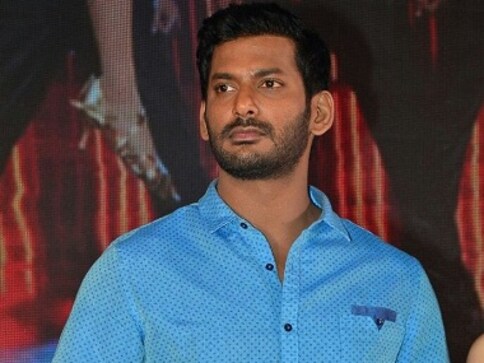 An unexpected commotion broke out at the audio launch of Jiiva's Kee on 19 January when producer PL Thenappan questioned Vishal, president of Tamil Film Producers Council, about the status of the complaint filed by producer Michael Rayappan against actor Simbu for his callous attitude during the shooting of Anbanavan Asarathavan Adangathavan (AAA). Rayappan had charged Simbu with grave accusations in an infamous press meet last December and urged immediate intervention of the council.
"What can I do when there is no reaction from Simbu at all?" asks Vishal
Vishal, who was one of the chief guests for the event alongside Vijay Sethupathi, patiently explained why it's taking longer to come up with a solution for the issue. "It's true that Michael Rayappan incurred heavy losses in his last film AAA. He filed a complaint too. But, it's not about what action we have taken against the actor. The main problem is that we have not received any reaction from him. What else could I do? I've never considered myself the president of the Artists Association. I'm just a messenger. An actor should be accessible to discuss and find an amicable solution when an issue crops up. But, there's no reaction at all from the other end here. We are still pondering on how to resolve this without hurting anyone," said Vishal.
In a kind gesture, Vishal also agreed to provide the call sheet for Michael Rayappan to act under his production. "I'm ready to do a film for Michael Rayappan without taking any advance money to ease out his financial burden. I won't demand the salary too. Once he finishes the film's business, he can give me whatever he thinks is right."
Showering praise on Jiiva for his acting skills, Vishal said, "I would be one of the first persons to feel happy when Jiiva lands a good film. He's a versatile actor, who molded himself in the right way from his debut film. A lot of other actors, including me, were molded by our directors and technicians. But, Jiiva's journey is quite different. He's a self-made actor."
Vishal has also assured that he will try his best to get Kee on screens on 9 February despite all the financial difficulties. "I wanted my film Irumbu Thirai to release on February 9th. But, I've postponed it for Michael Rayappan sir. Kee deserves a good number of screens without any competition, and I will ensure that it gets a wide release. I've canceled my shooting on 7 and 8 February to help Michael Rayappan with a trouble-free release."
"The lack of unity in the industry is appalling. I feel ashamed," says Vijay Sethupathi
As soon as the ruckus between Vishal's supporters and producer PL Thenappan started, a seemingly frustrated Vijay Sethupathi began to walk out before the other dignitaries on stage pacified him to stay back.
"The lack of unity among us is quite appalling. I agree that conflicts do arise when there is a group or an organization. But, we have to act with decorum. The problems of the industry should be discussed and resolved behind closed doors. I feel really ashamed that we are fighting in front of everyone here. It's so dispiriting now since everyone outside the industry has started to see a cinema person with disdain. So, let's stay united and fight our issues with dignity," rued Vijay Sethupathi.
"Kee will be as good a film as Ko and Ee in my career," says Jiiva
Talking about the film, Jiiva said, "The adverse effects of technological advancements have been dealt with in the story. How one's life changes after just pressing the 'Enter' key is the crux of the plot. Director Kalees has equally showcased the merits and demerits of the web. Kee will be as good a film as Ko and Ee in my career. There's a relevant message for contemporary audiences in the film. At a time when everyone is betting on a winning horse, I would like to thank producer Michael Rayappan for believing in the talent of a new filmmaker like Kalees. Kee has shaped up really well with the involvement of everyone from the cast and crew."
Jiiva, who has worked Nikki Galrani in back to back films including Sundar C's Kalakalappu 2, said, "Nikki plays the role of a straightforward woman. Her character would represent the mindset of today's women."
Jiiva also said director Kalees and DOP Abinandan worked in unison to create some fantastic frames for the film. "In my career, I've worked with a lot of new directors. And I've learned a lot from them because newcomers would always come up with a fresh thought process. It always gives me a high. Kalees and DOP Abhinandan had great chemistry on sets. Kalees is someone who works in a very detailed manner, and Abinandan was the perfect match for him. Sometimes, they would wake up me at the wee hours of the morning to ask for doubts," said Jiiva.
"I've been traveling with Jiiva sir for the past five years with this script," says director Kalees
An emotional director Kalees said, "I feel elated to see a massive gathering here. I've spent five years in a lonely room. I know the pain of loneliness. I've been waiting for this day, and it feels quite emotional. I've been traveling with Jiiva sir for the past five years with this script. I would have met all the producers in Tamil Nadu before I got a green signal from Michael Rayappan."
Kee is slated to hit screens on 9 February in Tamil and Telugu simultaneously. The film stars Jiiva and Nikki Galrani as leads and RJ Balaji, Suhasini, Padmasurya, and Anaika Soti form the supporting cast. Vishal Chandrasekhar has composed the music for the movie.
Entertainment
Vikrant Massey's impeccable and gripping performance makes Forensic a worth watch.
Entertainment
Forensic marks the return of Radhika Apte after more than a year. It also stars Vikrant Massey and Prachi Desai in prominent roles.
Entertainment
Maamanithan doesn't beat around the bush and tells a nice story straight from the heart.