Katy Perry tricks 19-year-old American Idol contestant into kissing her on the lips; rouses viewers' ire
Katy Perry asked Benjamin Glaze to step forward and kiss her on the cheek, which a clearly nervous and seemingly uneasy Glaze did.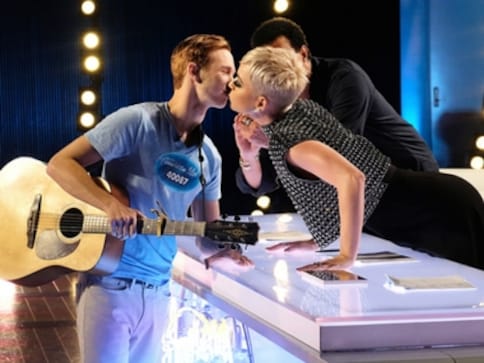 Benjamin Glaze, a 19-year-old from Oklahoma who came to the newly revamped popular reality show American Idol in hopes of becoming a pop-star, had the best or the worst day of his life, given how you look at it.
American Idol returned to television after 2016 with three new judges — Katy Perry, Luke Bryan and Lionel Richie.
The country music superstar Luke Bryan started off Glaze's audition with the question, "Have you ever kissed a girl and liked it?," an obvious reference to the popular Katy Perry song 'I Kissed a Girl'. When Glaze responded by saying that he never been in a relationship and hence never kisses a girl, Katy Perry let out a surprised "Really?'.
She then asked Glaze to step forward and her on the cheek, which a clearly nervous and seemingly uneasy Glaze did. Perry, though, wasn't impressed with Glaze's peck on her cheek because he "didn't even make the 'smoosh' sound." During a second attempt at the kiss. Perry hustled Glaze and, well, the 19-year-old fell to the ground in shock.
Glaze recovered from the shock of being kissed by Katy Perry and quipped, "how was it?", making things a little less awkward that it was for him.
Glaze, in an interview with the New York Times, said, "I was a tad bit uncomfortable. I wanted to save it for my first relationship. I wanted it to be special. Would I have done it if she said, 'Would you kiss me?' No, I would have said no. I know a lot of guys would be like, 'Heck yeah!' But for me, I was raised in a conservative family and I was uncomfortable immediately. I wanted my first kiss to be special."
Katy Perry's actions has not gone down well with the internet.
Now, many have started to call the pop-star out for hypocrisy, and even accused her of sexual harassment. Twitter has been ablaze with arguments such as what if the genders were reversed and it was an older male who did the same with a teenage girl? A section of the American media has labelled Perry's actions and the media's reactions to it as liberal bias.
So Katy Perry basically sexually assaulted someone on American Idol. If the genders were reversed, not only would there have been a firing, but perhaps an arrest as well. Just think of a female contestant saying this about a celebrity judge kissing her: pic.twitter.com/g4uCtrn3Vh — neontaster 🚟 (@neontaster) March 14, 2018
Why is it not considered sexual harassment for Katy Perry to kiss a contestant who did not ask for it. There is a double standard here with liberals yet again! #MeToo — Lori Hendry (@Lrihendry) March 15, 2018
Imagine if a 33 year-old male artist tricked a 19 year-old female auditioner into a kiss like Katy Perry just did with that teenage guy. Would we all think it was cute? #AmericanIdol — Craig M. Tiede (@craigmtd) March 12, 2018
Ok, let's be real for a minute: If Katy Perry was a man and that American Idol kiss happened to a woman, it would be sexual harassment, right? If we want people to listen to legit claims of harassment by women, we need to end the double standards. My 2 cents.

— Anna Baglione (@AnnaBaglione) March 12, 2018
Benjamin Glaze has now downplayed some backlash aimed at Perry. The 19-year-old took to Instagram on Wednesday to say he did not think he was sexually harassed.
The singer from Oklahoma says he was uncomfortable when Perry kissed him on the lips as he auditioned during the show's two-night season opener on ABC. Glaze says he had never been kissed before. He needed some water before singing Nick Jonas' 'Levels', which Perry called "a bit rushed."
Perry, Lionel Richie and Luke Bryan did not send Glaze to the next round. Glaze says he should have picked another song and calmed himself down regardless of the kiss.
also read
Entertainment
The leading man's Red Chillies Entertainment has filed new application owing to content leaks of the film on social media
Entertainment
In the first look poster, Ali Fazal can be seen sporting a rather rugged look in front of a dirt bike in the middle of the desert.
Photos
Known to have a penchant for classic tailoring, minimalism and glamor, Anushka's overall sense of style is the confidence and authenticity that she exudes naturally. One brand that has been a constant in her wardrobe over the years is Dior. Let's take a look at some of her most stunning Dior outfits